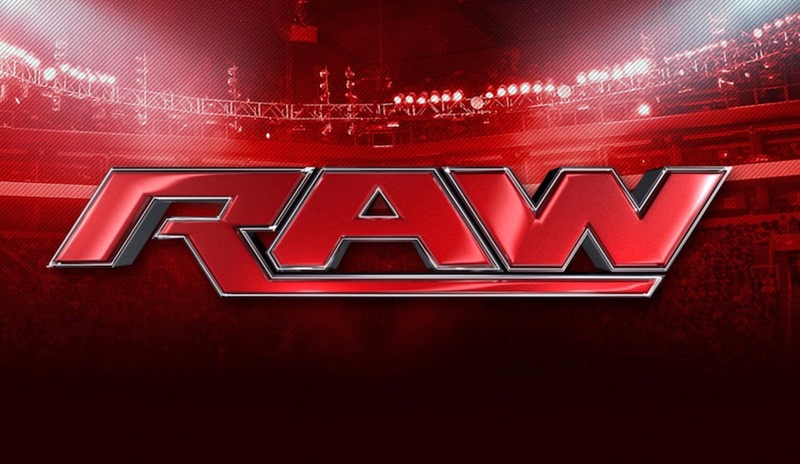 RAW this week took place at the Sprint Center Arena in Kansas City, Missouri. Here's all the action that went down.
Opening segment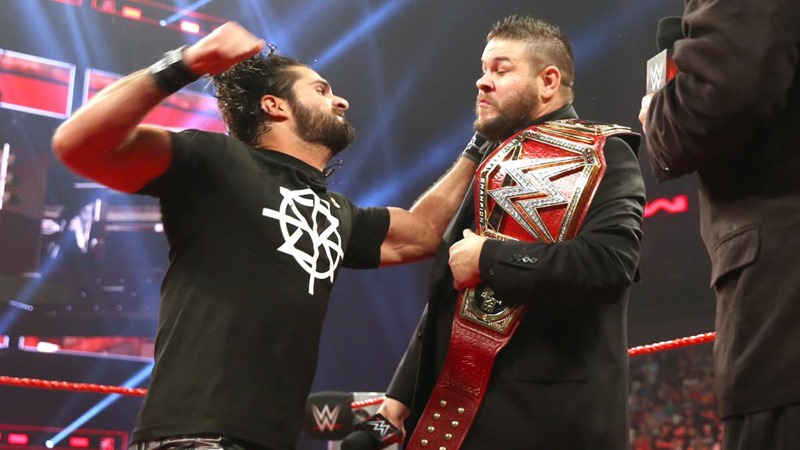 Stephanie McMahon was backstage planning a celebration party for new WWE Universal Champ Kevin Owens, but Mick Foley wanted some asnwers regarding her husband Triple H's involvement in in that title bout. Stephanie said that she totes had no idea that Triple H was planning to alter the match outcome by introducing Seth Rollin's face to the mat with a Pedigree. Naturally, Foley was skeptical.
After that bit, Owens made his way to the RAW ring and was showered in balloons. Owens was in full heel mode, mocking the crowd for supporting him and telling the audience that all that Triple H did was give him a little nudge towards his victory. Seth Rollins decided to interrupt, words were exchanged and Owens got clobbered by Rollins.
Which at this point, led to Stephanie indefinitely suspending Rollins, which Mick Foley decided to counter by setting up a rematch at the upcoming Night of Champions PPV between the two for the championship.
Backstage
Rather livid, Stephanie told Foley that he'd be fire from his RAW position if her authority was ever threatened again. Owens then appeared, complained and found himself in a match with Sami Zayn. Then Chris Jericho decided to complain more and found himself booked into a match against Rollind for later on in the night.
Bayley defeated Charlotte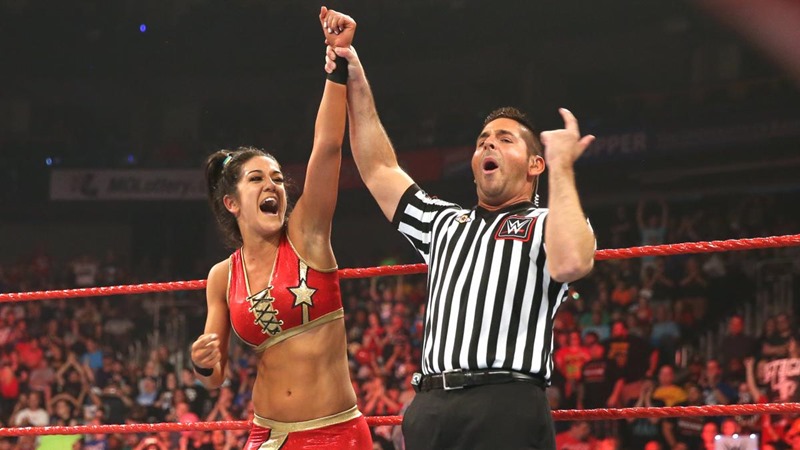 With Dana Brooke present at the RAW ringside, Bayley went to work on Charlotte as the two swapped momentum in the opening minutes. Charlotte eventually managed to get the upper hand and kept Bayley on the ground, but the NXT sensation bounced back as the two battled on. With Bayley about to hit a corner splash on Charlotte in that bout, Dana Brooke pulled Charlotte out of harm's way, but got knocked off the apron by Bayley for her efforts.
Charlotte tried a sneaky pin at this point, but Bayley kicked her out hard enough to send her flying into Dana Brooke, while a belly to belly suplex left Charlotte out cold as Bayley walked out of the RAW ring as a winner.
Bo Dallas defeated Kyle Roberts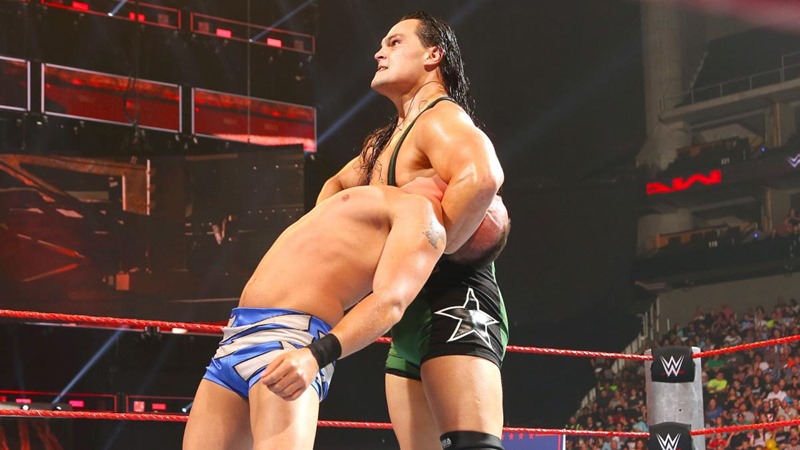 Bolievers were in for a treat as Bo Dallas took a local jobber to RAW school with a series of knees and clotheslines before hitting a spinning reverse DDT to get the win.
Backstage
Jericho and Owens were non too happy with Foley and the disrespect he was throwing their way, especially since Owens was the longest-reigning Universal Champion since Finn Balor had to surrender the title a day after winning it. But hey! Best friends! And then they hugged as Jericho claimed that he defeat Seth Rollins on RAW.
Seth Rollins defeated Chris Jericho
Welp. A great match, as Rollins took the opening offensive and painted the RAW ring with the gift of Jericho. Using a few of his craftier techniques, Jericho escaped the ring and walked straight into a suicide dive from Rollins. Y2J would counter these attacks however, with a comeback that left Rollins shaken. The match cam down to an endurance test in the end however, as Rollins and Jericho began trading kicks to see who would be standing in the end.
But Rollins was a more cunning foe, as he ducked one of Jericho's kicks and turned it into a Pedigree. With the three-count done, it was Rollins who left RAW as a winner that night.
Sheamus defeated Cesaro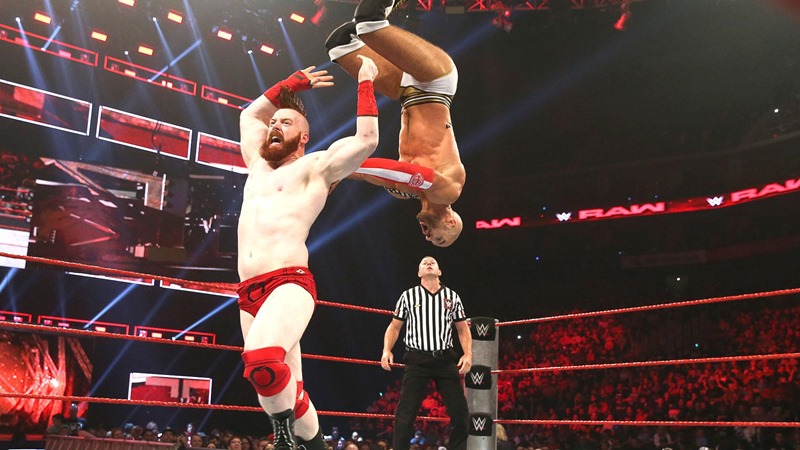 With a taped-up back, Cesaro and Sheamus continued their feud, with the Irishman quickly countering the Swiss Superman's attacks with a series of Irish Curse backbreakers. Targetting the back was a wise choice, as it left Cesaro hobbled and open for a Celtic Cross finisher.
The Shining Stars defeated Enzo and Cass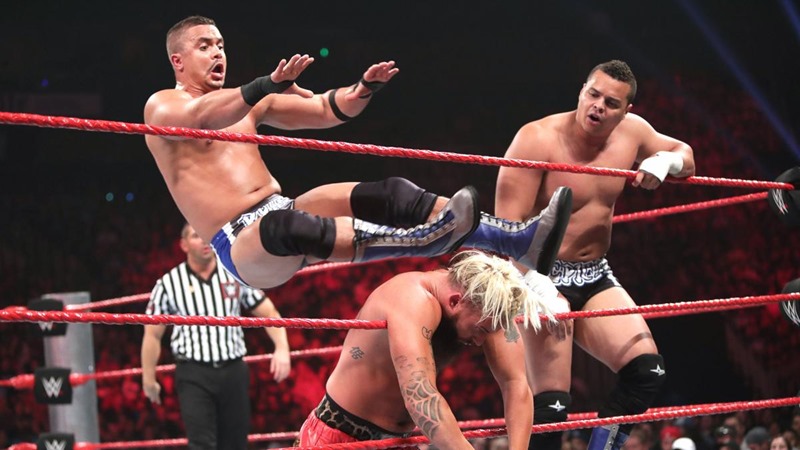 Big Cass and Enzo may have had the opening momentum thanks to some tussling and a suicide dive out of the RAW ring, but the Shining Stars quickly returned to action to start a counter-offensive. Some hot tags between Big Cass and Enzo almost ruined their day however, but some in-ring shenanigans and confusion resulted in Epico rolling up Enzo for a pin and a win.
Nia Jax defeated Ann Esposito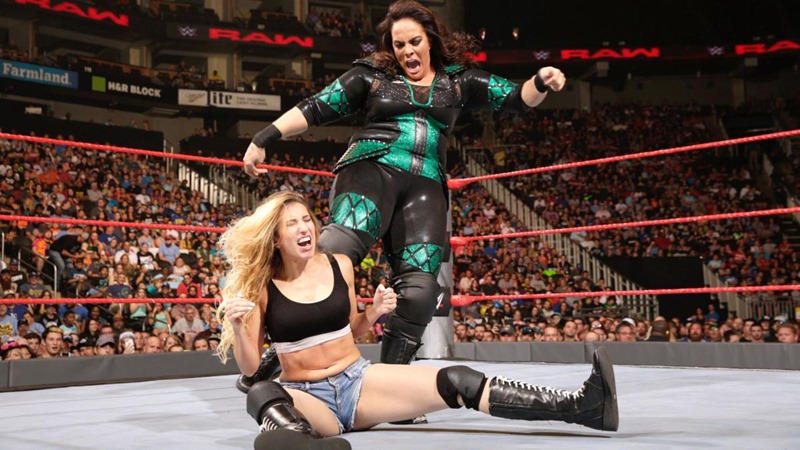 The squashings continued, as Nia Jax slammed another superstar into oblivion to continue her current winning streak on RAW.
Luke Gallows and Karl Anderson were in the ring to introduce The Old Day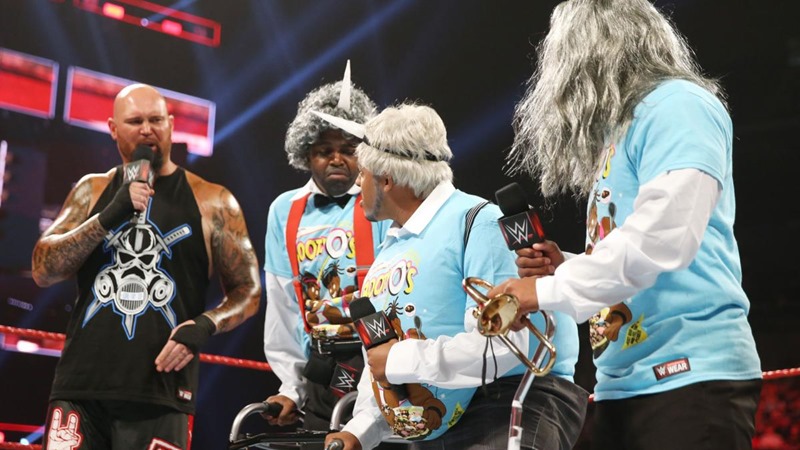 And they were there to once again explain how they were going to retire The New Day. Which resulted in a trio of actors dressed up of they were pensioners, making their way to the ring. This wasn't The New Day, it was The Old Day! The bit went on, and was mercifully cut short by the actual New Day crew hitting the ring and clobbering Gallows and Anderson to the point where the Club retreated up the ramp.
Which left The Old Day in a position to be beaten black and blue with the power of positivity as future Big E got locked into a Midnight Hour.
Darren Young defeated Jinder Mahal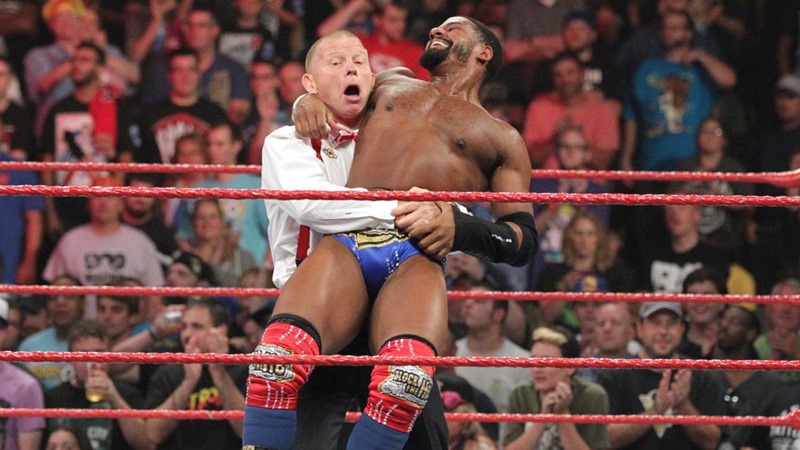 Titus O'Neil was with the RAW commentary team for this match, as Young began the match by locking Mahal into a swinging neckbreaker, Mahal came back with a powerslam and boots, but Young was on fire as a clothesline and suplexes from him hobbled Mahal further. O'Neil tried to distract Young in that RAW match, but he managed to maintain his control and seal the deal on a win with a Gut Check finisher.
Braun Strowman defeated Sin Cara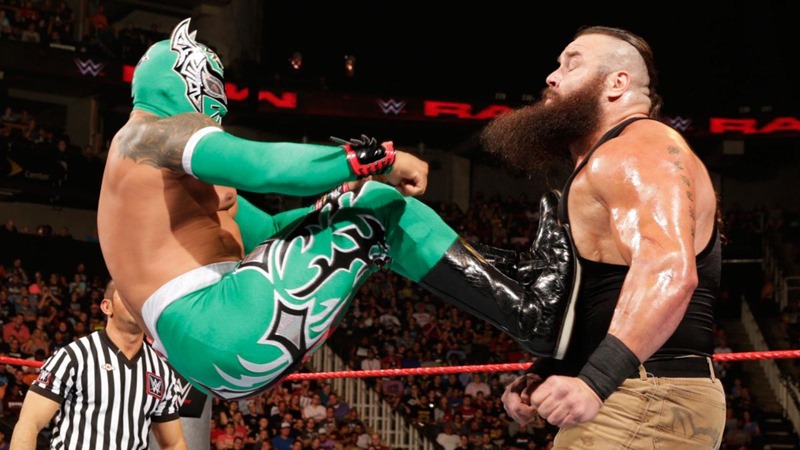 The Luchadore quickly found himself grounded by Strowman, as the two fought on in a battle of speed versus power. Strowman won that RAW match-up however, after throwing Sin Cara into the fan barricade and rolling himself back into the ring to watch his competition get counted out.
Kevin Owens defeated Sami Zayn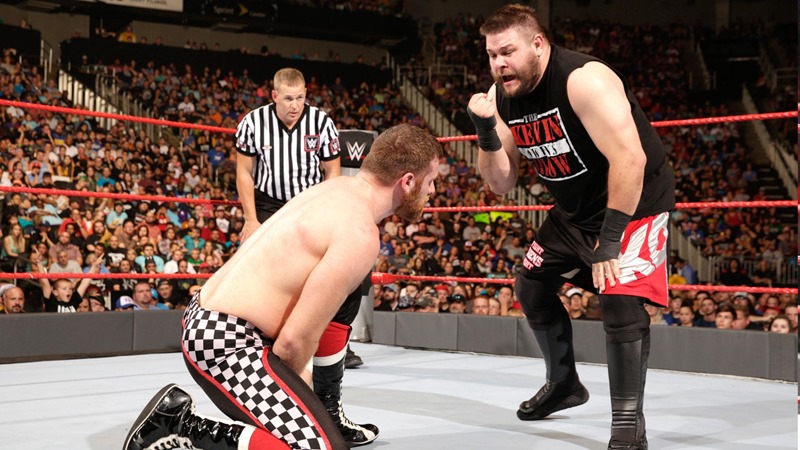 With the Universal title on the line, it was time for the RAW main event! Which we've kind of seen a million times before by now, thanks to that feud between Zayn and Owens which has the resilience of a cockroach on steroids. Anyway, it was typical stuff. Top-rope action, big slams and all that. But it was still solid stuff!
With his ankle injured, Zayn began selling his weak point as he couldn't hit his trademark boots on Owens. Owens however could use his legs, with a superkick and a powerbomb on Zayn making certain that he left RAW as the WWE Universal Champion. With that match over, Roman Reigns' music hit, prompting Owens to beat a hasty retreat when Reigns entered the ring, his bestest pal Chris Jericho being there to provide support as well.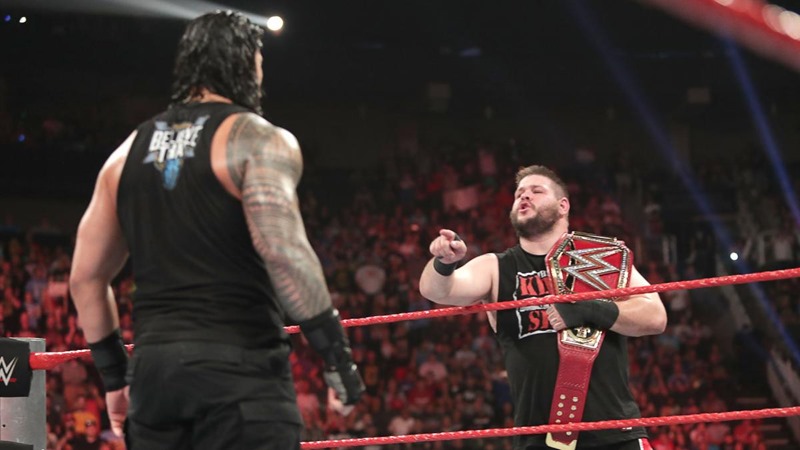 Mick Foley was there to keep things calm, revealing that Reigns would get a shot at Owens next week on RAW. If Reigns wins, he'll be eligible for a championship shot at Night of Champions with the match between Owens and Rollins becoming a Triple Threat. While Owens walked off to the back, Jericho attempted to ambush Reigns. Instead, Jericho's organs got introduced to a spear from Reigns as RAW went off the air.
Last Updated: September 6, 2016