WWE Monday Night RAW took place from Long Island, New York. Here's all the action that went down.
Intercontinental Champion Dean Ambrose confronted "John Cena"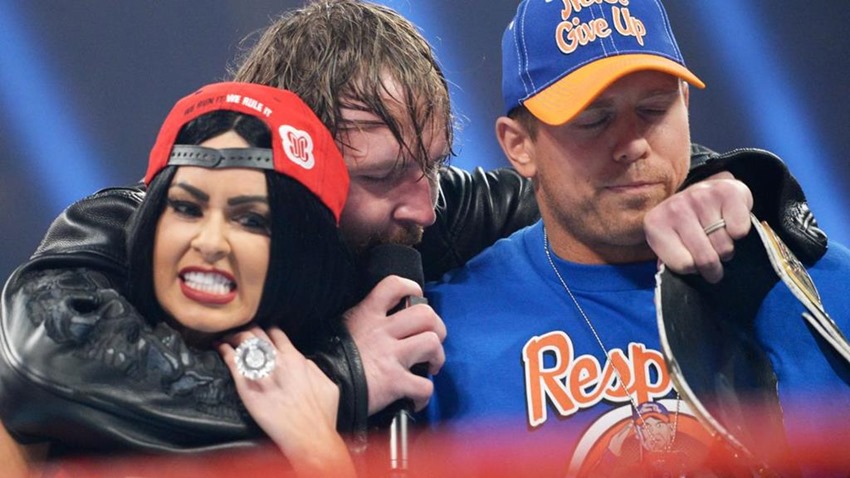 We don't deserve the Miz. AT least the version that has been pulling off hilarious imitations of the legendary John Cena as Monday Night RAW kicked off with a huge reveal. Yup, the awesome one is now a part of team red, and he couldn't wait to roast the Cenation leader some more. That is, until Intercontinental champion Dean Ambrose decided to make his presence felt and congratulate "Cena" for his victory over the Miz and Maryse at Wrestlemania.
Also, Dirty Deeds made an appearance the second the Miz got fed up and removed his Cena disguise. It was kind of mandatory at this point.
The Revival defeated The New Day
As far as debut's go, The Revival had a good start last week. So good in fact, that The New Day's Kofi Kingston still wasn't ready for action as his ankle had been badly damaged by the new kids on the RAW block and he was looking at missing weeks of action in the ring. The rest of The New Day was looking for payback, but the former champs were out of luck as Dash and Dawson singled out Xavier Woods and applied plenty of punishment to the star.
A hot tag from Big E could only go so far, as the match ended with a Midnight Hour interrupted and a Shatter Machine to lock onto Woods to earn a win.
Big Show knocked out Curt Hawkins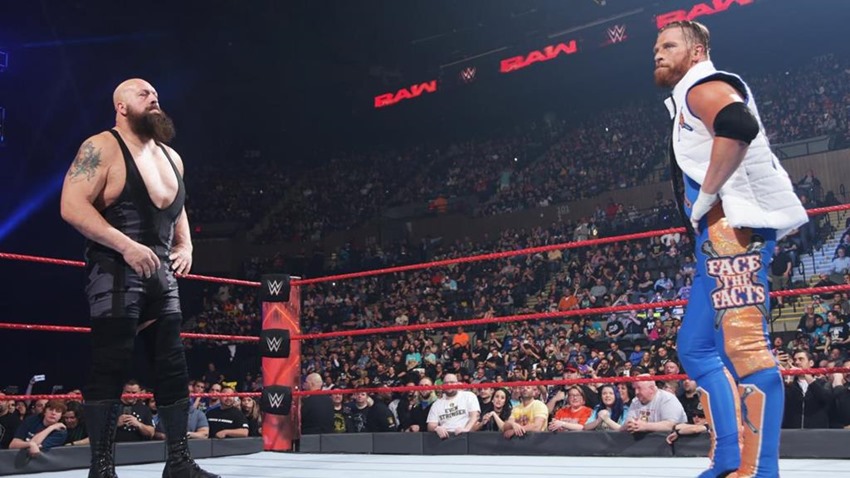 There was one other acquisition from Smackdown to RAW last night: Curt Hawkins. The man of a thousand facts made his presence known in the ring, demanding that he receive the proper welcome that he was so deserving of. So the Big Show strolled on down and delivered a KO punch to Hawkins. Welcome to RAW Curt.
TJ Perkins defeated Austin Aries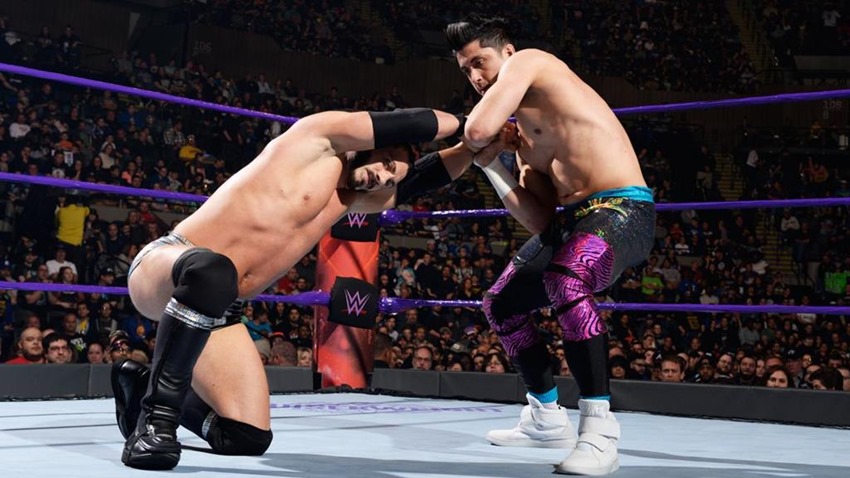 Cruiserweight action was up next, as TJ Perkins clashed with Austin Aries with a little bit of mind games extra from reigning champ Neville thrown in for good measure. Perkins threw everything he had at Aries and then some, while a small assist from Neville allowed the former champ to get the roll-up win. Perkins wasn't done yet for the night, as Aries learnt the hard way that turning your back on the superstar would result in a Detonation Kick from out of nowhere finding its mark.
Looks like the king of the cruiserweights has found his knight.
Raw General Manager Kurt Angle revealed Seth Rollins' fate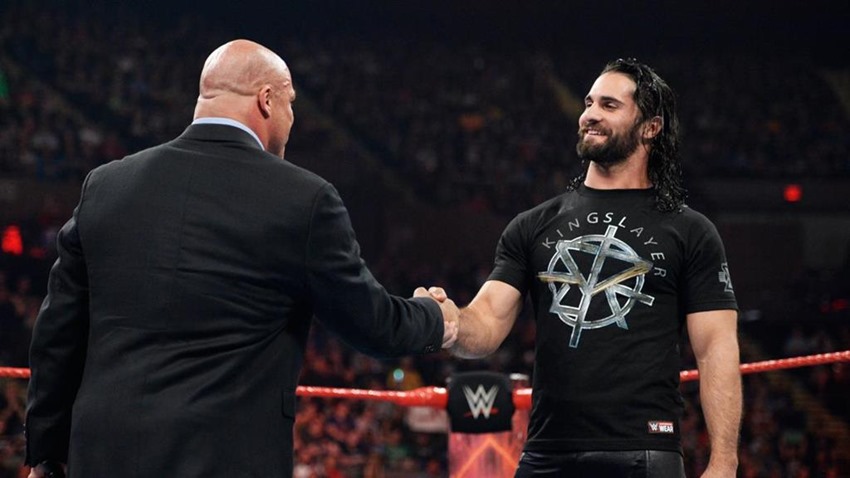 Seth Rollins may be a kingslayer right now, but he'll still need eyes in the back of his head as RAW boss Stephanie McMahon definitely wants the architect booted off the brand and shuffled off to Smackdown LIVE. General Manager Kurt Angle had other ideas however as he wanted to keep Rollins around, and reward him. A reward in this instance being an attack from behind by Samoa Joe.
Rollins managed to fend off the assault and send Joe packing, but it's clear that he's floating in hostile waters right now and has no allies on his side.
Nia Jax defeated Charlotte Flair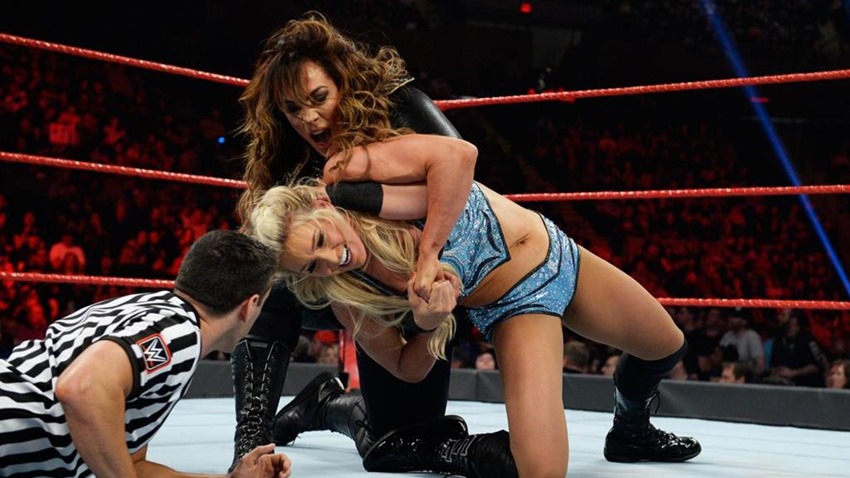 No championship to her name, a loss at Wrestlemania and her allies have deserted the Queen. Could Charlotte Flair's week get any worse? Why yes, yes it could as Nia Jax decided to run riot across the golden girl, as Charlotte's entire arsenal proved ineffective against the titan. A corner splash and a Samoan drop later, and Charlotte was counted out.
Finn Bálor defeated Jinder Mahal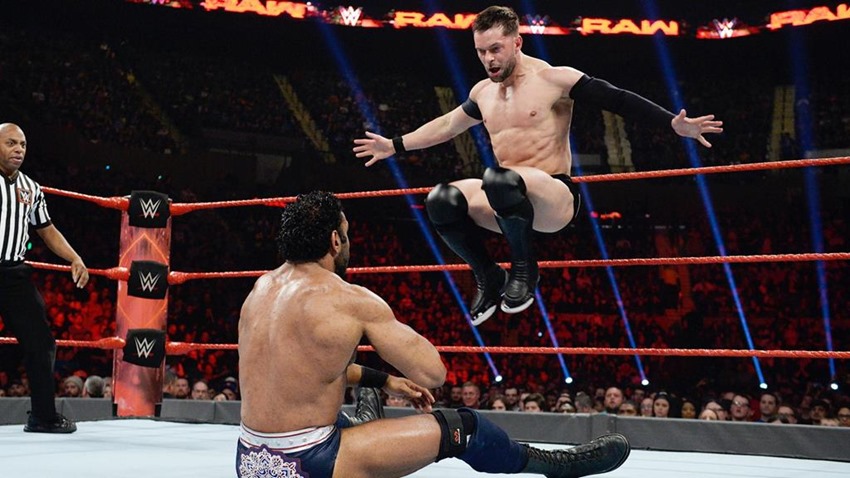 Finn Balor is back, and better than ever as the high-flying superstar proved last week. He did it again this week, defeating Jinder Mahal in a brutal match that pushed the Irishman to the limit and back again, eventually prevailing with his patented finisher. Balor's night wasn't over just yet however, as the titantron flickered and another face from Smackdown popped up on the big screen: Bray Wyatt.
The eater of worlds had a declaration to deliver: That he was now home on RAW and bringing his House of Horrors match with him to Payback. Oh, and also that he'd be keeping a keen eye on Balor…
Sami Zayn defeated The Miz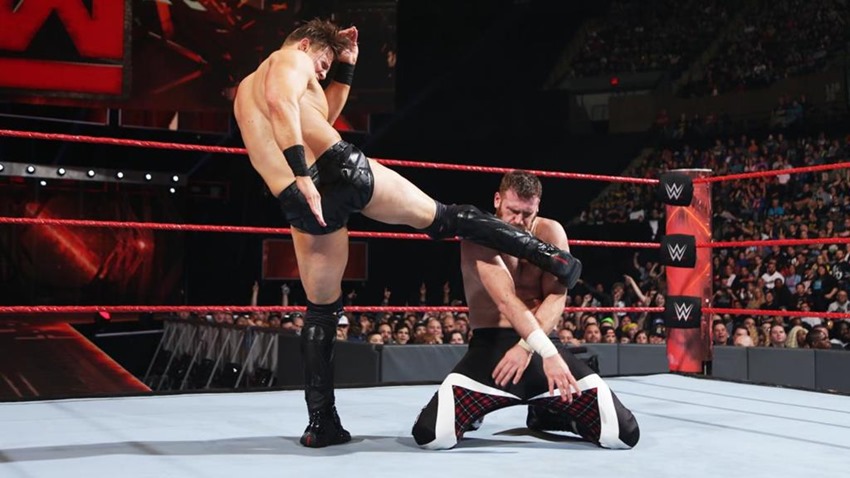 The Miz wasn't having a good opening night on RAW, and things were about to get kind of…well worse. While Smackdown had traded plenty of its superstars over to RAW, Sami Zayn decided to prove that he was still a contender on that brand and Smackdown in case any talent scouts were watching, with a showstopper performance that saw him reverse The Miz's Skull-Crushing Finale into a roll-up pin that earned him a win.
Sami Zayn may be headed to Smackdown after last night, but at least he'll be going there with a a win and a smile on his face.
Braun Strowman attacked Roman Reigns
There's no love lost between Roman Reigns and Braun Strowman, and after last night you can bet that the two superstars have a brand new axe to grind between each other. After a savage beatdown from Strowman that saw Reigns loaded into an ambulance, the monster amongst men decided to take things further with a backstage brawl on an incapacitated big dog.
Loaded into the ambulance, Strowman still wasn't done with Reigns as he tipped the actual ambulance over and cracked several of Roman's ribs and possibly separated his shoulder. He.Tipped.The.Ambulance.Over. Whoa.
Raw Tag Team Champions The Hardy Boyz, Cesaro and Sheamus defeated Luke Gallows, Karl Anderson and The Shining Stars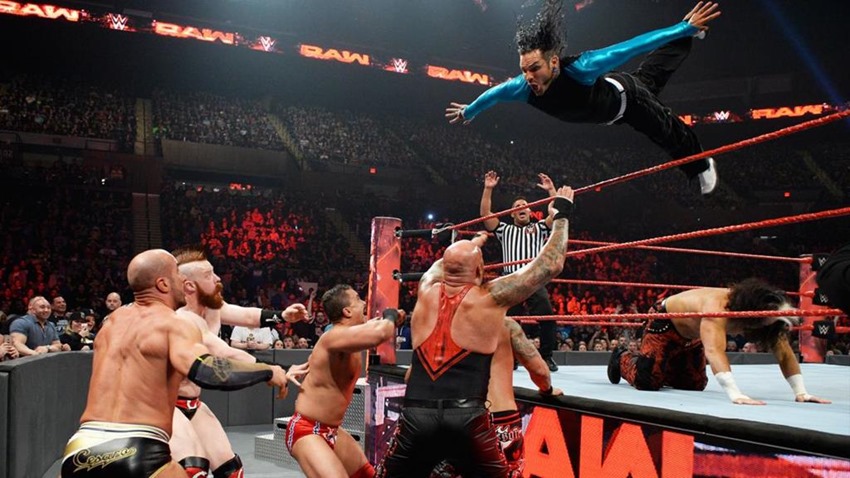 RAW last night saw tag team champs The Hardy Boyz join forces with the biggest challengers to their titles, Seamus and Cesaro. Two teams with a vested interested in one another, tackling the might of Luke Gallows, Karl Anderson and the Shining Stars. A match-up that paid off handsomely as the champs and contenders synced up perfectly to put the challengers in their place that ended with a Twist of Fate on Epico from Matt Hardy and a match-ending Swanton from Jeff to seal the deal on a win.
Alexa Bliss confronted Raw Women's Champion Bayley and Sasha Banks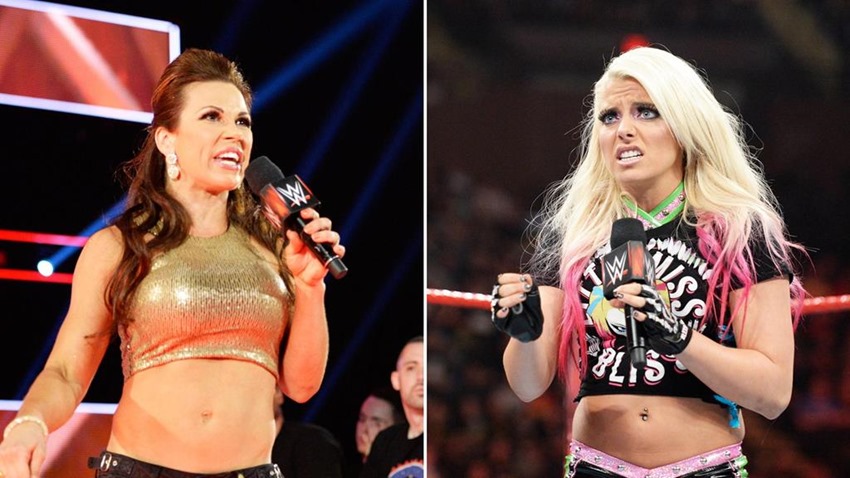 Another Smackdown acquisition reared her head on RAW last night: Alexa Bliss. The former Smackdown Women's champion was ready to rock on the red brand and she was wasting no time targetting Bayley and her championship. Only problem, was that Bliss would have to go through Sasha Banks as well to get her hands on the gold and Mickie James as she also revealed that she had been drafted onto the show.
Oh, and Nia Jax decided that she also wanted a piece of that action, as she quickly annihilated James, Banks and Bayley while Bliss beat a hasty retreat.
Intercontinental Champion Dean Ambrose defeated U.S. Champion Kevin Owens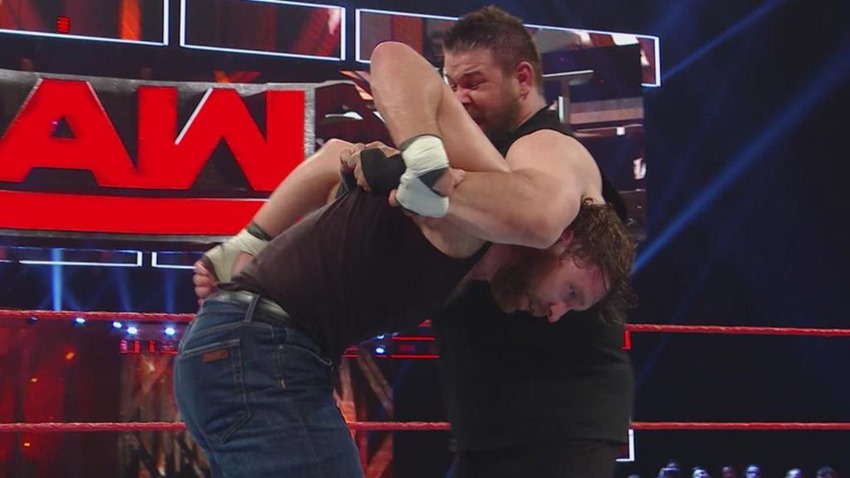 RAW may have an extra champ in the locker room with the arrival of Dean Ambrose and his coveted Intercontinental championship, but Kevin Owens wanted to remind him that his U.S Championship was like this much better yo. In a champion vs champion match, AMbrose managed to come out on top, surviving a painful barrage of holds and slams to deliver Dirty Deeds at the perfect moment and prove just who the better champ was that night as the Prizefighter lay cold and out for the count on the mat.
KO's night was far from over however, as Chris Jericho decided to make his presence felt with a Codebreaker taht was payback for getting put through a table last week as RAW went off the air.
Last Updated: April 11, 2017