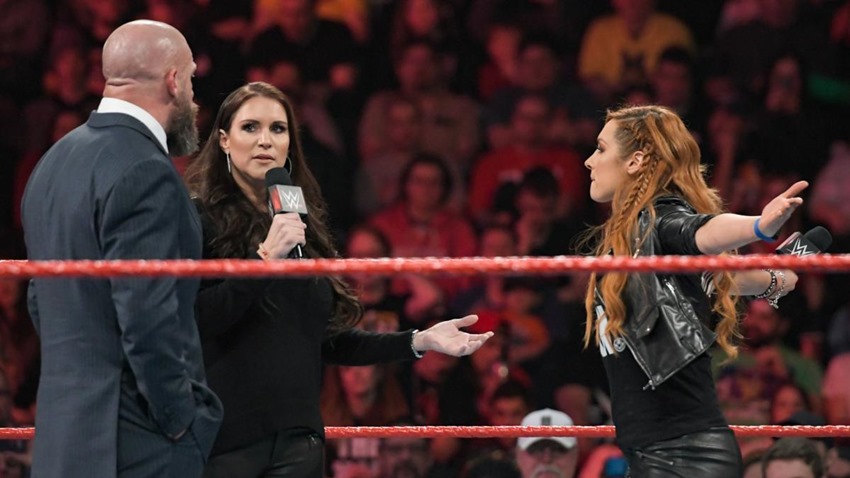 WWE Monday Night RAW took place from the Van Andel Arena in Grand Rapids, Michigan. Here's all the action that went down last night.
Triple H and Stephanie McMahon demanded Becky Lynch apologise for attacking them
Becky Lynch: Fiery WWE superstar, known as The Man to all her fans and currently in the crosshairs of the authority after a week of self destructive attitude saw her handing out slaps a'plenty to Triple H and Stephanie McMahon. The power couple of the WWE were none too pleased with Lynch's recent behaviour and decided to make an ultimatum. Either Lynch appeared in the ring and made an apology to the couple or her road to Wrestlemania would be cut short.
Lynch's response to Triple H's demands and pleas for her to put her injured knee through some rehab? More anger and attitude, leading Triple H to make a new deal: Either Lynch apologised and had her title match later in the night, or she'd be back to square one in the championship running.
Nia Jax and Tamina def. The Boss 'N' Hug Connection and Liv Morgan and Sarah Logan — Sasha Banks and Bayley will enter first into the Elimination Chamber
The Lucha House Party interrupted Elias
Once, twice, three times an interruption! While the Lucha House Party looked ready to walk with Elias, it was Kalisto who left the maniacal minstrel fuming when he took the guitar and upstaged the resident musician. Deciding to cut Kalisto's concert short, Elias struck back with a guitar over his back. Talk about a smash hit.
Braun Strowman, Finn Bálor and Kurt Angle def. Intercontinental Champion Bobby Lashley, Drew McIntyre and Baron Corbin
In a heavy-hitting bout, this showdown between titans ended in a spectacular manner: Finn Balor flying off of Braun Strowman, delivering a Coup de Grace to Bobby Lashley's belly and sealing the deal on this bout.
Ruby Riott def. Nikki Cross
Let Nikki play? Not if Ruby Riott has anything to say, after she defeated the maniac in a display of raw power and ruthless aggression last night on RAW.
Paul Heyman confronted Seth Rollins
Seth Rollins may have his eyes on Brock Lesnar and the Universal Championship, but he's not exactly in 100% condition to face the beast just yet. Even at full strength, just how far is Rollins willing to go to obtain the gold? Far enough to destroy himself in the process, as the Kingslayer revealed to Paul Heyman that he was ready to break himself if it meant ending the reign of Brock Lesnar.
Dean Ambrose def. EC3
Looking for some payback and his mojo, Dean Ambrose avenged his loss against EC3 from last week, tying the score between the two at one-all when he locked in a small package pin.
The Revival def. Bobby Roode and Chad Gable to become the new Raw Tag Team Champions
Behold the revival, of The Revival. After months spent at the bottom of the WWE tag team card, Dash and Dawson finally ascended to claim the spot as the WWE's top guys. Catching Chad Gable with a Shatter Machine, The Revival proved themselves to be the tag team specialists that they always knew they were. Now, they've got the gold to cement their boast as well.
Mr. McMahon suspended Becky Lynch and replaced her with Charlotte Flair at WrestleMania
It's official: Becky Lynch is no longer going to Wrestlemania. After digging deep and deciding to finally apologise to Triple H, Lynch was hit with a shocker: Vince McMahon, appearing before Lynch to hand her a suspension that will expire only five days after Wrestlemania. So who will face Ronda Rousey at the showcase of the immortals? None other than Charlotte Flair, as RAW went dark.
Last Updated: February 12, 2019