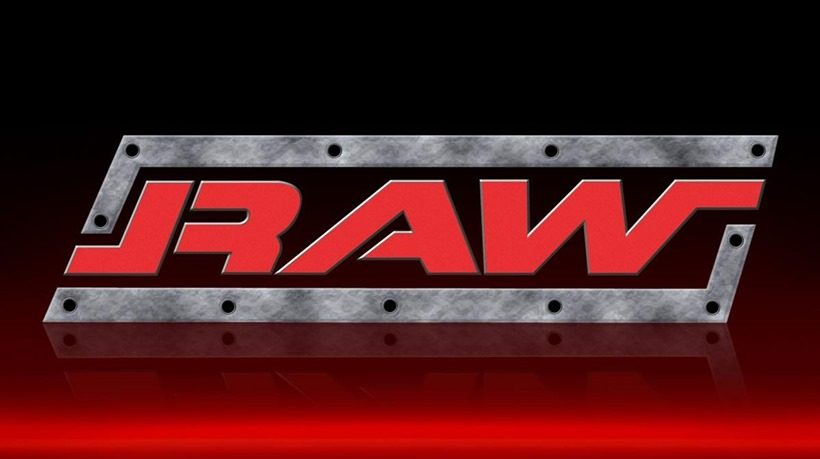 This week's episode of WWE Monday Night RAW took place at the Joe Louis Arena in Detroit, Michigan. Here's all the action that went down.
Darren Young won the  Battle Royal to determine the number one contender for the Intercontinental Title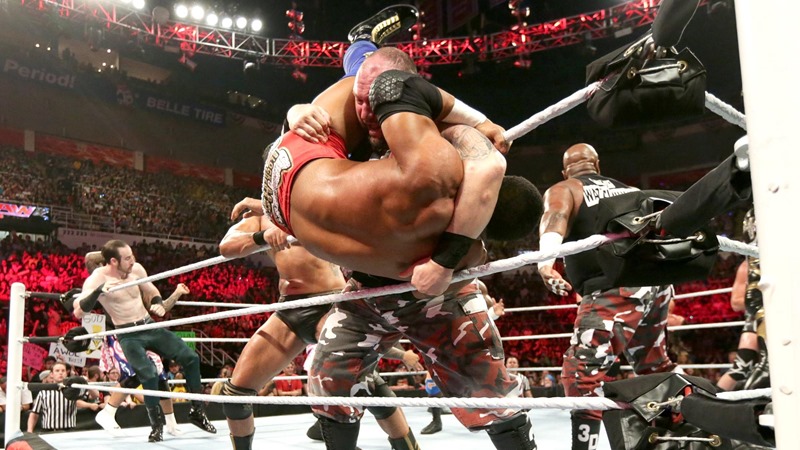 And our first RAW match of the night is a HUGE one! The Miz appeared before the battle royale kicked off, standing atop the announce table and telling everyone that he is indeed still awesome. Just about every mid-carder was present for this bout, including the Dudleys, the Golden Truth, the Vuadevillains, the Usos and Dolph Ziggler to name just a few. Eventually, Terry Crews, Baron Corbin and Darren Young were the last men standing, with Young ducking a clothesline from Crews that took Corbin out of the ring with him.
Bob Backlund's protege must be feeling pretty great right now.
Backstage with the McMahons
Stephanie and Shane McMahon are busy musing about why big daddy Vince McMahon is on his way to RAW, until Seth Rollins interrupts and claims to have exclusive footage of Roman Reigns that everyone needs to see. The McMahons tell Rollins that he can air it later on in the night.
Backstage with Zack Ryder
Ryder wants a piece of the championship pie, and he calls out Rusev backstage on RAW for his US title. And then he got bliksemed from behind by Sheamus, who tells Ryder that he has to worry about their match. Which is up next. CONVENIENT!
Sheamus defeated Zack Ryder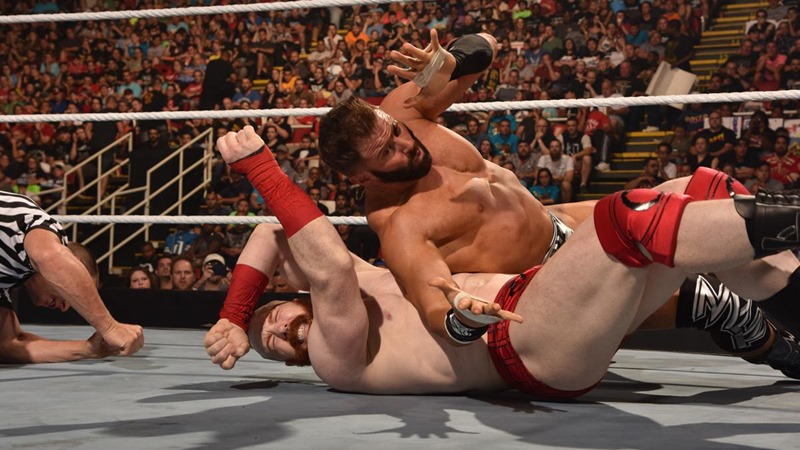 Awww, and he was on such a nice winning streak as of late. Ryder and Sheamus went outside the RAW ring early in this match, with Ryder holding plenty of momentum all the way through. Back in the ring, Ryder missed a corner splash and got taken out with a running powerslam, leaving Sheamus the winner. And then Rusev decided to appear for a post-match beatdown, which is how Bulgarians say "challenge accepted".
Tyler Breeze and Fandango defeated The Lucha Dragons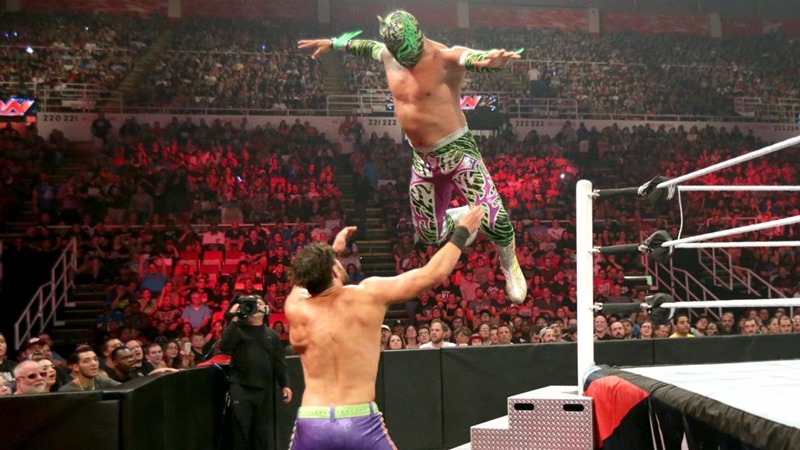 Some decent back and forth action between the two teams, as the Lucha Dragons used plenty of top-rope moves to keep this RAW match entertaining. Tyler Breeze would score a victory when he hit Kalisto with a superkick.
Seth Rollins is in the ring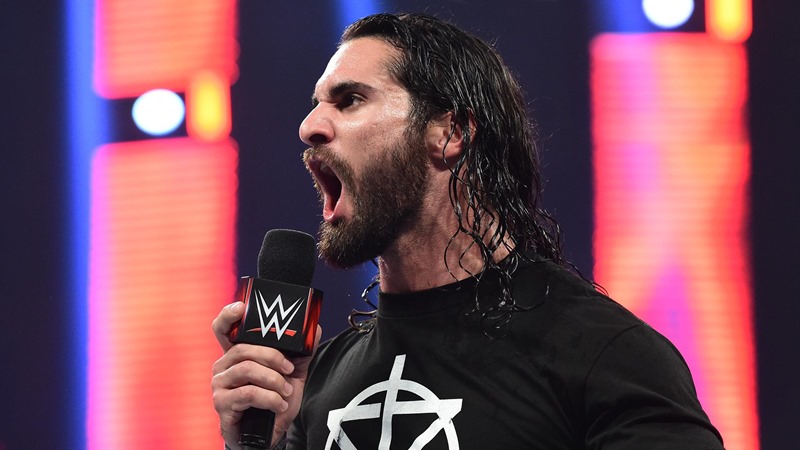 And he has a video of Roman Reigns to show everyone at the RAW venue tonight, which just so happens to be a one on one interview. Made up of old clips of Reigns that are edited in the same way that that Homer Simpson interview was in the episode "Homer Bad Man". After that farce, Rollins says that Reigns needs to be pulled from the Battleground PPV main event, a statement which brings out Dean Ambrose, who is having none of that crap.
Kevin Owens and Sami Zayn are brawling
And that's because Sami Zayn was ringside on commentary. Owens refused to hit the RAW ring until Zayn was removed, something which several referees did. And then they decided to brawl on the entrance ramp.
Vince McMahon arrives
And he has news! Vince says that tonight, a Smackdown commissioner will be announced on RAW.
The New Day visited the Wyatt compound
And things got weird. Although not Final Deletion weird. The New Day and the Wyatts brawled in a field surrounded by cars, which seemed to end with Bray abducting Xavier Woods as Big E and Kofi Kingston fought off an army of followers that forced the team to retreat as soon as Woods reappeared.
Kevin Owens defeated Cesaro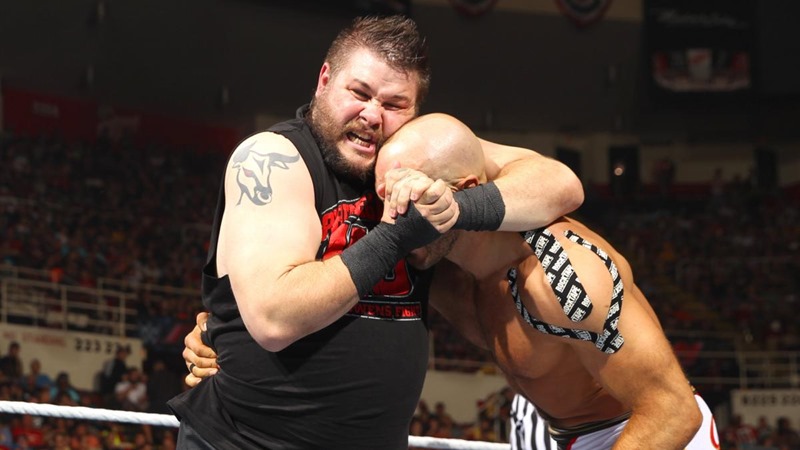 With Zayn no longer on commentary, Owens could finally get his match on with the Swiss Superman Cesaro. Owens and Cesaro threw some big moves at each other, from gut-wrench suplexes to the Senton bombs and more. Cesaro went for a superplex later on in the match, but Owens narrowly escaped it and reversed it into a HUGE swinging neckbreaker to get the win. And then Sami Zayn reappeared at the RAW ring for a beatdown, which Cesaro punctuated with a swing around the ring.
Backstage with The Club
And I'm not talking the 50 Cent single. Karl Anderson, Luke Gallows and AJ Styles are mocking John Cena, Enzo Amore and Big Cass. Also, they're totally going to knock Cena's block off when he's back from LA.
Titus O'Neil defeated Heath Slater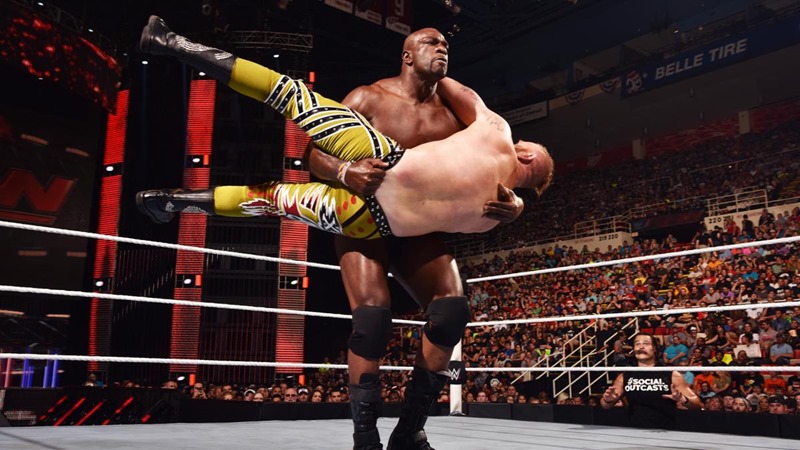 While the other Social Outcasts members were ringside for this RAW match, Titus hit some big offense and his Clash of the Titans finisher to put Slater down for the night.
Enzo and Big Cass defeated Gallows and Anderson via DQ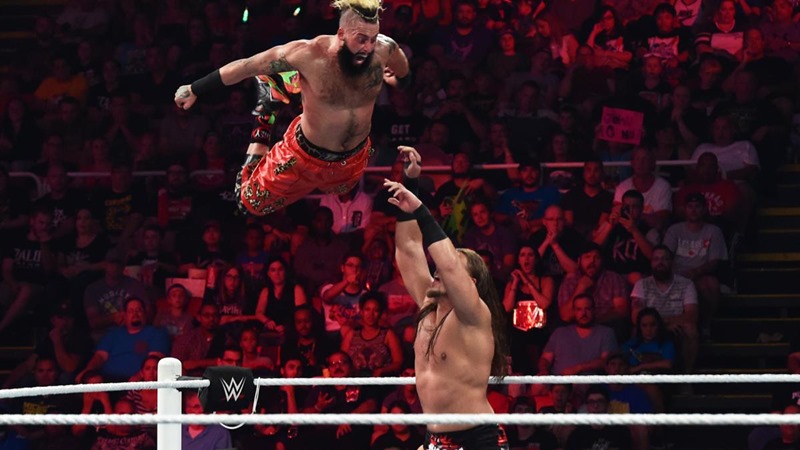 AJ Styles was also present for this match, which began with Enzo and Big Cass cutting a promo on how gutless The Club was. Karl Anderson and Enzo kicked off the match, with momentum shifting constantly. A tag to Big Cass saw a bigger bodyslam from the giant on Anderson, with another tag to Enzo landing a solid double-team move on the Club member.
Gallows would get some offense in when he was finally tagged in, setting the tone for the match as both sides tagged in plenty and the pace swapped sides constantly. In the end, Big Cass would land a combo of a powerslam, Empire Elbow and a fallaway slam, tag Enzo in and the two would hit their Bada Boom finisher on Anderson. What should have been a win was instead broken up by Gallows, with AJ Styles joining in on the madness as all hell broke loose in the RAW ring.
And after all that, with Big Cass out for the count and The Club circling Enzo, would signal for John Cena to hit the ramp as he helped clear the ring.
Sasha Banks defeated Dana Brooke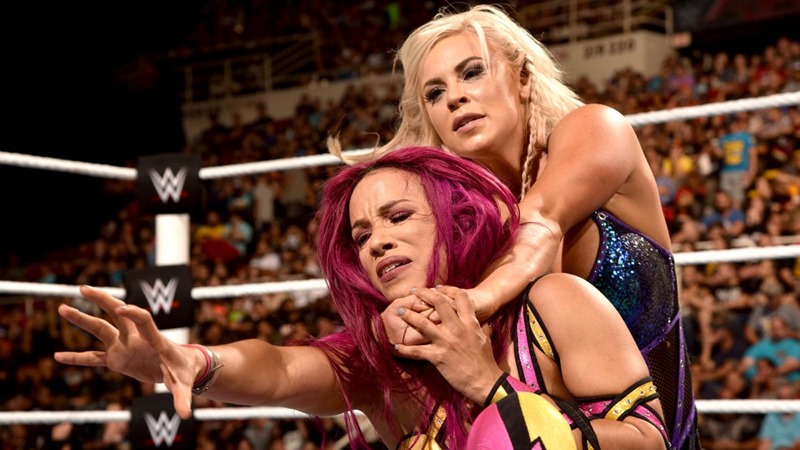 A decent match, which ended when Banks escaped a Death Valley Driver from Dana Brooke and locked her in the Banks Statement to get the win on RAW. Afterwards, Charlotte appeared and told Banks that if she wanted a shot at her title, she'd need to have a rematch with Dana Brooke on Smackdown.
Vince McMahon announced the new commissioners of RAW and Smackdown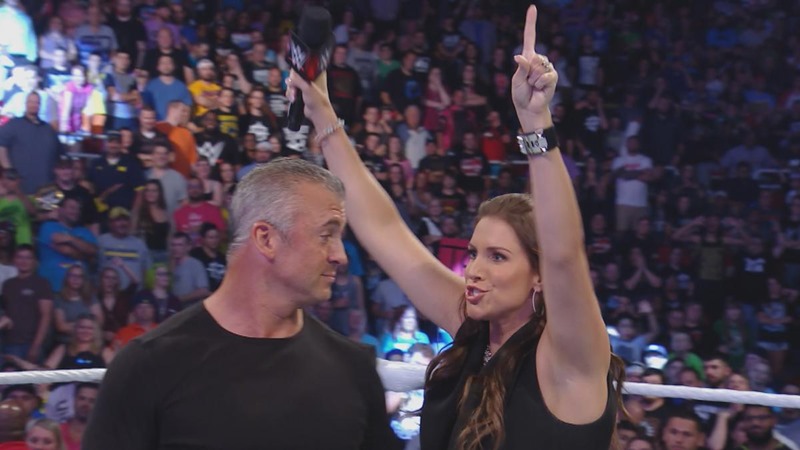 And it was time for the big announcement! With the upcoming draft on the way as Smackdown transitions to a live show, Stephanie and Shane McMahon were in the ring to greet their father Vince McMahon on RAW. Vince strutted on down, to tell his kids that they'd been doing an OK job on RAW, but he was kind of disappointed in the two of them. Vince claimed that Stephanie needed to stop pretending to be nice, and that Shane wasn't ruthlessly aggressive enough.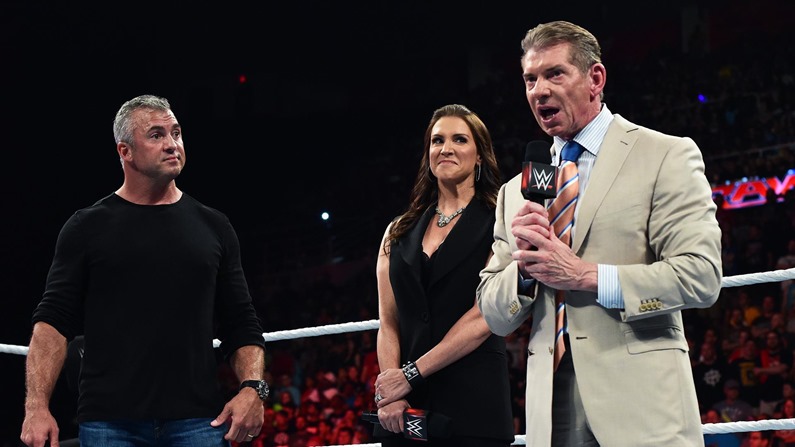 Both kids explained why they should be running Smackdown, but Vince decided to name Shane as the new Commissioner of that show. While at the same time, relieving him of his responsibilities on RAW and naming Stephanie the new commissioner of Monday nights instead. Vince explained that he wanted competition between the two of them, for ratings, tickets sold and merchandise.
Vince also told the two that they'll need to pick general managers to serve under them, or Vince will do it. Vince told his kids to "let the games begin", as both McMahon kids ended the RAW show with their game faces on. It's RAW vs. Smackdown, all over again.
Last Updated: July 12, 2016