WWE Monday Night RAW took place from the Joe Louis Arena in Detroit. Here's all the action that went down.
Brock Lesnar and Paul Heyman revealed the "Theory of WrestleMania Relativity"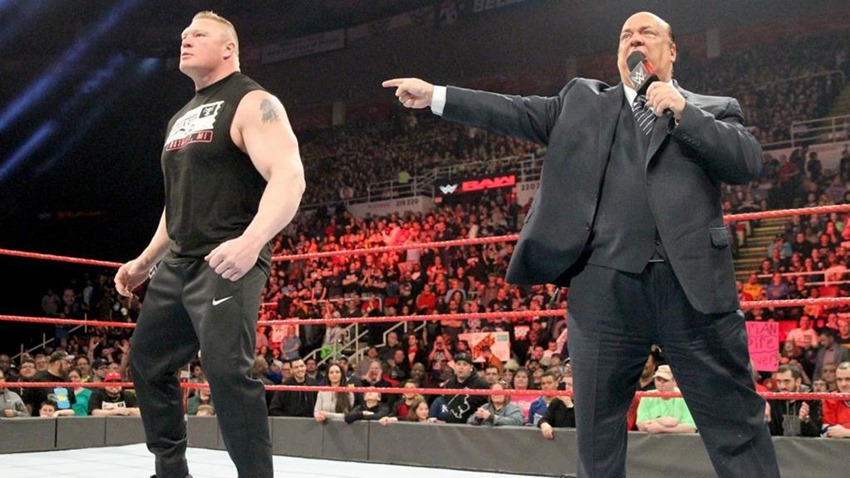 The Beast incarnate isn't just hungry for a chance to rectify the black spot on his impressive list of wins in the WWE. He wants some gold to go with the main course at Wrestlemania as well. And that's a meal that he dug into when he left current WWE Universal champion Goldberg laying down for the count after a surprise F5 attack not too long ago.
And as Brock Lesnar's advocate Paul Heyman explained on RAW, this was merely a taste of what was to come at Wrestlemania, as Heyman claimed that a victory for the beast was mathematically guaranteed. You divide anything by an F5, and you're going to come up with a big fat zero it seems.
Sasha Banks defeated Dana Brooke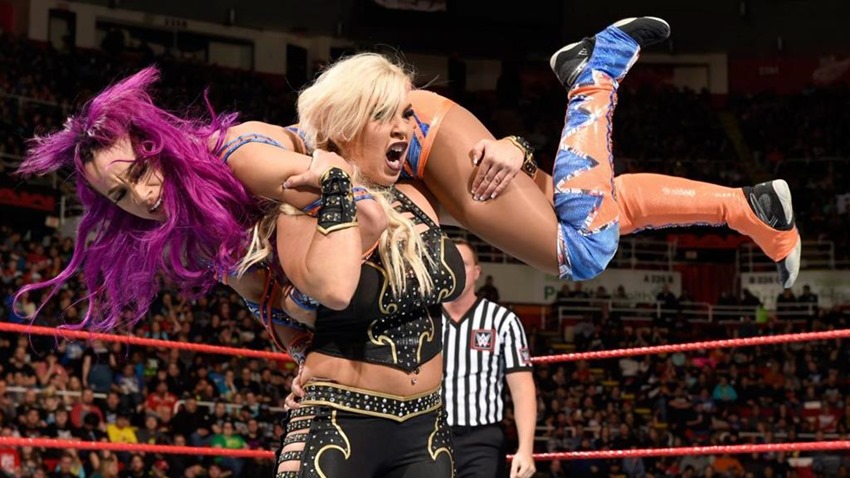 With a mission from Charlotte to make certain that Sasha Banks doesn't make it to Wrestlemania and the triple-threat match for the RAW Women's title, Dana Brooke failed in her objective last night. She may have pushed Banks further than ever before with a constant and vicious assault, but the veteran ring warrior managed to one-up Brooke with a sneaky roll-up pin out of nowhere.
And Charlotte was none too happy, as she decided to dissolve the friendship that she had had with Dana Brooke right then and there. Which Brooke reacted to in a manner that made sense: By annihilating Charlotte in the ring with a flurry of blows.
The Brian Kendrick and Tony Nese defeated Akira Tozawa and TJ Perkins
Week after week, The Brian Kendrick has been a tutor in the school of hard knocks to Akira Tozawa, leaving the stamina monster flustered and out for the count in every encounter. But having the chance to finally get his hands on the Wizard of Odd was too good of an opportunity for Tozawa to pass up on, even if it was a tag team match.
Tozawa came up short unfortunately, as the combination of Kendrick and Nese proved too crafty for him and TJ Perkins, with a handful of Perkins' tights proving to be a solid tactic that earned the heels a win.
U.S. Champion Chris Jericho and Sami Zayn defeated Kevin Owens and Samoa Joe via Disqualification
Kevin Owens seems to have the entire RAW locker room out for his blood lately, and at least two members of the roster got a chance to deliver some payback to the former WWE Universal champ ahead of Wrestlemania 33. But when Sami Zayn botched a plancha, Samoa Joe and Owens were quick to pounce on his weakness, with the ref throwing the match.
Jericho's efforts to save Zayn were in vain, as the former best friend of the Prizefighter was no match for a numbers game that ended with a Pop-up Powerbomb.
Enzo Amore and Big Cass vs. Cesaro and Sheamus ended in a No Contest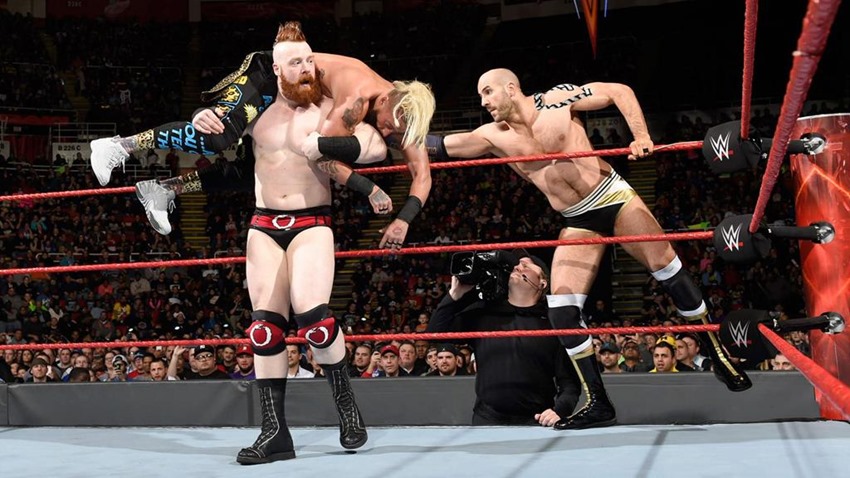 So who's going to face Karl Anderson and Luke Gallows for the RAW tag team championship at Wrestlemania 33? Who won the number one contenders match last night? NOBODY! That's because despite a spirited bout between two of the best teams on the roster, Gallows and Anderson decided to jump into the match and remove the legal men from the championship race, resulting in a No Contest.
But the move may have backfired, as general manager Mick Foley decided to even the odds. By announcing a triple threat tag team match for the titles at Wrestlemania.
Roman Reigns defeated Jinder Mahal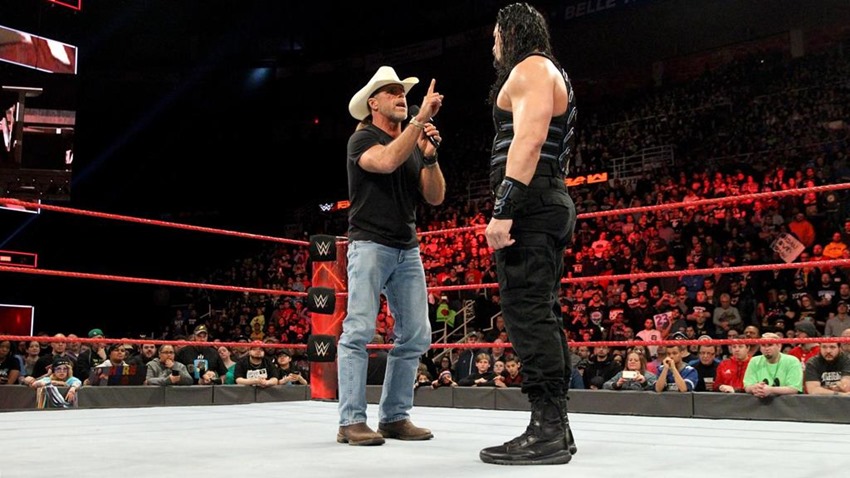 Roman Reigns is used to facing the odds when they're stacked against him, but he may have bitten off more than he can chew when he decided to serve notice on the Undertaker and challenge the dead man to a Wrestlemania match. But Reigns isn't just looking to defeat the Phenom: He wants to retire him as well, for good this time.
Reigns decided to challenge the Undertaker to appear before him after he made short work of Jinder Mahal, but he got the Heartbreak Kid instead. Shawn Michaels was back, and he was there to deliver a warning to Reigns as he claimed that he was unfocused and unprepared for the match that awaited him. Oh and also, Braun Strowman decided to send Reigns crashing from the ramp into the barricade. It was a weird night.
Austin Aries defeated Ariya Daivari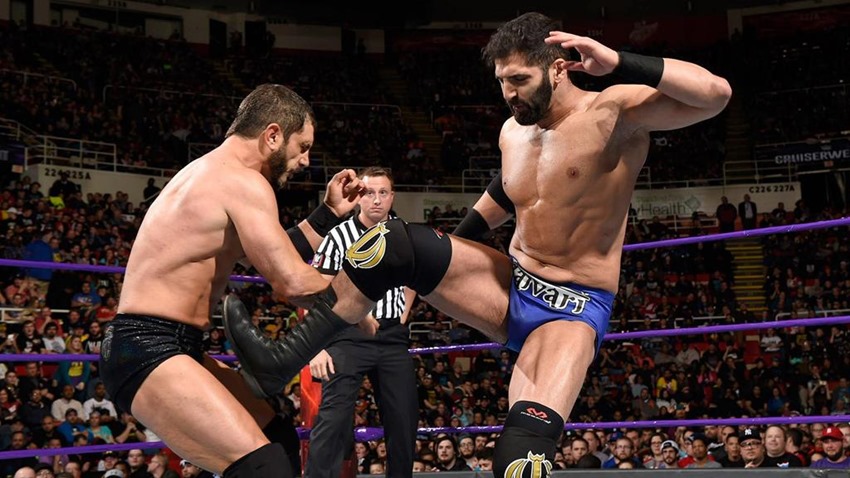 Ladies and gentlemen, there is a new challenger in the RAW cruiserweight division, and his name is Austin Aries! After making a statement last week with a blow to current champ Neville, Aries picked up a debut win against Ariya Daivari in his first RAW match that made good use of his arsenal of technical moves. The patented Discus Elbow finished off Daivari for the night, as Aries began readying himself for a chance at the Cruiserweight Championship, should he be successful in a Fat Fiveway match on 205 Live.
Big Show defeated Titus O'Neil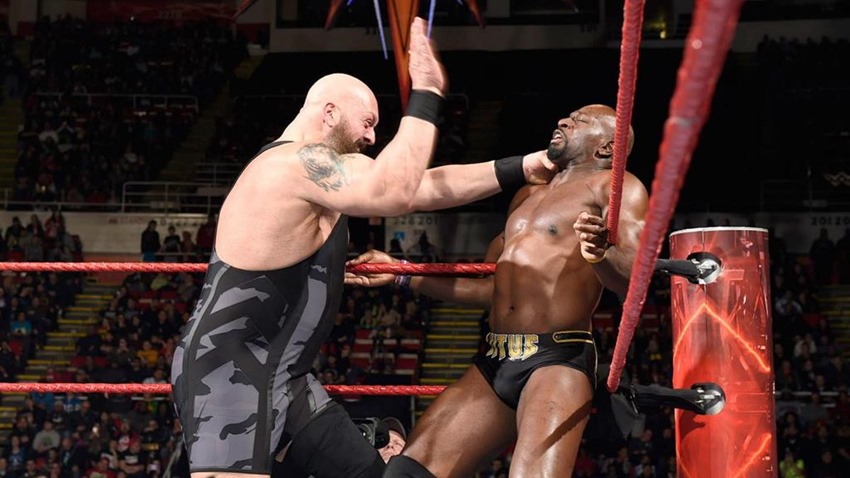 When it comes to Wrestlemania, the odds are ever in the favour that The Big Show will manage to win the annual Andre the Giant Battle Royal. This year marks the fourth such event, but the Big Show might have some competition on his massive hands in the form of Titus O'Neil. The big deal was aggressive from the start of his match with the giant, but the Big Show fought back with a series of chokeslams that pretty much bent the ring in half.
Raw Womens' Champion Bayley defeated Nia Jax via Disqualification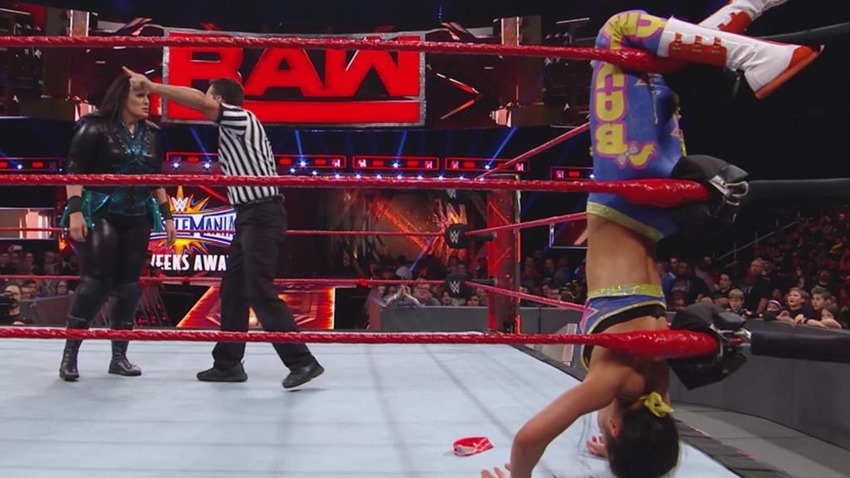 Sasha Banks may have emerged from her match earlier in the night unscathed, but poor Bayley wasn't as lucky when she faced Nia Jax in the ring. Bayley put up a hell of a resistance against the unbeatable monster, attempting to win not with brute force but rather the crafty use of submissions. But the doctor of huganomics best efforts weren't enough, as Jax powered through and kept on pounding Bayley to the point where the ref called her off with a disqualification.
Jax wasn't finished with Bayley just yet however, as she continued the assault by trapping the huggable one in the tree of woe and an introduction to the fan barricade, face first.
Raw General Manager Mick Foley tried to fire Raw Commissioner Stephanie McMahon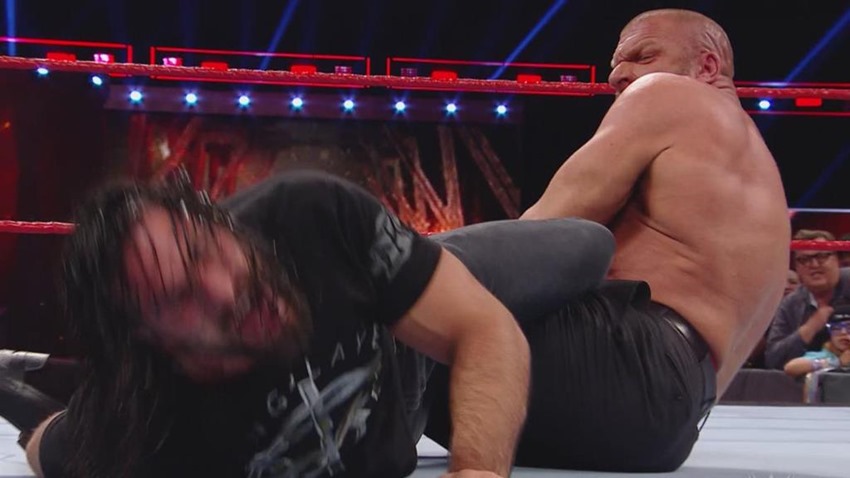 Earlier in the night, RAW commisioner Stephanie McMahon decided to up Mick Foley's business game by demanding that he fire somebody on the RAW roster. Fair enough then, as the general manager decided to fire his own boss. A smart move, but not exactly a wise one as Triple H decided to make his presence known and threaten not only Foley but his family as well. A confrontation of wills that ended with Foley shoving Mr Socko down the throat of Triple H, but Stephanie decided to low blow the hardcore legend so that her husband could get a chance to breathe again.
And then Seth "Freakin'" Rollins decided to appear, as he wasn't waiting until Wrestlemania to get his hands on the Game. Rollins looked fit for action, taking the fight to Triple H and tossing him out of the ring. But the cerebral assassin decided to make good on his promise to cripple the Architect, grabbing his crutch and whacking away on the kneecaps of Rollins.
A lot more punishment followed, as Triple H teed off on Rollins and targetted his injury with ruthless aggression, leaving his rival possibly re-injured all over again before Wrestlemania.
Last Updated: March 14, 2017