WWE Monday Night RAW took place from the Schottenstein Center in Columbus, Ohio. Here's all the action that went down.
Raw General Manager Kurt Angle confronted Braun Strowman
Braun Strowman's been a naughty wrecking ball lately. After last week's episode of RAW saw him brutalise Roman Reigns and smash an ambulance, general manager Kurt Angle decided to have some words with the monster. Cutting Strowman's celebrations short, Angle informed the gift of destruction that he'd finally get a rematch with Reigns at Payback.
But before Strowman could get to Payback, he demanded some competition for his Monday night exercise. Or else.
Samoa Joe defeated Chris Jericho
Chris Jericho had some personal business to take care of last night when he faced off against Samoa Joe. After the submission machine had put the US champ through a table a few back, the ayatollah of rock 'n rolla was looking for some of that sweet sweet revenge with a victory over the infamous enforcer but came up short.
Somehow managing to power out of Jericho's best submissions, Joe proved just how dangerous he was when it came to making superstars tap out when he applied his dreaded Coquina Clutch to Y2J. A situation that he'll soon be hoping to repeat when he faces Seth Rollins at Payback.
Luke Gallows and Karl Anderson defeated Enzo Amore and Big Cass
The Revival may have tilted the playing field of the WWE tag team division lately, but Dash Wilder's recent injury has resulted in an opportunity for those hungry for the gold around the waists of the Hardy Boyz. Former champs Luke Gallows and Karl Anderson proved that they still had the skills to pay the bills when they put the loudest guys in any room down for the count yet again, as they singled out Enzo for punishment and kept the gigantic Big Cass out of action.
Dodging a Bada Boom Shakalaka at the last minute and turning it into a reverse Snake Eyes-type off the top turnbuckle, Gallows and Anderson were clearly back in the game for some of that RAW tag team gold.
Intercontinental Champion Dean Ambrose appeared on "Miz TV"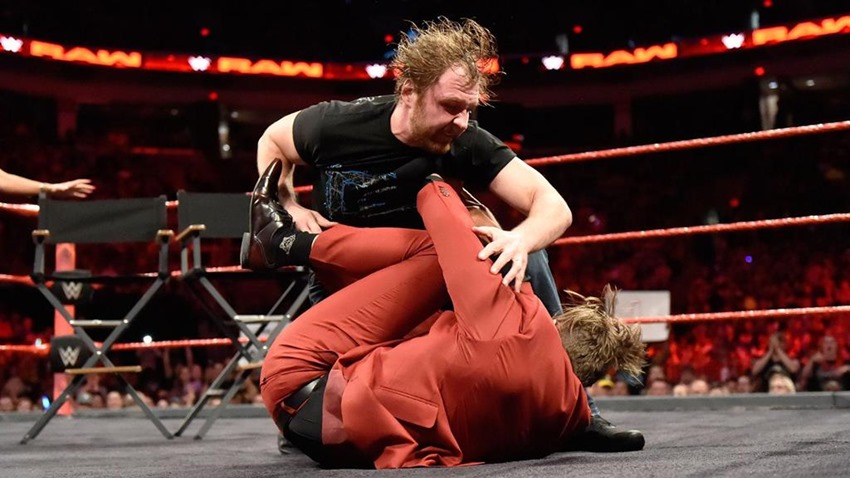 Good news for The Miz: He's back on RAW and away from some of his dreaded competition over on Smackdown. Bad news: Intercontinental champ Dean Ambrose has followed him over and the madman wants to reopen old wounds. Frustrated that is beloved Intercontinental championship was the property of Ambrose, The Miz and Maryse layered insult after insult towards Ambrose until he finally snapped and tackled the Awesome one. Saved by the skin of his teeth by Maryse, Ambrose is more than ready to wager his championship against the A-lister in the weeks to come.
TJ Perkins defeated Gentleman Jack Gallagher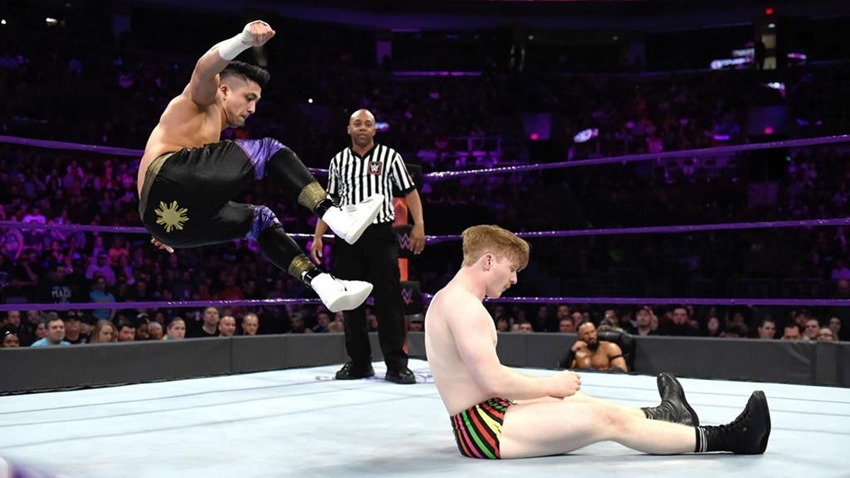 Neville may be king of the cruiserweights, but every monarch needs a knight. A role that TJ Perkins seems content to fill as he faced off against potential contenders to the crown, as he took on the most extraordinary superstar in the ring known as Jack Gallagher. Gentlemen Jack's offense may have been upper-class action in the ring, but even he was no match for the former champ who resorted to more dastardly measures to win the match.
After some interference from Austin Aries, Perkins finished off Jack with a Detonation Kick and proceeded to rush up the ramp to protect his king from the wrath of Aries. Something weird is going on in the cruiserweight division.
Alexa Bliss defeated Sasha Banks, Nia Jax and Mickie James to become No. 1 contender to the Raw Women's Championship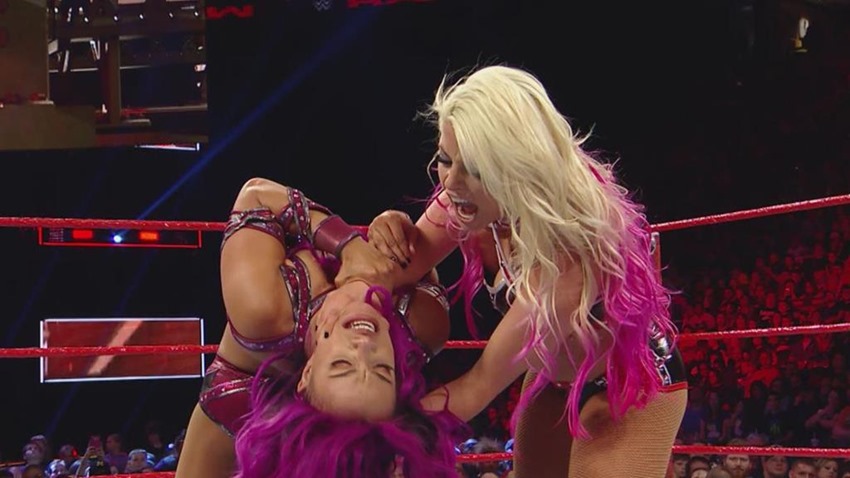 You don't take a superstar with the talents  of Alexa Bliss and allow her to languish in the RAW women's division. The wicked witch of Smackdown proved that she was still in the running for any championship when she managed to outlast Sasha Banks, Nia Jax and Mickie James, picking the perfect spot and time to earn a shot at Bayley's championship. Goading Jax to do the dirty work for her, Bliss bided her time and dropped the destroyer with a boot out of the ring, picking the remains of The Boss for a quick pin.
Finn Bálor defeated Curt Hawkins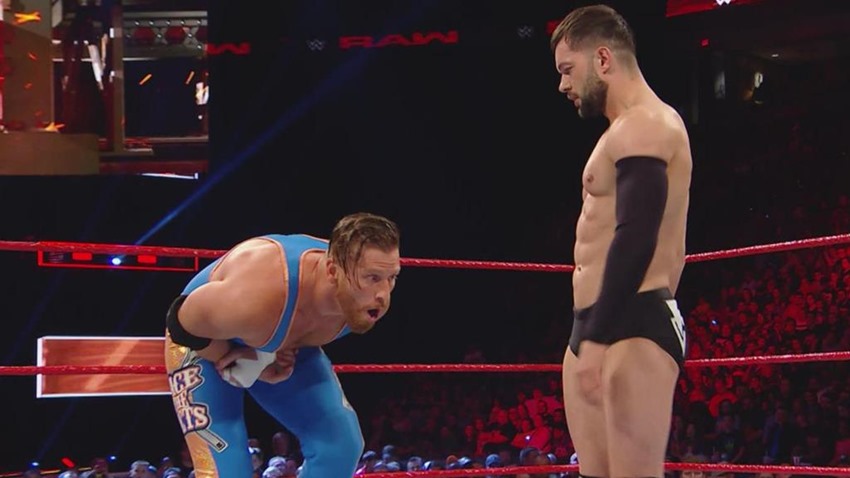 Curt Hawkins lost another match on RAW after issuing an open challenge to anyone bored enough to face him in the ring. In other news, the sky is blue, politicians should be hunted for sport and Twinkies are still delicious.
Raw Tag Team Champion Jeff Hardy defeated Cesaro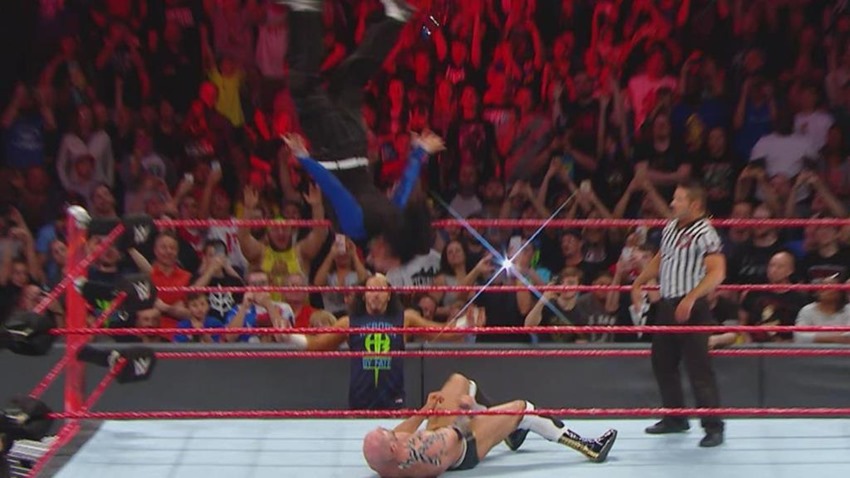 Y'all want to see Jeff Hardy get extreme? You got it! The one half of the RAW tag team champions took on the Swiss Superman Cesaro in a hard-fought battle, where it was anyone's game. The King of Swing proved that he was a force to be reckoned with, but it was a combo of Jeff Hardy's Whisper in the Wind, Twist of Fate and Swanton that finally put his competition down.
A truly splendid match, both superstars shook hands after the bout was over, as Payback will see the two teams go for gold now that they've had a taste of what to expect from their opposition.
Big Show vs. Braun Strowman ended in a No Contest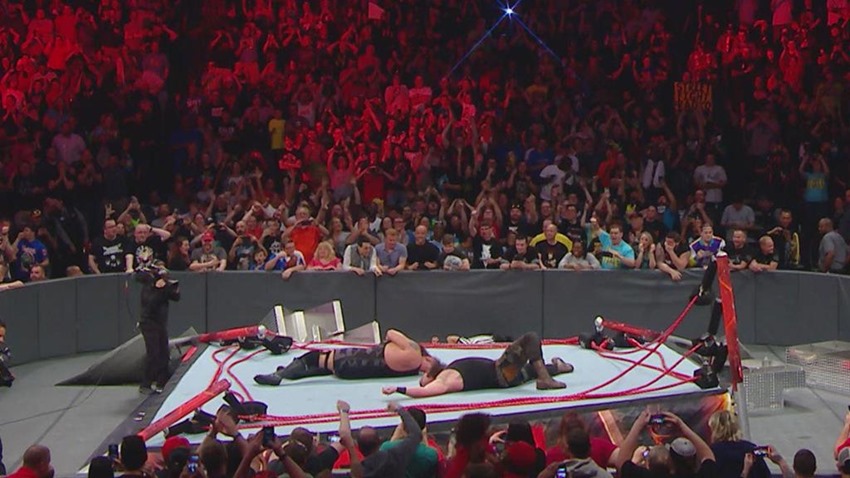 Braun Strowman wanted a challenge? He got a giant one when the Big Show made his way to the ring. Oh, about the ring…It kind of broke. Echoing the epic confrontation between himself and Brock Lesnar years ago that resulted in the beast incarnate breaking the Smackdown arena with the world's largest athlete, Strowman locked in a superplex that shattered the canvas.
Even with the ring destroyed and  Big Show down, Strowman certainly wasn't out as he rose to his feet hungry for more destruction.
Last Updated: April 18, 2017