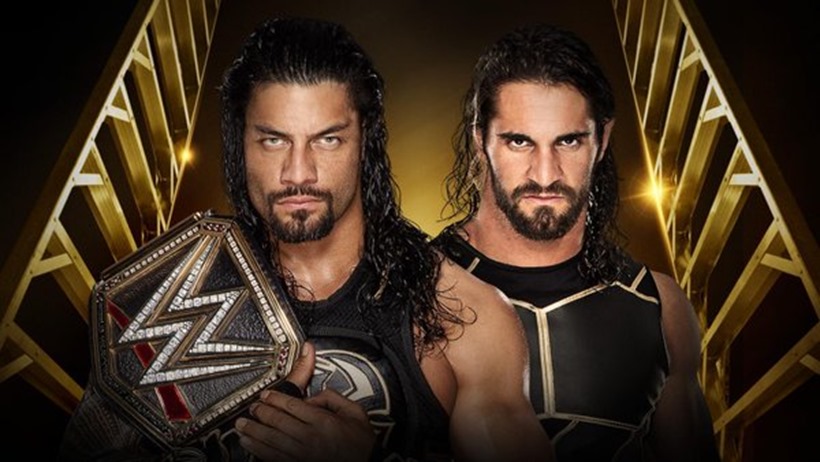 The first RAW after Extreme Rules took place at the Royal Farms Arena in Baltimore and featured the return of Seth Rollins. Here's what happened on Monday Night RAW.
Opening Segment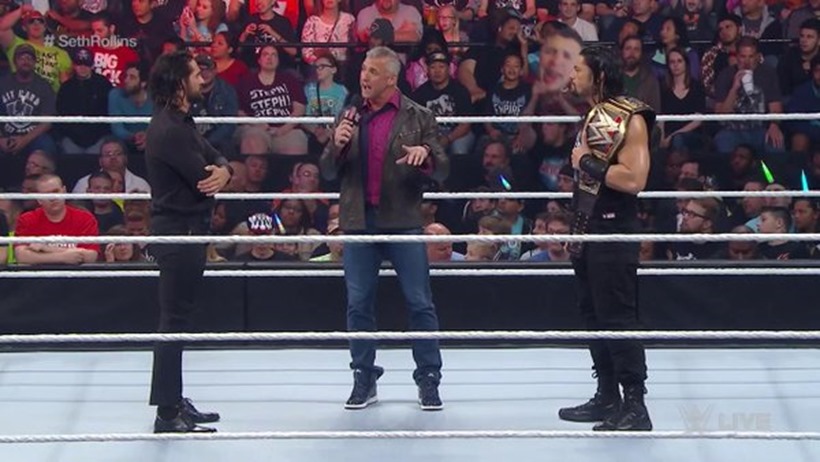 Seth Rollins! The former agent of SHIELD is finally back, and he wants his title belt back, because he never actually lost it. Rollins is pure babyface in this segment, soaking up the adoring crowd and then going full heel as he explains how he set all the fan mail he received on fire while he was recuperating. Roman Reigns and Shane McMahon appear, with Shane booking the two into a world title match at the next WWE Pay Per View: money In The Bank.
Backstage
Sheamus works the mic and tells everyone how he'll be doing completely un-PG things to Sami Zayn in a MITB qualifying match.
Sami Zayn defeats Sheamus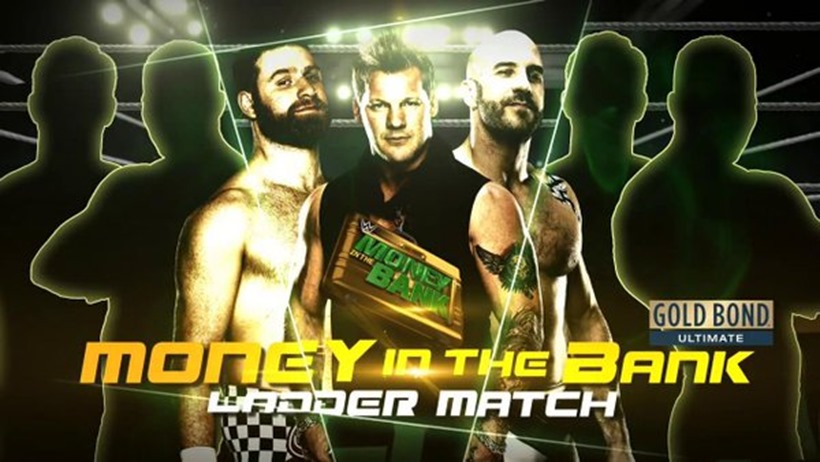 Sheamus attempts to keep Zayn away from anything resembling a top rope in the starting minutes of the match, but Zayn rebounds back with a spinning heel kick and a hurricanrana. Zayn took things a step further with a moonsault on Sheamus to the outside, but the big Irishman would bounce back. The match went on until Zayn managed to hit a helluva Kick in the corner, securing a pinfall victory on RAW and a spot in the MITB match. And afterwards, Sheamus went completely bonkers in the ring.
Backstage
Apollo Crews gets attacked by Sheamus. Told you he was bonkers.
The New Day is in the ring
And they have a big birthday cake to celebrate that tonight is the 1200th episode of RAW. The team teases throwing the cake on the crowd and the announcers, but they get jumped by the Social Outcasts instead.
The New Day defeats the Social Outcasts
Six man tag team match, that ends with Big E hitting the Big Ending on Heath Slater for the win.
Cesaro defeats The Miz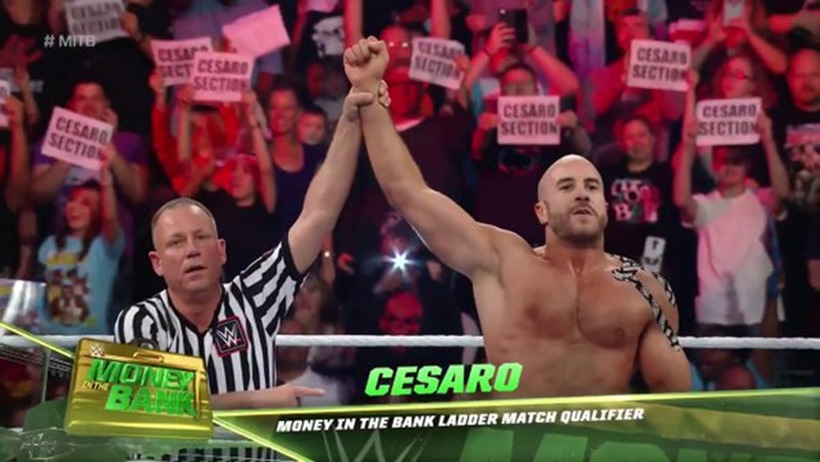 After interrupting the Miz in the ring, Cesaro started beating down the current Intercontinental Champion and picking up a quick near-fall. Cesaro would follow up on this with a signature flying uppercut, a top rope cross-body and a spinebuster slam. Cesaro would sell his shoulder injury with a short swing on The Miz, who got knocked out shortly afterwards as Cesaro left with the win.
Backstage
Seth Rollins explained his plans for reclaiming his world title, but was interrupted by Stephanie McMahon. Stephanie said that their business relationship has changed since Rollins has been gone, and gave him the cold shoulder. HUG DENIED!
Chris Jericho defeated Apollo Crews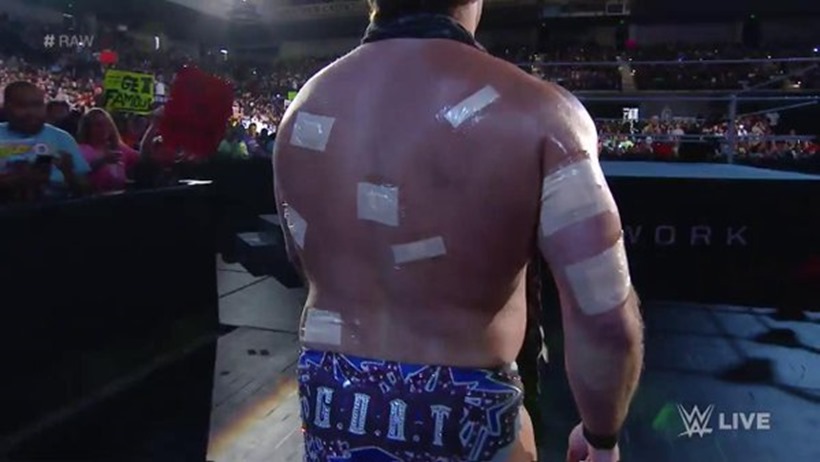 Jericho is heavily taped up after his Extreme Rules asylum match with Dean Ambrose, and Crews is ready to take advantage of that. Working his way out of Y2J's opening momentum, Crews lands a big suplex and a springboard splash on Jericho. Crews works the injured areas of Jericho, as the two go back and forth with dropkicks and moonsaults. Jericho worked his way out of a powerbomb attempt to put Crews in the Walls of Jericho.
Crews would survive however, just long enough for Jericho to hit him with a Codebreaker and get the win on RAW.
Backstage
Dolph Ziggler still wants a piece of Baron Corbin, and the lone wolf is happy to oblige. But this time, it'll be in what he calls a "technical wrestling match".
Big Cass defeats Bubba Ray Dudley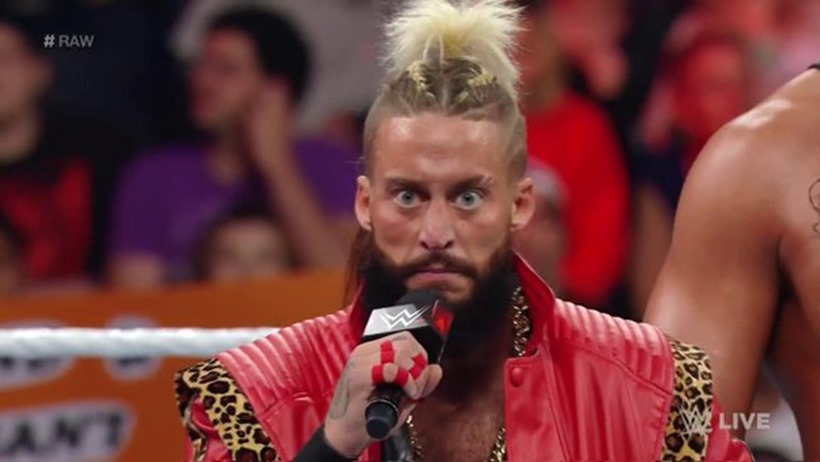 Big Cass was in control, until his returning partner Enzo Amore got attacked at ringside by D-Von Dudley. With that distraction in place, Bubba Ray attacked from behind and hit a back suplex on the big man. Enzo would work his way out of the Dudley assault, as would Big Cass who hit Bubba Ray with an elbow drop and got the three-count victory.
Charlotte, Ric Flair and Dana Brooke are in the ring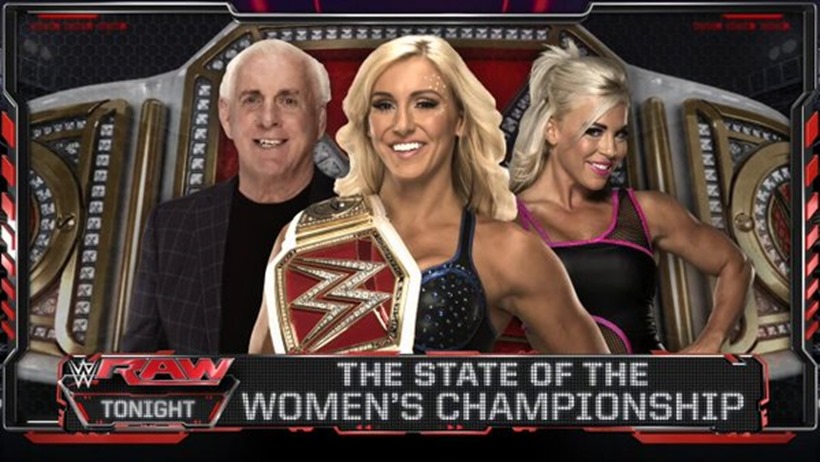 And Daddy Flair is so proud of his daughter. Charlotte takes the mic, and talks about how Flair was never there for her when she was a child, but now that she has the Women's Championship, she understands. And with that statement, Charlotte tells Flair to piss off out of her ring because she's a bigger star than he'll ever be. And the Nature Boy is shocked at all this. Shocked I say.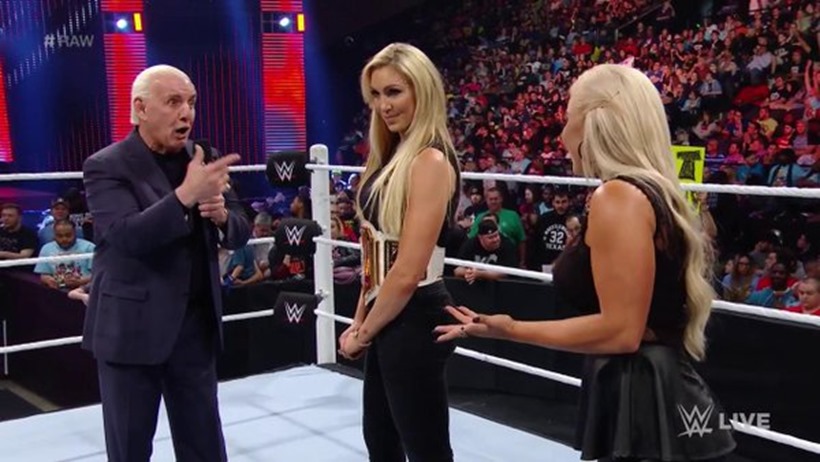 Shocked to the max even.
Dean Ambrose defeated Dolph Ziggler
Ambrose and Ziggler worked a solid match, going back and forth with signatures and suplexes aplenty as the 2-counts piled up. Ambrose would lock in the win when he landed Dirty Deeds after avoiding the Zig Zag, claiming a RAW victory for the night.
AJ Styles is in the ring
And he gives Reigns credit for their Extreme Rules match. AJ explains that if it weren't for The Usos and the Bullet Club, he'd be the champion right now, a statement that results in Gallows and Anderson interrupting him. They see things differently , claiming that AJ would never have even made it to Extreme Rules if it weren't for them. And that's where the three parted ways, as it wasn't personal. It was business.
Kevin Owens defeated AJ Styles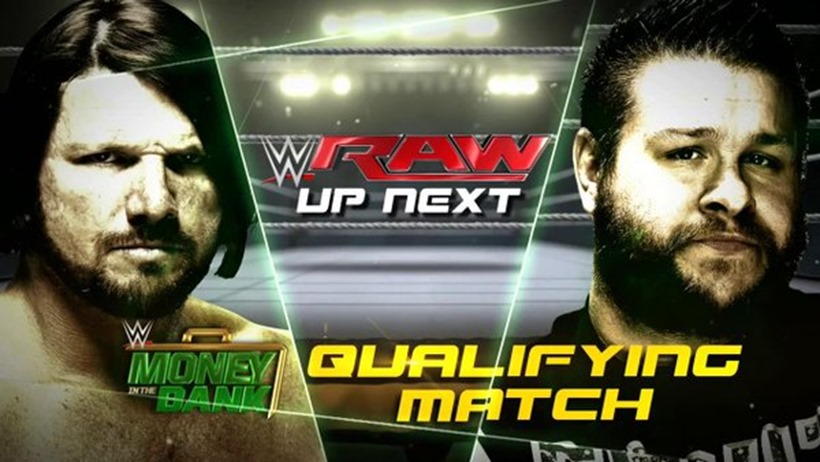 A magnificent match with maximum effort as the two superstars clashed, bringing out elbows, knees and everything inbetween in their match. Plenty of two counts here, but Owens managed to counter the phenomenal forearm in the end and hit a pop-up powerbomb on Styles to win not only his RAW match, but a slot in the Money In The Bank match.
And that was RAW for the night. Good night!
Last Updated: May 24, 2016