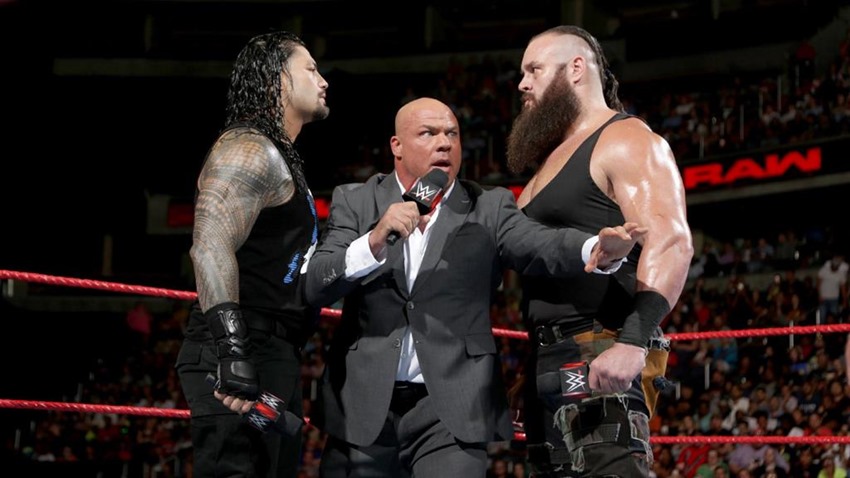 WWE Monday Night RAW took place from the Verizon Center in Washington, DC. Here's all the action that went down.
Raw General Manager Kurt Angle decided who would challenge Brock Lesnar at SummerSlam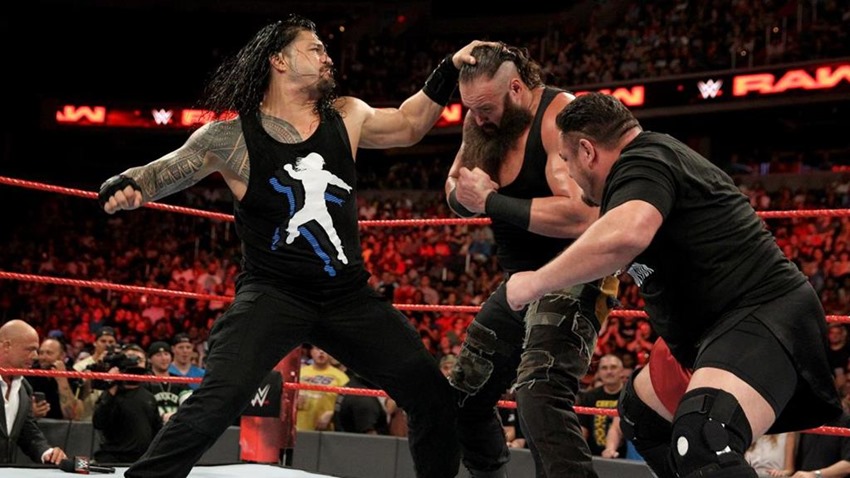 Who's the man that'll find themselves stuck in a ring with the Beast Incarnate at Summerslam this year? Samoa Joe? Roman Reigns? Or even Braun Strowman? That's the question that the three titans wanted an answer for after last week's main event resulted in a no contest thanks to Strowman's inteference. RAW general Manager Kurt Angle had an answer last night: Everyone.
Summerslam this year will see Brick Lesnar defend his WWE Universal title in a Fatal 4-Way, a match setup that left Samoa Joe none too pleased. Of course this kicked off a brawl between the three men in the ring, leading to next week's main event already being decided: A triple-threat match to get the ball rolling.
Elias Samson def. Finn Bálor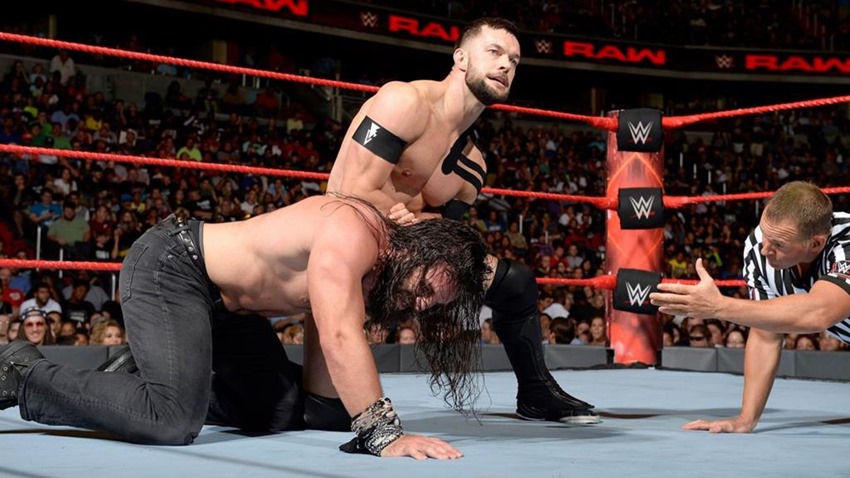 The feud between Balor and Samson continued, with the odds ever in the favour of the troublemaking troubador as a No Disqualification match allowed him to deal all manner of normally illegal damage to the Irish superstar's shoulder. Thanks to a timely assist from Bray Wyatt that left Balor in the clutches of Sister Abigail, a battered Samson managed to haul his frame over Balor to earn the three-count.
Big Cass def. Enzo Amore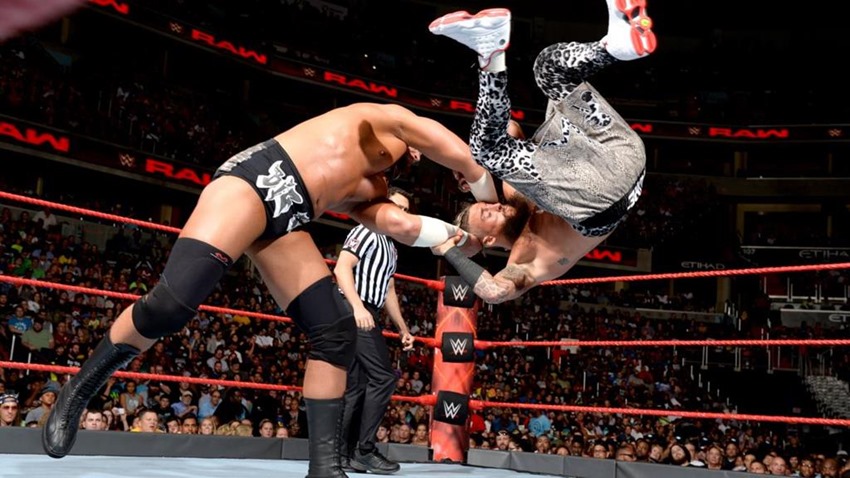 A rematch between Enzo Amore and Big Cass. Surely this time Enzo could triumph against his former best buddy on RAW? Yeah, keep dreaming. Big Cass easily annihilated Enzo, but it was the appearance of the Big Show that presented a greater challenge to the seven-footer. A wily Big Cass managed to push back the other giant, using an entire quartet of Empire Elbows to send a message to the big man.
Nia Jax def. Emma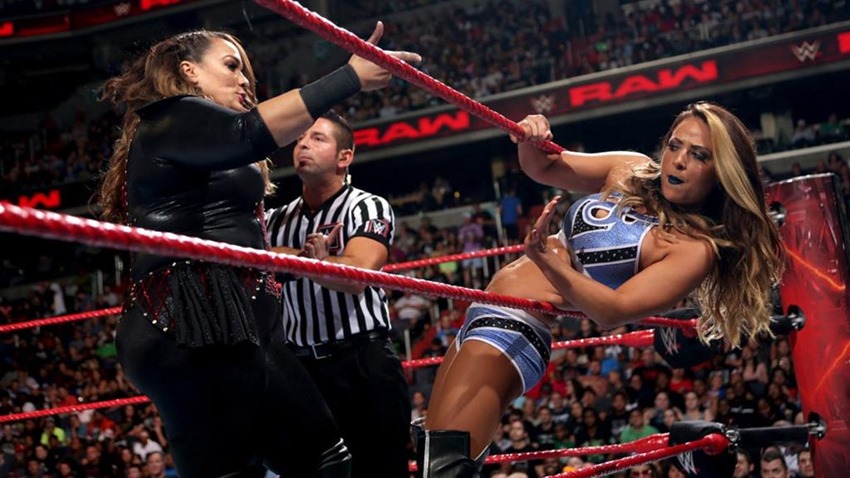 Well that was quick. Nia Jax made quick work of the vainglorious Emma, with a running Swanton that gave her an easy pin.
Bayley def. Sasha Banks to earn an opportunity to challenge Raw Women's Champion Alexa Bliss at SummerSlam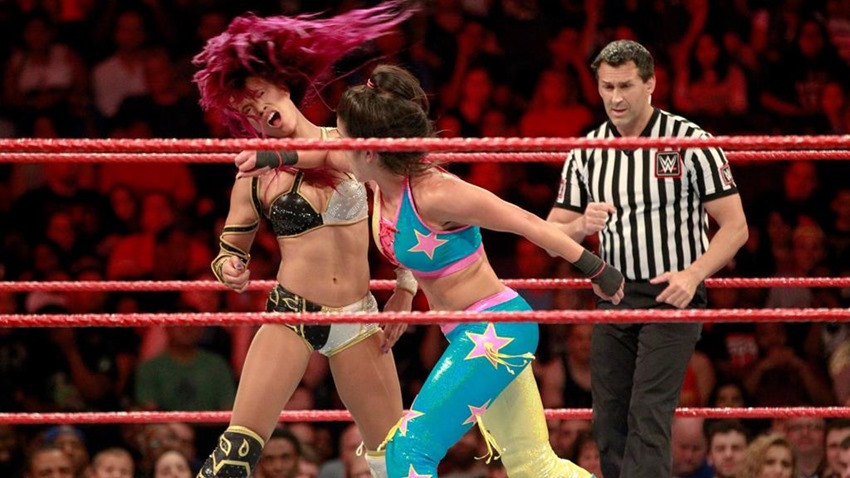 Best friends, better competitors. Sasha Banks and Bayley battled it out last night on RAW for a chance to face Alexa Bliss for the gold at Summerslam, but it was Bayley who proved to be the better challenger. The Huggable One delivered a last minute effort in the form of a roll-up after kicking out of a Frog Splash from Banks, rolling up her pal to earn her win.
Jason Jordan def. Curt Hawkins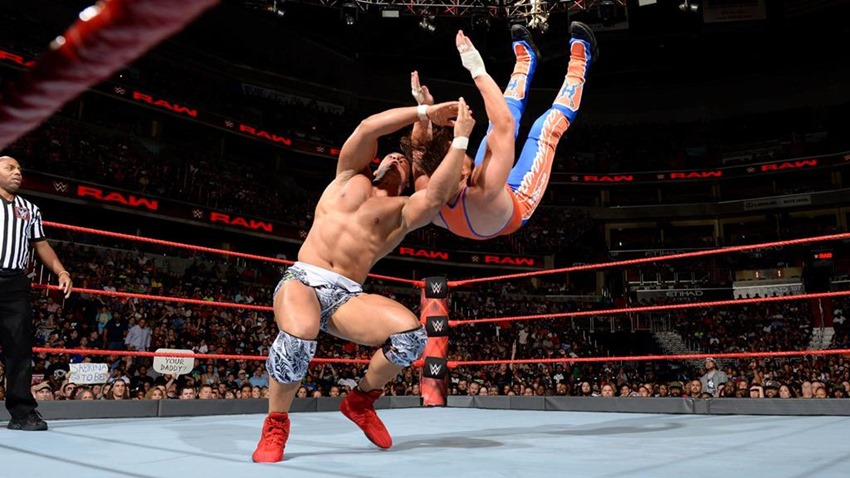 Looks like Jason Jordan may have inherited some of dear old dad's talent for wrasslin', as Kurt Angle's newly-revealed son mopped the floor with Curt Hawkins as he displayed a new style of suplexes and takedowns that were eerily similar to that of another superstar in the past. Jordan even yanked his straps down, nailing Hawkins with a new finisher that looked to be a combination of the classic Angle Slam and a Neckbreaker as dear old dad watched on.
The Revival def. Luke Gallows and Karl Anderson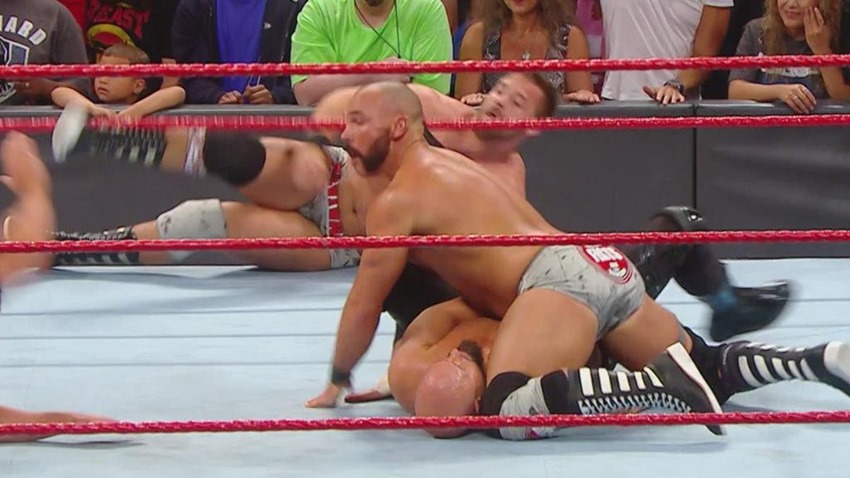 The Revival is back, much to the dismay of Karl Anderson and Luke Gallows as the god brothers found themselves outclassed last night. A slim win, but a win nonetheless for the Revival as a surprise appearance by The Hardy Boyz gave Dash and Dawson a chance to hit the Shatter Machine on Anderson for the win.
The Hardy Boyz hit the ring next, looking for some payback as they flooded the ring with Swanton bombs to send a message of their own.
Dean Ambrose and Seth Rollins def. The Miz and The Miztourage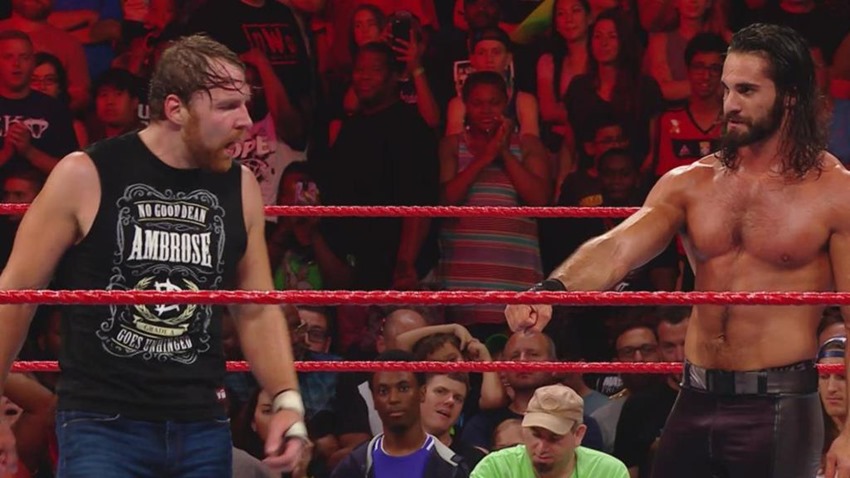 Dean Ambrose may not truly trust Seth Rollins, but he does know that the two share a common goal: Annihilating the Miz and his Miztourage. The former Shield members got some well-deserved revenge on The Miz and his cronies in a handicap match, bouncing back after a first half that saw The Miz and co feast on the pain of Rollins before Ambrose could make the save.
Watching each other's backs, Rollins and Ambrose cleaned up in the ring and eventually got a pin on the Miz, via the classic Dirty Deeds finisher. Believe in the Shield? Maybe, but not just yet.
Last Updated: July 25, 2017