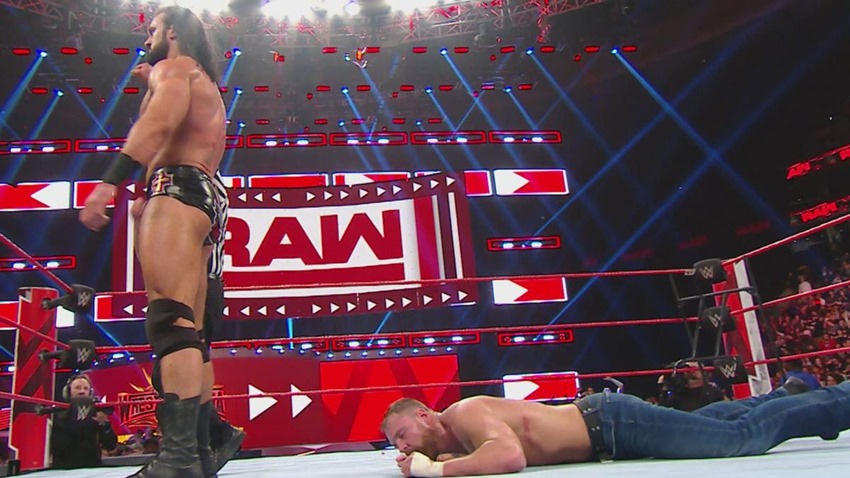 WWE Monday Night RAW took place from the TD Garden in Boston, Masachusetts. Here's all the action that went down on the road to Wrestlemania.
Becky Lynch def. Raw Women's Champion Ronda Rousey and Charlotte Flair in a Beat the Clock Challenge
While the title of the best performer in the WWE's women's division may be up for grabs at Wrestlemania next month, at least one thing is for certain: The quickest fighter in the roster is undoubtedly Becky Lynch. In a Beat The Clock challenge, Ronda Rousey set the bar by making Sarah Logan tap out in a bout that only lasted one minute and 25 seconds.
Charlotte Flair failed to match up to the benchmark in her match against Ruby Riott, but Becky Lynch? Taking on Liv Morgan, The Man scored a Jackknife pin with seven seconds to spare, while Rousey looked on, unimpressed.
Finn Bálor def. Intercontinental Champion Bobby Lashley and Jinder Mahal to earn an Intercontinental Title Match at WrestleMania
With two consecutive victories over the man who stole his Intercontinental championship from him, Finn Balor has more than earned his rematch with Bobby Lashley. With a Coup de Grâce to Jinder Mahal, Balor's ticketto Wrestlemania was punched and secured.
Aleister Black and Ricochet def. Raw Tag Team Champions The Revival
Roman Reigns accepted Drew McIntyre's WrestleMania challenge
WWE Women's Tag Team Champion Sasha Banks def. Natalya via Disqualification
Baron Corbin def. Apollo Crews
Paul Heyman confronted Seth Rollins
And it didn't end too well for Heyman! The advocate of the beast incarnate found himself scrambling to get away from a menacing Kingslayer, whereas Seth Rollins had a message of his own to send to the Universal champion. "We are going to WrestleMania, we are going to beat Brock Lesnar, we are going to take the Universal Title, we are going to march into Suplex City and we are gonna burn it down," Rollins said in a mic drop moment.
Kurt Angle def. United States Champion Samoa Joe
The farewell tour continues continues! Coming dangerously close to losing, Kurt Angle used his cunning to make Samoa Joe's Coquina Clutch work in his favour, rolling the United States champion into a pinfall position and earning the 1-2-3. Next stop? Smackdown LIVE, for a match against AJ Styles.
Triple H agreed to put his career on the line against Batista at WrestleMania
When Triple H and Batista collide at Wrestlemania, it won't just be a regular match. It'll be no holds barred as the two put everything on the line, with The Game going a step further thanks to a contract that the animal demanded that he sign before he'd step into the ring. Should Triple H lose, he'd forfit his in-ring career, and that's a stipulation that Triple H was ready to accept.
As The Game put it, if he comes up short at Wrestlemania, then he might as well devote himself fully to being the WWE's COO.
Drew McIntyre def. Dean Ambrose (Last Man Standing Match)
Challenged to a Last Man Standing match by Dean Ambrose, Drew McIntyre didn't just defeat the Lunatic Fringe. He succeeded in executing him. In a brutal bout, the Scottish Psychopath lived up to his title as he used a wide variety of ringside tools to finish the job he'd started two weeks ago. With a final Claymore, Ambrose found himself unable to answer the ten count as he finally went down for the night.
Next stop for Drew McIntyre, Wrestlemania and Roman Reigns.
Last Updated: March 26, 2019