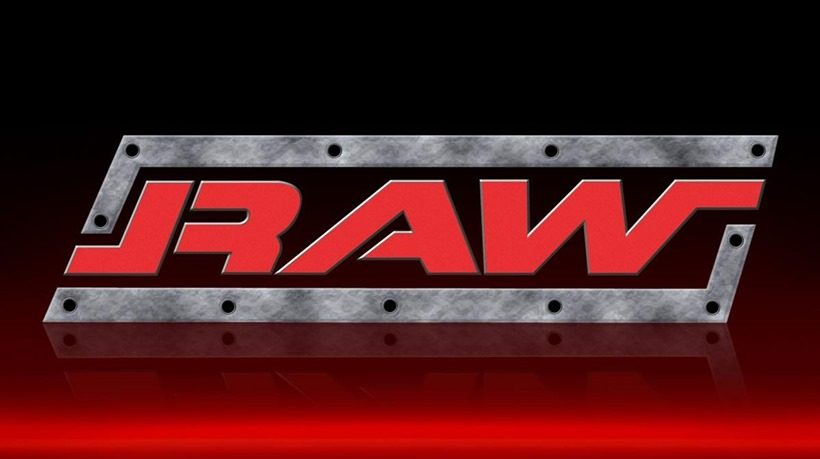 WWE Monday Night RAW took place at the Amalie Arena in Tampa Florida last night. Here's all the action that went down.
Opening segment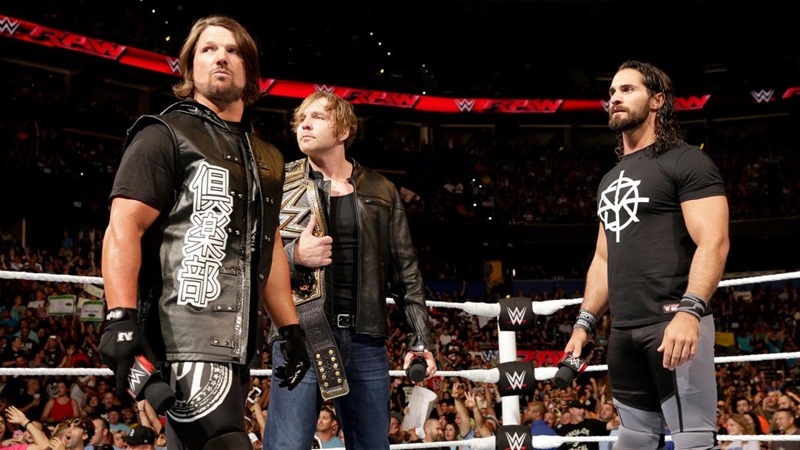 Seth Rollins is in the ring, and he's there to rub salt in the wound of Roman Reigns being suspended for failing his recent wellness test. It's not long before Dean Ambrose appears however, and he's still hungry for a Triple Threat match for the WWE World Heavyweight Championship at Battleground. And thus, AJ Styles make an appearance, claiming that the spot that Reigns vacated should go to him.
John Cena also pops up, saying that he wants a shot at the title. Which leads to Stephanie McMahon setting up two matches for RAW: Cena versus Seth Rollins and AJ Styles versus Dean Ambrose. If Cena and Styles can win, they'll be added to the Battleground main event.
Paige and Sasha Banks defeated Dana Brooke and Charlotte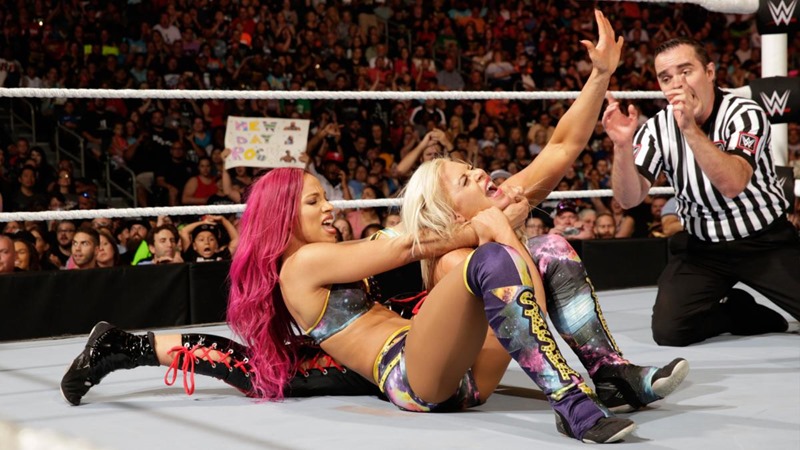 The heels appeared to have momentum for most of the match as Dana Brooke and Charlotte tagged in, at least until Paige bounced back. A trio of tags and a distraction in the corner led to Sasha landing her Banks Statement finisher for the first win on RAW of the night.
Titus defeated Rusev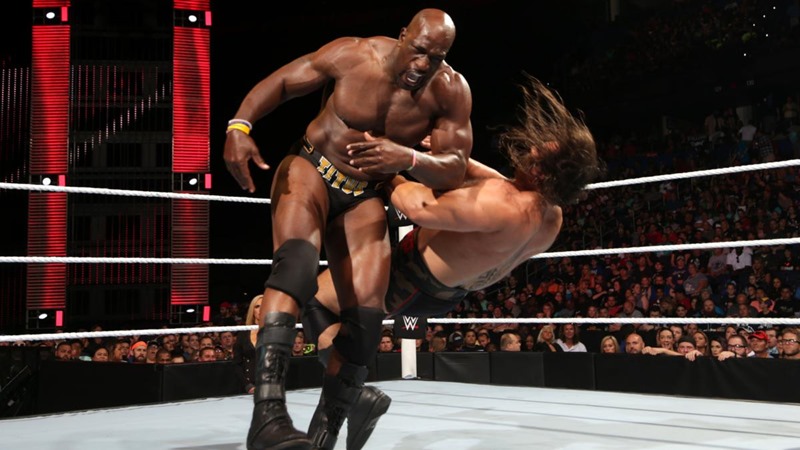 Titus O'Neil starts out strong with some heavy offense and a blistering spinning powerslam for the first near-fall of the match, but Rusev recovered enough to land some kicks and elbows on his nemesis. The match went outside the ring, with a double clothesline almost decapitating both men. Titus eventually managed to throw Rusev over the fan barrier long enough for him to avoid a count-out, picking up a RAW win.
Backstage
Stephanie is on the phone but Kane, the Miz and Maryse are all there to make an appearance. The Miz is complaining about not being treated like a superstar. Kane is having none of this however, as he tells the Miz to get ready to prepare to defend his Intercontinental Championship against a mystery opponent on RAW that night.
Seth Rollins defeated John Cena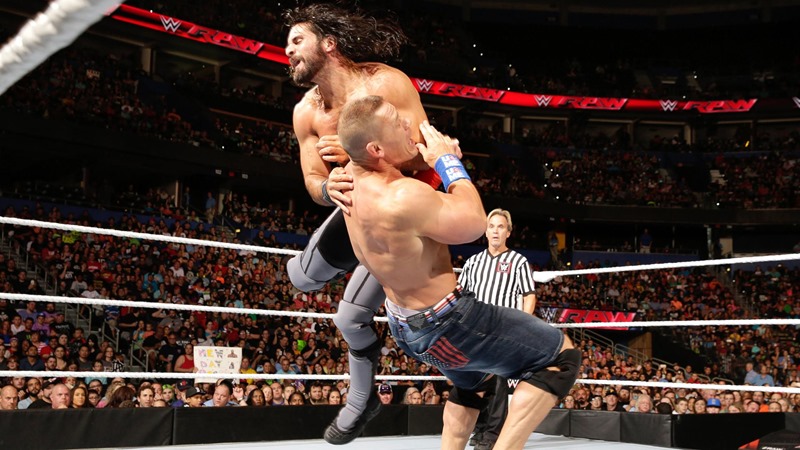 Rollins took the first advantage in this match on RAW, landing a kick to the midsection and beating down on Cena. A quick dropkick netted Rollins a near-fall, which he followed up on with elbows and a neckbreaker for another 2-count. Cena bounced back, but an attempt at a five-knuckle shuffle was derailed with a kick to the face. And on the match went, as both men landed suplexes, superkicks and tornado DDTs on each other.
The end came when Rollins attempted to Pedigree Cena, which was reveresed into an Attitude Adjustment. Rollins managed to avoid being counted out by slipping his foot onto the rope, using that second breath to work his way out of another Attitude Adjustment and lock Cena in an STF. AJ Styles and the Club would distract Cena long enough for Rollins to lock in the Pedigree and get the win on Monday Night RAW.
Enzo and Cass defeated Carlos Hershey and Mitch Walden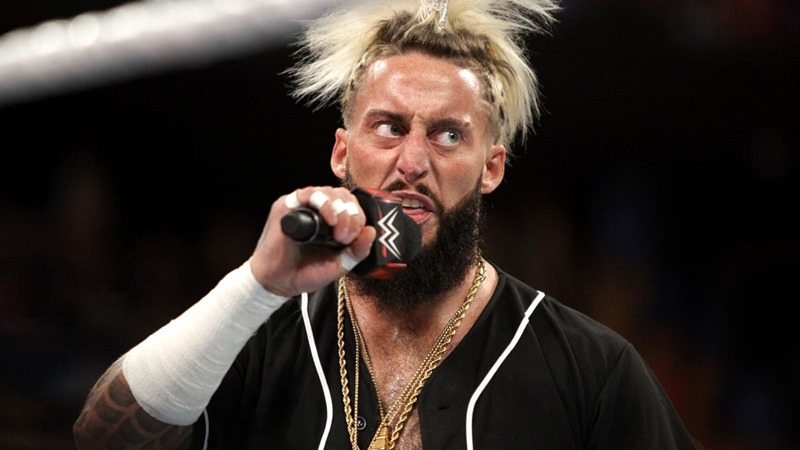 Like, it was over before it even began as the Badaboom was locked in right after the bell was rung. After the match, the Social Outcasts confronted the pair, hitting the ring and getting big boots to the face in return.
Becky Lynch versus Summer Rae ended in a No contest
Before the bell even rung, Becky Lynch decided to attack Natalya who was ringside with the RAW commentary team. This match went nowhere.
The Highlight Reel is back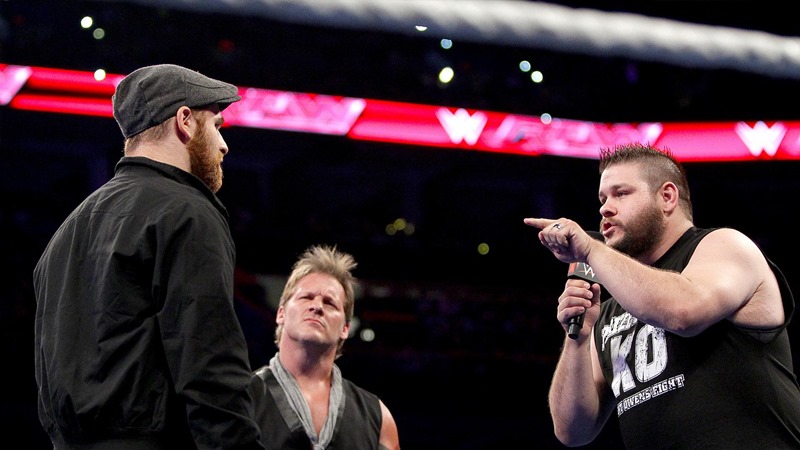 Chris Jericho is back in the RAW ring with his talk show, and he has Kevin Owens and Sami Zayn as his guests. Zayn wants to finish the rivalry he has with Owens once and for all at Battleground, as he feels that the feud is holding him back. Both men argue about who started what first, with Owens agreeing to face Zayn at the next pay per view.
Jericho interjects and claims that he wants to slap "stupid idiot face" as he begins promoting himself on and on and on. Which leads to a pair of superkicks from his guests to shut Jericho up.
Demon Kane defeated The Miz via countout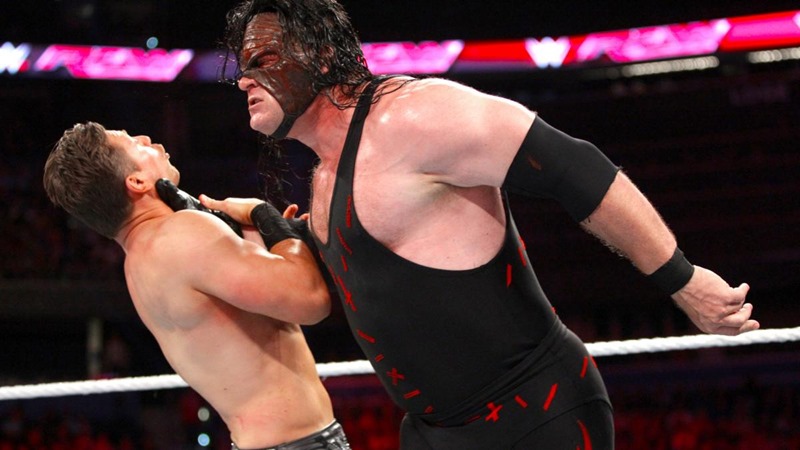 With his IC title on the line, the Miz is in big trouble. Kane starts the match with a big boot and goes for the chokeslam, but the awesome one escapes the ring in time. The Miz tries to wear Kane down, but the demon lands another big boot and starts throwing slams and suplexes on the Miz. Going for another chokeslam, Kane gets distracted by Maryse, who fakes an ankle injury. The Miz fakes some concern on top of that and decides to take Maryse backstage, getting convenient;y counted out in the process and saving his IC title.
Cesaro and Apollo Crews defeated Sheamus and Alberto Del Rio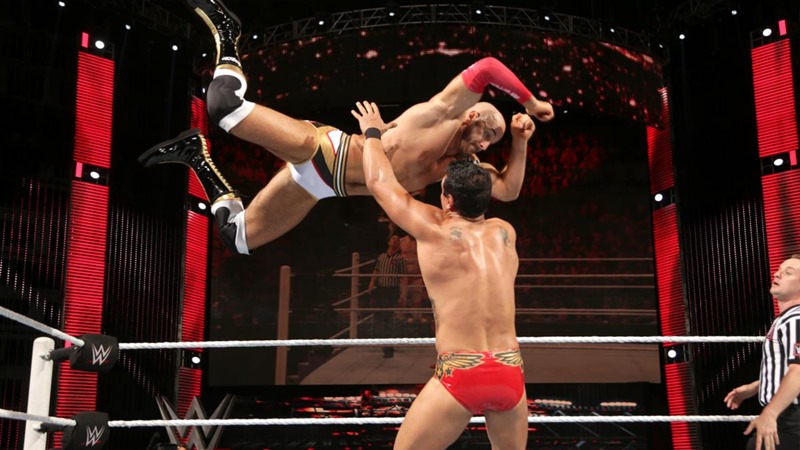 Crews hit a spinning sit-out power-bomb on Sheamus to finish this RAW match with style.
Backstage
Dean Ambrose runs into Stephanie McMahon, who says that she's horrified that a lunatic is representing the WWE as its official champ. Ambrose isn't buying it, as he claims that Stephanie likes him deep, deep, deeeeeeeeeeeeeeeep down.
The New Day is in the ring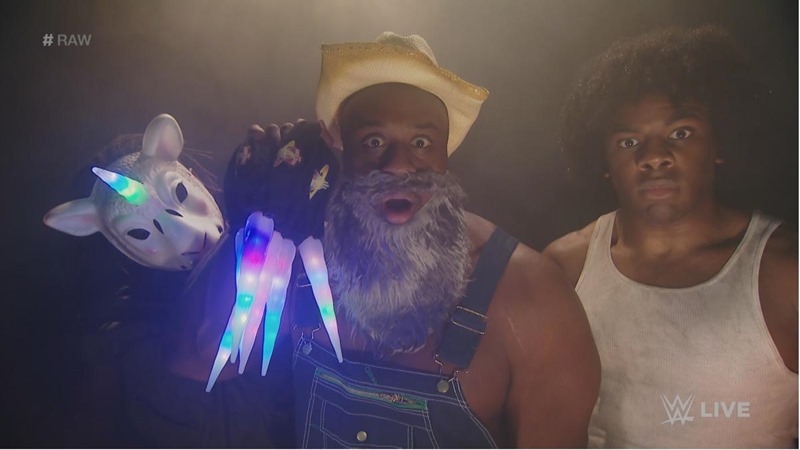 And they're dressed up as the Wyatt Family. The New Day claim that the Wyatt Family needs a bowl of Booty-Os to get over their surly disposition, which of course results in Bray Wyatt and his kin interrupting. Wyatt attempted to make Xavier Woods doubt his partners, a mind-game that may have worked in a follow-up interview backstage.
Dean Ambrose defeated AJ Styles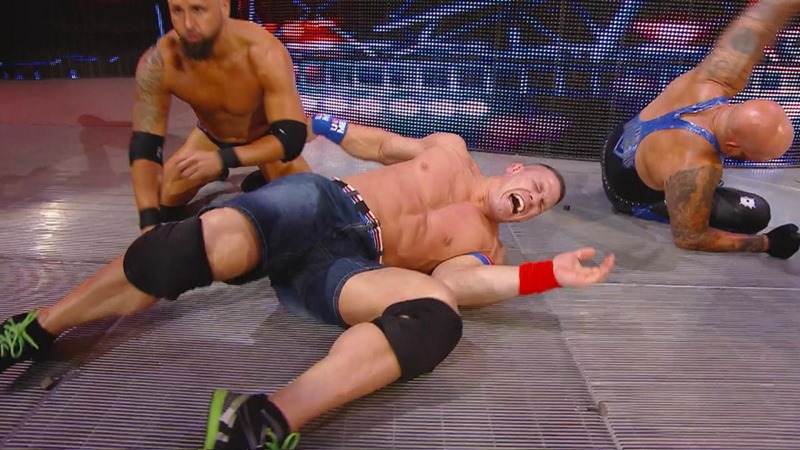 With Seth Rollins on commentary, the main event for Monday Night RAW was on! An opening lock-up gave Ambrose the advantage, but AJ pressed back with a dropkick, elbows and a corner splash to earn a near-fall. Ambrose wasn't down for long however, hitting a Fisherman Suplex to get his own 2-count. Following that up with a double underhook suplex, Ambrose managed to dodge a Phenomenal Forearm before a dodgy knee started hobbling him.
AJ pressed the attack, throwing Ambrose through the ropes and landing a suicide dive on him. As all this action was raging on, the Club appeared to distract Ambrose, who got hit with a brainbuster by Styles. Cena appeared to clean the ring of Gallows and Anderson, giving Ambrose the chance to land Dirty Deeds on Styles and get the win on RAW.
While Cena was fending off Gallows and Anderson however, Rollins intercepted Ambrose from behind and locked in a Pedigree. Styles, Gallows and Anderson hit Cena with a Magic Killer on the ramp while Rollins landed a second Pedigree on Ambrose to finish off RAW for the night.
Last Updated: June 28, 2016