WWE RAW this week took place at the Spectrum Center in Charlotte, North Carolina. Here's all the action that went down.
U.S. Champion Roman Reigns crashed "The Highlight Reel" with Kevin Owens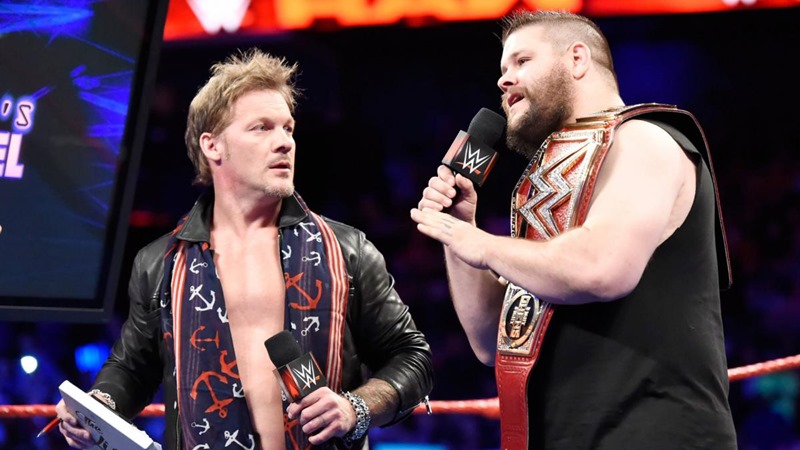 He may be rocking the US Championship around his waist right now, but Roman Reigns has his eyes set on an even bigger belt. Specifically, Kevin Owens and his WWE Universal Championship, as Reigns decided to kick RAW off by mercifully saving the audience from a Chris Jericho Highlight Reel Thanksgiving special that began with the bestest of buds giving thanks for one another.
But with a title shot on the horizon, the mind games had begun as Reigns clearly insinuated that Owens was incapable of defeating him without Jericho in his corner. Incensed, Owens agreed to face Reigns in singles comptition with a number one contender spot up for grabs that would lead to the next RAW PPV, Roadblock: End of the Line.
Braun Strowman defeated R-Truth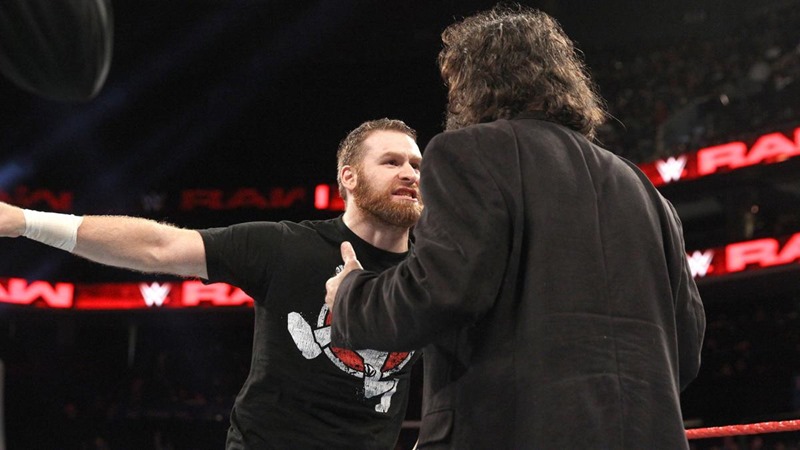 With Sami Zayn having felt the full force of the gift of destruction on RAW last week, Braun Strowman decided to unleash his gifts on R-Truth next. Utterly demolishing one half of the Golden Truth and the rest of the team when Goldust decided to come to the aid of his partner. Attempting to ambush Strowman, Sami Zayn quickly felt his wrath once again and was saved by the skin of his teeth by Mick Foley, a move that did not endear the hardcore legend to Zayn.
Still feeling peeved over last week's match that saw Foley call the bout off early, Zayn wanted nothing to do with Foley. But as Foley revealed, the only reason why Zayn was being thrown into these brutal matches was because of RAW boss Stephanie McMahon who had decided to punish the underdog from underground for failing to secure the Intercontinental championship at Survivor Series.
Tony Nese defeated Cedric Alexander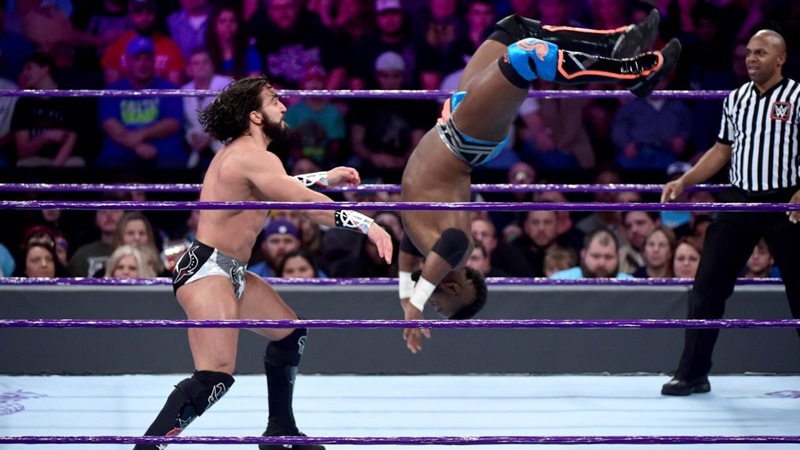 Cedric Alexander may call Charlotte his hometown, but he wasn't leaving as a winner last night. Having encountered Tony Nese before and come out on top, tonight was a different story as Alexander's superior techniques were distracted by Drew Gulak and gave Nese the opening he needed to lock in a Pumphandle Slam and pick up the three-count.
Seth Rollins attacked Chris Jericho in the parking lot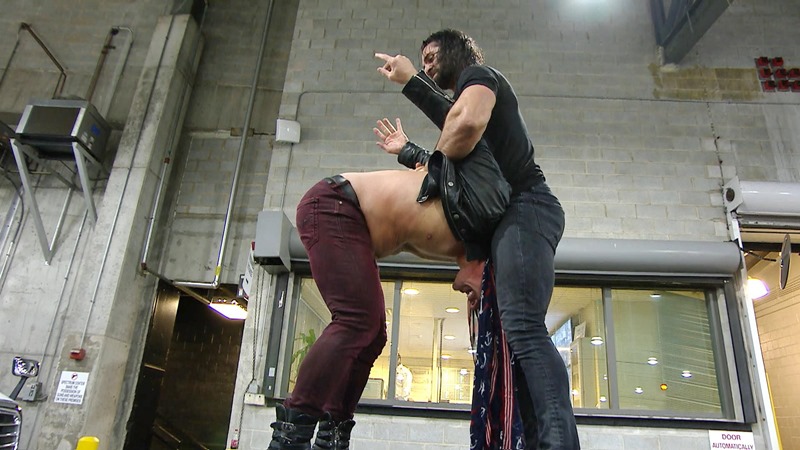 Chris Jericho was not having a good night on RAW. And things got even worse for Y2J after Kevin Owens insulted him on the Highlight Reel, as he walked into a very angry Seth Rollins who was looking for some payback. Attempting to leave the Spectrum Center, the Architect thrashed Jericho across the parking lot, giving the Ayatollah of Rock 'N Rolla a Pedigree to remember on top of a car.
But don't worry, the List of Jericho is still safe.
Raw Women's Champion Charlotte Flair vs. Sasha Banks ended in a Double Count-out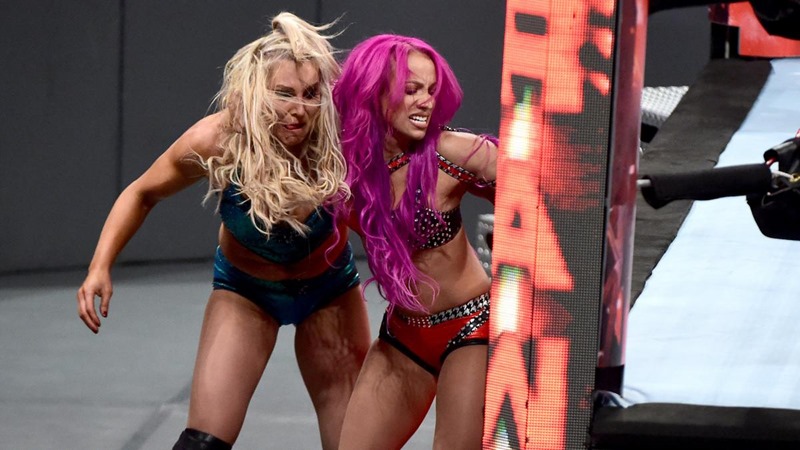 There's no love lost between Sasha Banks and Charlott Flair, as the two ladies battled it out once again for the RAW Women's Championship. Both women were on fire, pulling every possible move out of their arsenal and taking the action outside of the ring…for too long. Going beyond the ten-count, the match was called off with a double count-out. But Mick Foley wouldn't let the bout end so soon, as he declared that Charlotte and Sasha Banks would battle again later in the night.
In a No Count-Out, No Disqualification and Falls Count Anywhere match. Whoah.
Enzo Amore defeated Rusev via Disqualification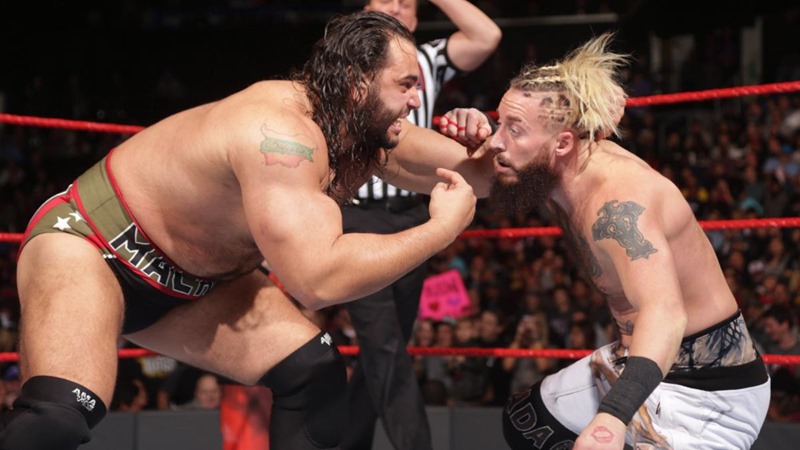 Enzo Amore and Rusev haven't exactly been co-existing peacefully lately. And that's because last week saw the loudmouth pranked and left to wander the hallways in his birthday suit, running into Rusev's lady Lana and then later into a match that saw him annihilated by the angry brute. In a rematch, Amore came out on top last night. Sort of, as he won via disqualification after Rusev drop-kicked Enzo with a kick to the plums that could be felt in Australia, hightailing it out of the ring before Big Cass could get his hands on him.
That's just…that's just not cricket man.
Rich Swann defeated Noam Dar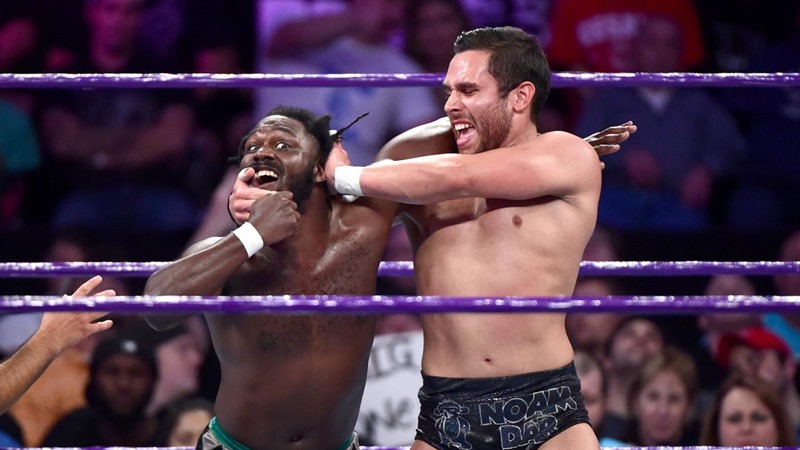 There's a new number one contender for the Cruiserweight belt, and his name is Rich Swann. Having defeated the former champ TJ Perkins, Swann managed to finally pin Noam Dar in an intense collision of blows and top-rope slams. With a solid win under his belt, Swann had a simple message for The Brian Kendrick ahead of the 205 Live event: That Kendrick wouldn't be able to handle the intensity of what Swann was going to unleash on the current champ.
U.S. Champion Roman Reigns defeated WWE Universal Champion Kevin Owens to become No. 1 contender to the WWE Universal Championship
With Chris Jericho definitely not making an appearance following a small incident where his face was introduced to the metal of a rental car by Seth Rollins earlier in the night, it was time for Kevin Owens to live up to his earlier proclamation of being able to endure a bout without Y2J in his corner. So how did that turn out for the Prizefighter then?
Not so well, as Reigns managed to reply to every move thrown at him by Owens with some devastating damage of his own and won not only the non-title match but a ticket to Roadblock for the WWE Universal championship.
Paul Heyman declared Brock Lesnar for the Royal Rumble Match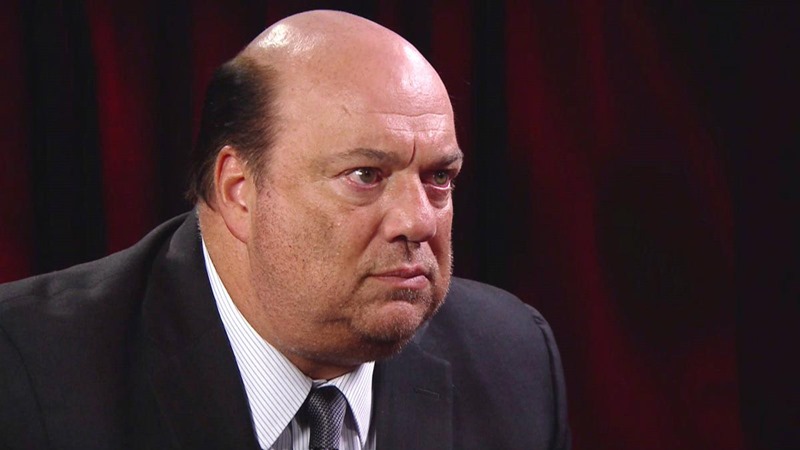 WHO'S NEXT? 29 other superstars apparently, as Bill Goldberg was confirmed last week to be headed to the Royal Rumble. But there's one superstar who wants a piece of Goldberg more than anyone else, and that's the Beast Incarnate. After suffering an embarrassing second loss within minutes at Survivor Series, Lesnar was hungry for revenge.
That's according to his advocate Paul Heyman, who told Michael Cole in an interview that Lesnar would also be entering the Royal Rumble as he seeks some of that sweet sweet vengeance.
RAW Tag Team Champions The New Day defeated Luke Gallows and Karl Anderson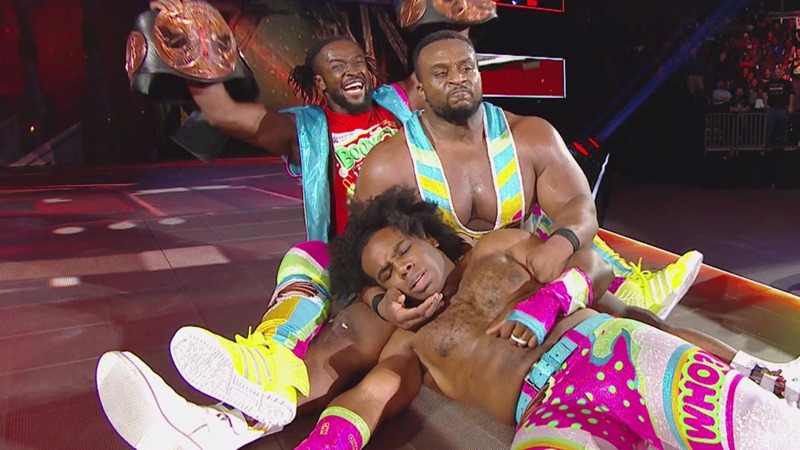 With a chance at eternal glory drawing ever so close as The New Day inch closer to surpassing the tag team record set by Demolition, every match now matters more than ever before. And with Karl Anderson and Luke Gallows after their belts, The New Day were ready to resort to any tactic whatsoever to help keep the dream alive.
That's something that Gallows and Anderson discovered last night, as their solid strategy of taking out Big E and working on Xavier Words brought them close to siezing the gold. Even going so far as to grab the tights of Woods to help lock in a pin, Woods himself turned the tables on Anderson with a last-second roll-up and leveraged his ring-gear instead to get a last-minute three-count.
Another RAW finished, another step closer towards overtaking the Demolition tag team world record. But The New Day won't be running short of worthy contenders any time soon.
Sasha Banks defeated Charlotte Flair to become the new Raw Women's Champion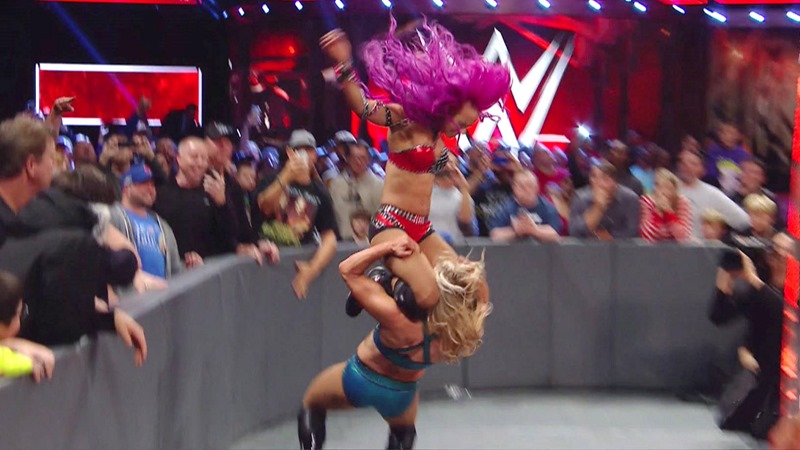 This was it. With no rules whatsoever beyond the law of the three-count, it was time for Charlotte Flair to finally defend her title at all costs. But in the hometown after which she was named, Charlotte was dethroned as her vicious assault wasn't enough to prevent Sasha Banks from countering with an onslaught of her own that went beyond the mat and into the stadium.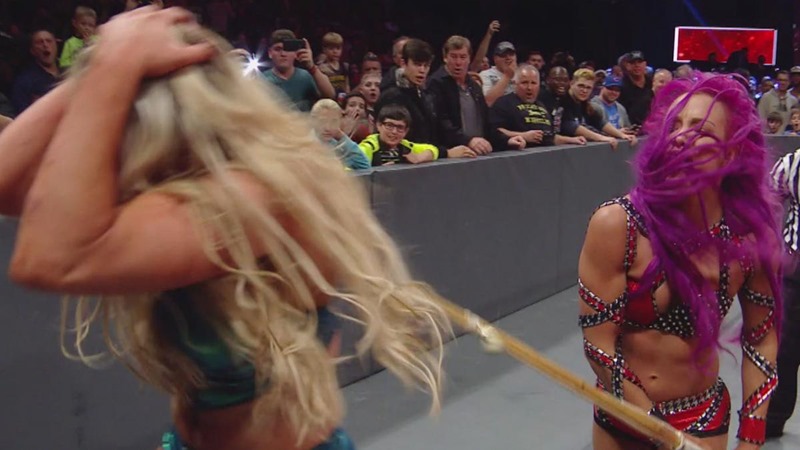 Using the arena as a weapon, Banks proved that she was the better lady that night by locking into Charlotte into a Banks Statement that made ample use of some railing to apply some extra pain. With nowhere to go and her tank running on fumes, it was the end of the line for Charlotte, as RAW ended with a new champ being crowned. It was a match for the ages, so impressive that even Ric Flair appeared to congratulate Banks and raise her hand in triumph.
Last Updated: November 29, 2016