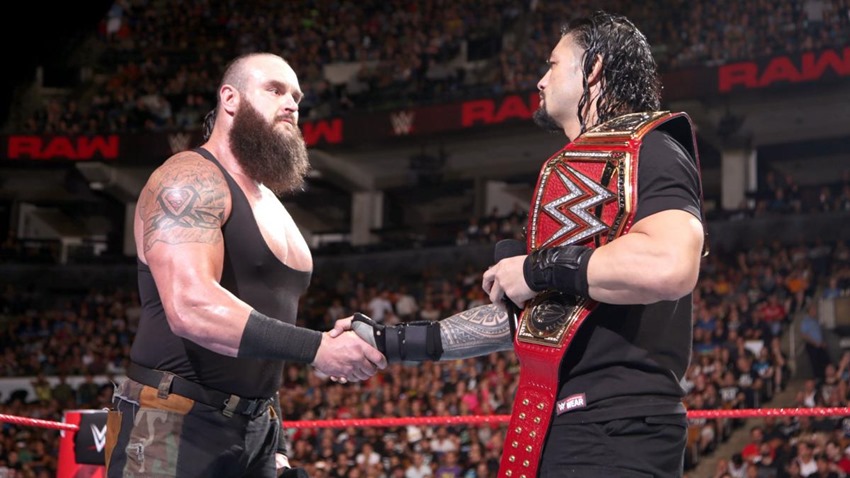 WWE Monday Night RAW took place from the ScotiaBank Arena in Toronto, Canada. Here's all the action that went down last night.
Braun Strowman agreed to cash in his Money in the Bank contract at Hell in a Cell
Last week, it looked like Roman Reigns would only enjoy the briefest of title runs after he barely scraped through a championship match against Finn Balor. Victorious but weary, Braun Strowman appeared and looked set to cash in his Money in the Bank contract at long last. What could have been a disastrous night for Reigns instead became a victorious one, as his Shield brothers Dean Ambrose and Seth Rollins returned to send the gift of destruction on a one-way trip through an announce table via the ol' triple-powerbomb express.
It's safe to say then, that Strowman was not happy. Serving notice to Reigns, Strowman announced last night on RAW that he was using his contract to set up a main event at Hell In A Cell, a challenge that Reigns readily accepted.
Acting General Manager Baron Corbin def. Finn Bálor
There's a new general manager in town, and his name is Baron Corbin. Wanting a rematch against Finn Balor, Corbin had to use all of his new corporate power to steal a win, clobbering the extraordinary man with a steel chair and then claiming that he had forgotten that he had authorised a No Disqualification match.
One more chair shot later, and the lone wolf was victorious against Balor.
Sasha Banks def. Dana Brooke
She may have had moxie, but Dana Brooke's challenge to the boss soon ended in disaster when the Banks Statement found its mark.
Intercontinental Champion Seth Rollins def. Kevin Owens; Owens quit in frustration
Going for broke in a last-ditch effort to have some manner of WWE gold around his waist, Kevin Owens soon found himself beaten and broken by the Kingslayer Seth Rollins. Answering the open challenge of Rollins, Owens put up a good fight but was beaten in the end when a Stomp connected. Demoralised and at his wit's end, Owens had one last bombshell for the WWE Universe.
Taking a microphone, Owens announced to the crowd that he was done with wrestling. "I quit", Owens said, leaving his future in the ring, up in the air for debate.
The Revival def. Raw Tag Team Champions The B-Team
Looks like time may be running out for the B-Team, as the recent dominance in the ring by Dash and Dawson has paid off with another victory against the unlikeliest of champions. Having beaten Bo Dallas and Curtis Axel in singles competition, The Revival put their money where their mouths were and beat them in tag team competition as well, earning a title shot on next week's RAW for their gold.
Trish Stratus confronted Elias
Natalya def. Alicia Fox
Alicia Fox may have flown too close to the sun last night, as Natalya decided to be the sun that would burn her wings when she forced Fox to tap out to her Sharpshooter submission.
Bobby Lashley def. The Ascension (Handicap Match)
Facing some payback from Baron Corbin, Bobby Lashley found himself locked into a bout where the numbers were against him. Using brains and brawn, Lashley overcame the quick tags of the Ascension, keeping Konnor out of the ring and focusing on the smaller Viktor as he ran home to victory.
Dean Ambrose def. Jinder Mahal
With the lunatic fringe back in action, it was time to face the more mellow mantras of Jinder Mahal. Using power and a reckless disregard for his life, Ambrose triumphed over the modern-day Maharaja when he escaped the tee-off to a Khallas and locked in Dirty Deeds for the win.
Universal Champion Roman Reigns and Braun Strowman def. Dolph Ziggler and Drew McIntyre via Disqualification
They may be opponents come Hell In A Cell, but for one main event last night Braun Strowman and Roman Reigns were forced into a tentative alliance. An alliance that didn't last, as Strowman sized up Reigns and refused to lend him a tag after he'd been brutalised by the combined effort of Drew McIntyre and Dolph Ziggler, ending the match with a DQ win and watching his opponent get further broken.
Strowman added his own bulk to the beatdown, taking care of Dean Ambrose and Seth Rollins when they entered the fray, as the Hounds of Justice were left battered and bruised by the time RAW went off the air.
Last Updated: August 28, 2018