WWE Monday Night RAW took place from the Valley View Casino Center in San Diego, California. Here's all the action that went down ahead of this Sunday's WWE TLC event.
Seth Rollins tore into Baron Corbin, leading to an impromptu TLC Intercontinental Title Match
Fed up with Baron Corbin's reign as RAW's general manager, Seth Freakin' Rollins decided to call out the lone wolf and give him a piece of his mind. Rollins went a step further, challenging Corbin to a match on RAW, which Corbin accepted, but with a stipulation of his own: Their feud wouldn't just be a single grudge match, but a bout that had the Intercontinental championship on the line.
Bobby Roode and Chad Gable def. AOP and Drake Maverick in a 2-on-3 Handicap to become the new Raw Tag Team Champions
After weeks of pissy behaviour, Drake Maverick's overconfidence in joining AOP at ringside finally got the better of him. In a pitched battle, the dominating AOP looked set to walk away with their titles intact, but when Maverick tagged in so that he could mock a fallen Bobby Roode, the sly performer quickly snagged Maverick in a roll-up pin to secure the gold. Glorious.
Ruby Riott insulted Natalya with a Jim "The Anvil" Neidhart Table
Natalya may be dedicating her match at this Sunday's TLC event to her late father Jim "The Anvil" Neidhart, but her opponent Ruby Riott has a different tribute in mind: A table with Neidhart's image adorning it, that she plans to slam Natalya into.
Drew McIntyre def. Dolph Ziggler
Dolph Ziggler may have picked up a win against Drew McIntyre last week (with a little bit of help from Finn Balor), but last night's rematch was a different story as the Scottish psycopath clinched the victory with a shattering Claymore Kick, and plenty of post-match pain that he threw in as a bonus.
Lio Rush def. Elias
It may have been a taste of things to come when Elias faces Bobby Lashley at WWE TLC, but last night's bout against Lio Rush saw an intimidated Heath Slater practically give the match away as guitars went flying and inteference was rife. A three count later, and Lio Rush had scored a huge win over the trouble-making troubadour.
Ember Moon def. Tamina
Chaos may have reigned supreme when Ronda Rousey decided to get a piece of Nia Jax earlier than expected, but through all the bedlam Ember Moon managed to score a win over Tamina when her Eclipse connected.
Seth Rollins def. Baron Corbin in a Tables, Ladders and Chairs Match to retain the Intercontinental Championship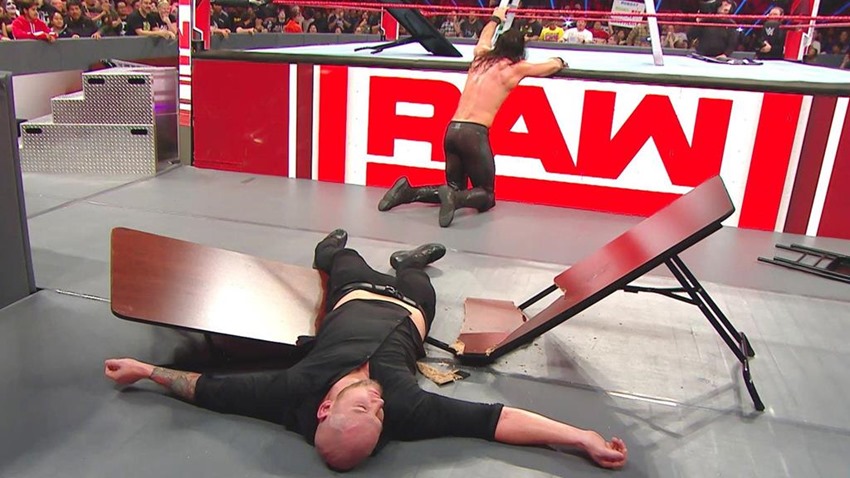 With a reluctant Heath Slater refereeing again, Baron Corbin and Seth Rollin's brawl for the Intercontinental championship hanging above them became a brutal main event, that saw the general manager-elect use every trick in his book to gain an advatange. Forcing Slater to do some dirty work for him, Corbin looked to be on the brink of victory until Rollins bounced back.
Slamming the GM through a table, superkicking Slater out of the way and adding a stomp to the lone wolf for some extra insurance, Rollins climbed the ladder and retrieved his title, securing his position as Intercontinental champion.
Last Updated: December 11, 2018