WWE Monday Night RAW took place from the Amway Center in Orlando, Florida. Here's all the action that went down last night.
John Cena declared for the Men's Royal Rumble Match
Back in the WWE and looking to grab the highest honours once again, John Cena's proclamation of a Royal Rumble entry and victory was a speech for the ages, albeit one that was broken up by the usual selection of interruptions: Drew McIntyre reminded the former world champion of the new WWE hierarchy, Lio Rush had a bone to pick with Seth Rollins over his backstage brawl with Bobby Lashley, Dean Ambrose had some lunacy to spread and Finn Balor was ready for a scrap.
Six superstars, all aiming for the gold and ready to fight to prove their worth. Only solution? A tag team match right then and there.
John Cena, Seth Rollins and Finn Bálor def. Intercontinental Champion Dean Ambrose, Drew McIntyre and Bobby Lashley
While Cena may have spent most of the match receiving some tremendous abuse, it was Finn Balor and Seth Rollins who saved the day, as the Kingslayer managed to score a match-winning stomp on Dean Ambrose. Impressed by the new vicious streak of his former protege, Triple H decided to give Rollins a rematch with Dean Ambrose later in the night, with the Intercontinental championship on the line.
Oh, and a match stipulation of falls counting anywhere.
Hulk Hogan paid tribute to the late "Mean" Gene Okerlund
Hulkamania may have run wild in the 1980s, but the Hulkster's presence would have been nothing without the late and great "Mean" Gene Okerlund providing a microphone and a reason for Hogan to spout the infamous line "Well let me TELL YOU something, MEAN GENE". Gone but not forgotten, one of WWE's greatest legends was fondly remembered after his untimely death last week.
Raw Tag Team Champions Bobby Roode and Chad Gable def. The Revival (Lumberjack Match)
With chaos reigning supreme in a match that was contested under Lumberjack rules, Dash and Dawson's savvy sense of the wrestling ring didn't give them the edge they needed, as a controversial referee decision saw Dawson attempt to break up a pin by placing his leg on the rope, a fact that the ref never saw as he counted to three and handed the tag team specialists yet another loss.
Baron Corbin def. Elias
Finally starting off 2019 on the right foot, former RAW general manager Baron Corbin managed to catch Elias in the End of Days, after the minstrel of mayhem hesistated for a second lest he flatten a match official that he was thrown at.
Braun Strowman and Universal Champion Brock Lesnar met face-to-face
Braun Strowman may be back at full strength, but it looks like the gift of destruction is going to need to be a little bit more patient before he collides with Brock Lesnar, as the beast incarnate was happy to lock eyes and keep his distance last night.
Apollo Crews and Ember Moon def. Jinder Mahal and Alicia Fox
A rematch from the Mixed Match challenge, Mahal and Fox soon found themselves outclassed once again by Crews and Moon, as the War Goddess picked up the winning pin with her match-ending Eclipse finisher.
Sasha Banks def. Nia Jax to earn a Raw Women's Championship Match against Ronda Rousey
Nia Jax may be the self-proclaimed irresistible force of the WWE, but the former Women's champion found herself colliding with an immovable object in the form of Sasha Banks. No matter which dirty tactic Jax used, Banks managed to weather the storm and eventually locked her foe in the Banks Statement, earning her a shot at Ronda Rousey and the RAW Women's championship.
Intercontinental Champion Dean Ambrose def. Seth Rollins (Falls Count Anywhere Match)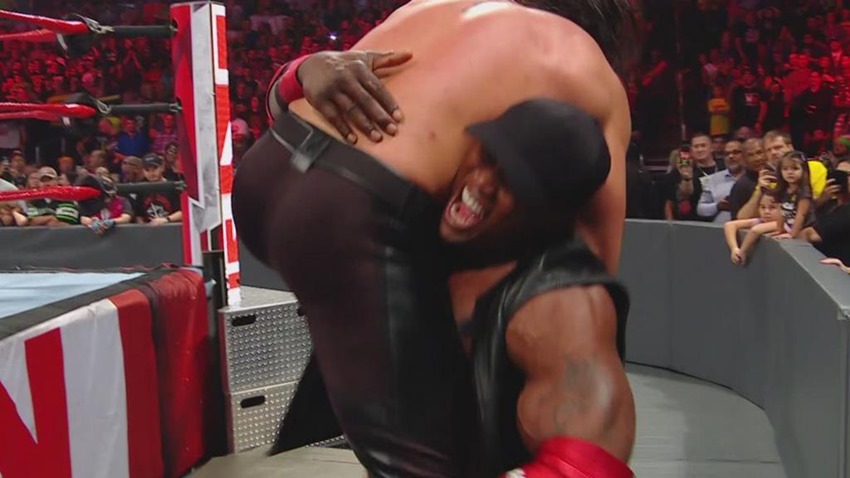 Seth Rollins wanted Dean Ambrose and the Intercontinental championship, and he certainly got it. Having waited all night for a slice of revenge, Bobby Lashley struck from behind and buried Rollins, leaving a wounded and battered Ambrose the opportunity to slowly crawl over to his former Shield brother and make the pin.
Last Updated: January 9, 2019