WWE Monday Night RAW took place from the Golden 1 Center in Sacramento, California. Here's all the action that went down as the ripples of Sunday's Payback event were still being felt.
Raw Women's Champion Alexa Bliss, Nia Jax, Alicia Fox and Emma defeated Bayley, Sasha Banks, Mickie James and Dana Brooke
Bayley's loss to Alexa Bliss at Payback on Sunday came courtesy of a DDT that shook the ring and earned the wicked witch the most coveted prize in her division: The RAW Women's Championship. On the flagship show itself, Bliss extended her streak even further, surviving an eight-woman tag team match and pinning Bayley again.
While Bliss may have proven to be a superior force to Bayley however, the women's locker room isn't exactly on her side. You see, the opening match last night was meant to be a regular vanilla tag team match, but Bliss had managed to offend just about everyone around her during her coronation ceremony. The solution? Said inclusion of Emma, Alicia Fox, Mickie James and Dana Brooke to the teams that already included Sasha Banks and Nia Jax.
Frantic and furious, Bliss still managed to pull out a win, as it looks like the new "goddess" of RAW will be holding onto her championship for a long time to come.
Luke Gallows defeated Enzo Amore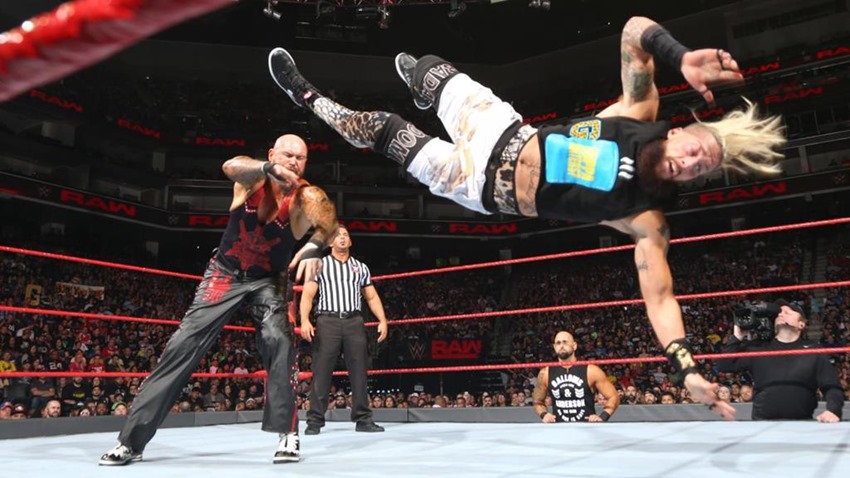 Enzo Amore likes to put his money where his loud mouth is, and last night saw him wager that he'd put the suntan biker man known as Luke Gallows down for the count in a singles match-up. Maybe he could have! But we'll never know if Enzo could have taken Gallows in a fair match as Enzo was jumped before the match even began and then taken on a whirlwind face-first tour of the mat afterwards.
Dean Ambrose organized an Intercontinental Championship No. 1 Contender's Match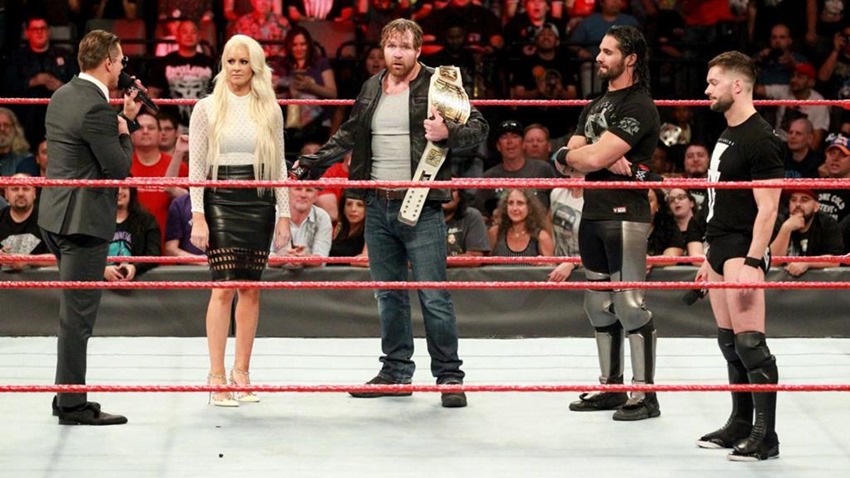 So who should Brock Lesnar for the WWE Universal title? Finn Balor, who had to relinquish the title after a mere 24 hours because of injury? Seth Rollins, who years to hold a title that has never been his? Or maybe The Miz should be the one to challenge the Beast, seeing as how he was one of the most successful Intercontinental champions like…ever.
Dean AMbrose had other ideas last night. The lunatic decided to ask general manager Kurt Angle to sanction a triple-threat match to find a new number one contender to his title, which in the absence of Lesnar and his title, was the hottest belt on RAW at the moment. Angle's response? Oh it was on, it was damn well on.
Gentleman Jack Gallagher, Rich Swann and Akira Tozawa defeated The Brian Kendrick, Noam Dar and Tony Nese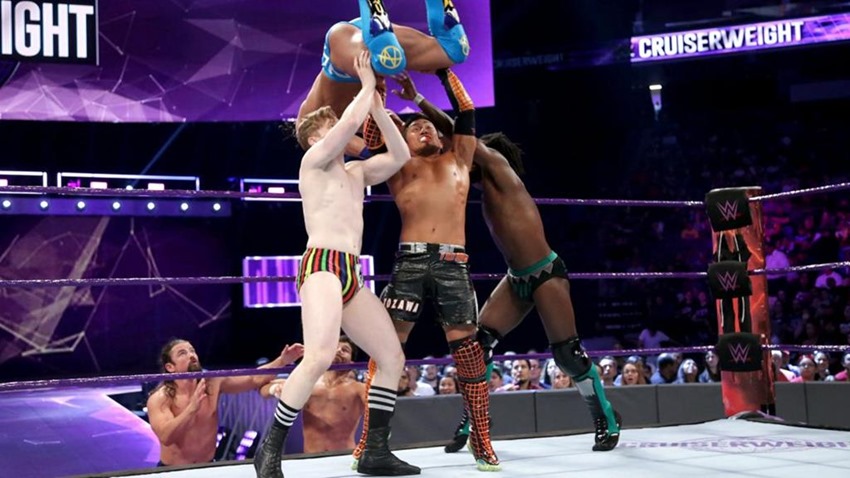 In cruiserweight action, that most dapper of competitors finally got some sweet sweet payback against the likes of The Brian Kendrick, Noam Dar and Tony Nese. In a high-pitch match, Gallagher nailed the deciding pin, thanks to his teammates running inteference and allowing Gentlemen Jack to hit his signature dropkick on top of Kendrick.
Raw Tag Team Champions The Hardy Boyz confronted Cesaro and Sheamus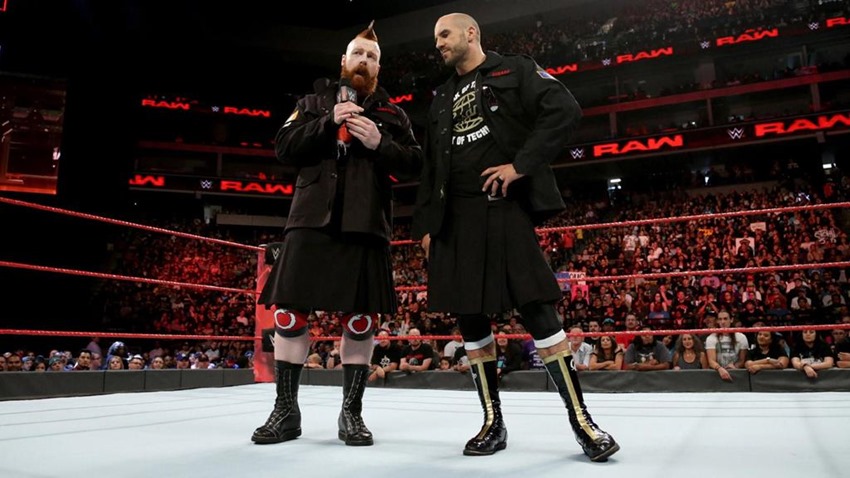 An eye for an eye, a tooth for a tooth ey? That might be the motto of The Hardy Boyz, as Jeff Hardy lost one of his chompers to Seamus and Cesaro at Payback. Still, a tooth wasn't enough: Sheamus and Cesaro want the gold and they were more than ready to let the champs know that they'd be gunning for them. Just not last night of course, as the emergence of the Broken ones sent the challengers scurrying away.
Apollo Crews defeated Heath Slater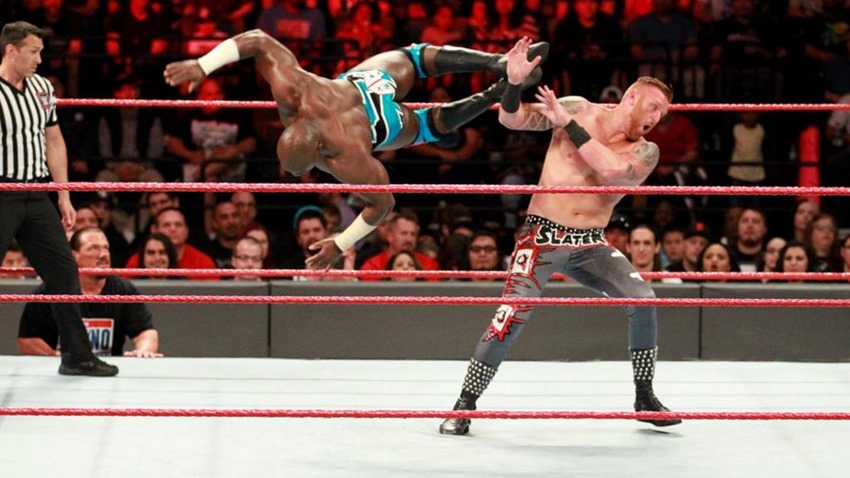 Apollo Crews may have signed up to the "Titus Brand" of Titus O'Neil, but that partnership came at a price. Specifically, zero friendly banter with any superstars backstage, as O'Neil demanded that Crews face his pal Heath Slater on RAW after he caught the two of them catching up. The One-Man Band put up a valiant effort against O'Neil, but the match could only end one way: With a Spinning Sit-Out Powerbomb that locked in a three-count.
Oh, and also a selfie-PHOTOBOMB from Rhyno on Crews and O'Neil afterwards. Branding!
Bray Wyatt confronted Raw General Manager Kurt Angle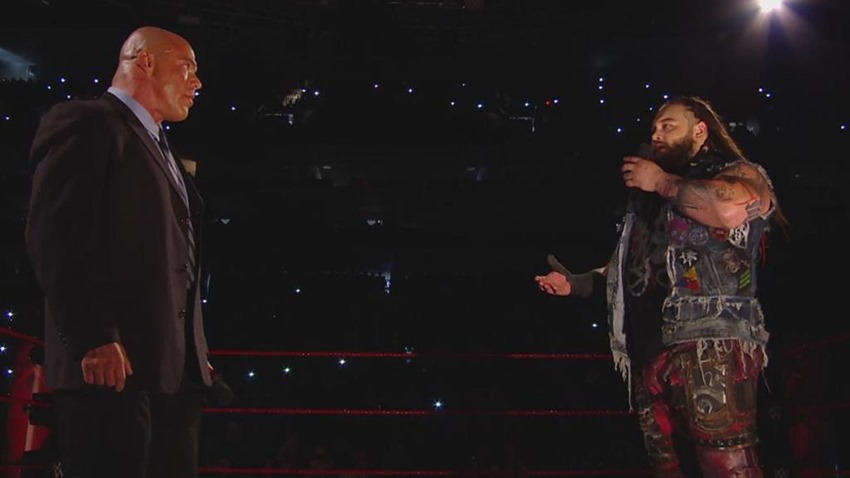 Payback  saw two of RAW's biggest superstars injured in their relentless quest to shave years off of each other's in-ring careers with every slam, as Roman Reigns suffered numerous busted ribs and Braun Strowman managed to tear his rotater cuff. That was the word from RAW General Manager Kurt Angle, as he'd sent the two titans home for the night to rest up before attempting to murder one another again.
But where some superstars find their careers in jeopardy, others find opportunity. After a hellacious House of Horrors match that saw Randy Orton defeated, Bray Wyatt hit the ring to announce that he would be the saviour of the WWE Universe, as the time for low profiles was over with. It's high time that that WWE locker room stepped into…his world.
Austin Aries defeated TJP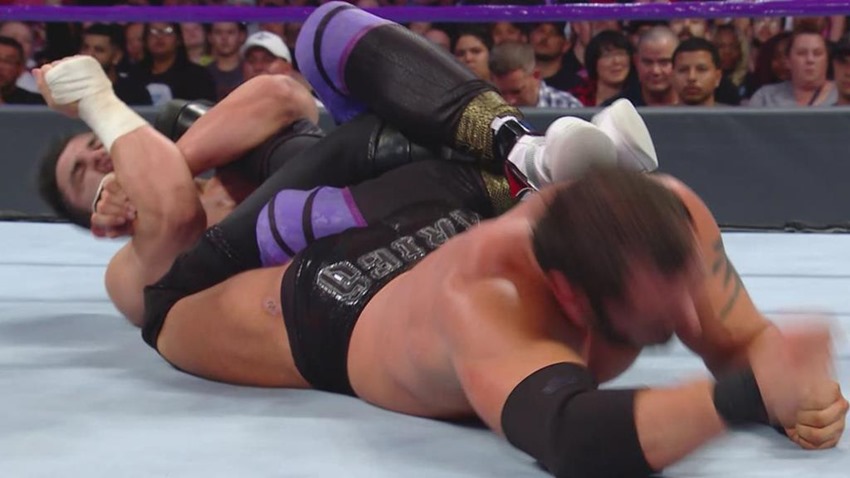 The master of the Discus took another step forward on his quest to dethrone Neville as the King of the Cruiserweights, as he decided to take down the knight known as TJ Perkins by any means necessary. Means which didn't require winning the match itself, as even though Aries may have earned the three-count, he certainly didn't walk away afterwards thanks to a vicious assault on his knee by TJP.
The Miz defeated Seth Rollins and Finn Bálor to become No. 1 contender to the Intercontinental Championship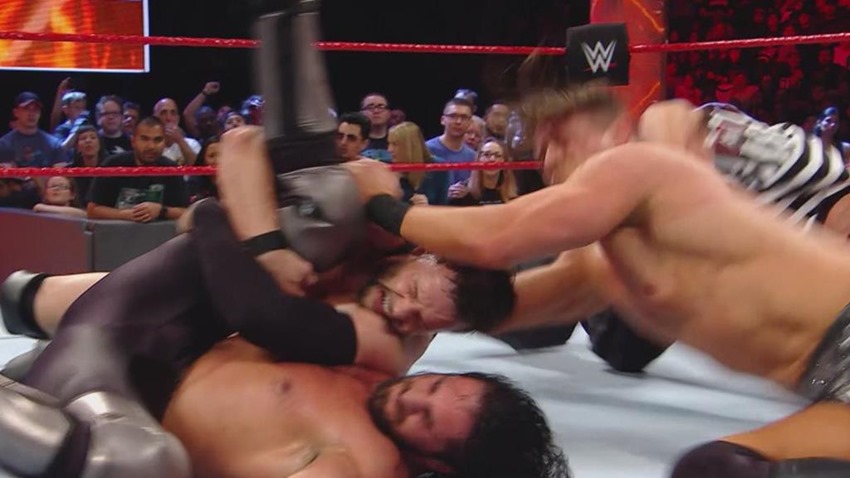 Three men entered the ring last night, but only one of them would emerge to become the new number one challenger for the Intercontinental championship around the waist of Dean Ambrose. That man, was The Miz, as the Awesome one survived a gauntlet of assaults and used his own in-rin skills to pin Finn Balor. That, and a pair of interferences in the form of Samoa Joe and Bray Wyatt. While Samoa Joe's damage might have been minimal, a Sister Abigail on Balor certainly wasn't as The Miz seized the opportunity.
Last Updated: May 2, 2017