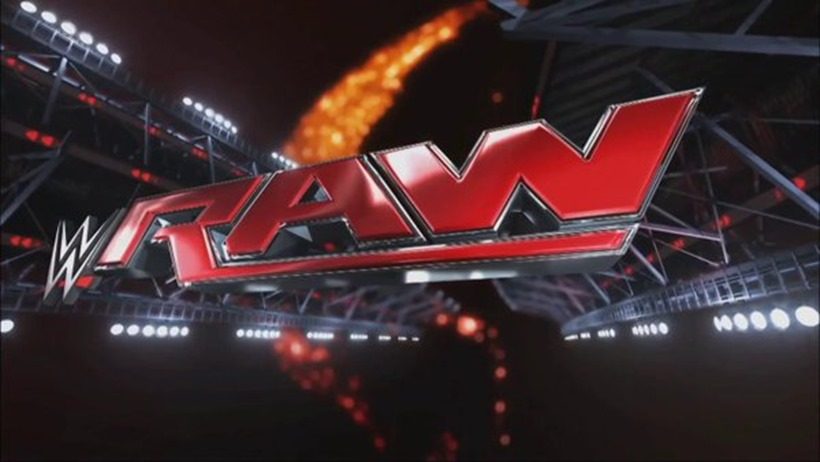 WELCOME TO MONDAY NIGHT RAW! This week's live broadcast of the WWE flagship show took place in St. Louis, Missouri. Here's what happened.
Opening Segment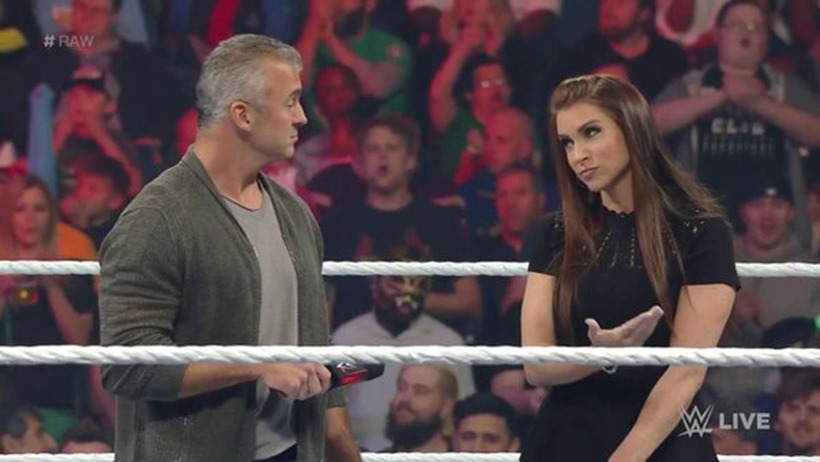 With RAW now being run by both of the younger McMahons, Stephanie McMahon takes the stage to open the show. Shane interrupts, and the two seem to not be at each other's throats for once. And then Kevin Owens decides to hit the ring. KO wants an Intercontinental title match against the Miz. But so does Cesaro. Who is also in the ring because he also decided to make an appearance. Shane decides to let KO and Cesaro fight it out instead on RAW, with the winner getting a title shot at The Miz later in the night.
Cesaro defeats Kevin Owens via DQ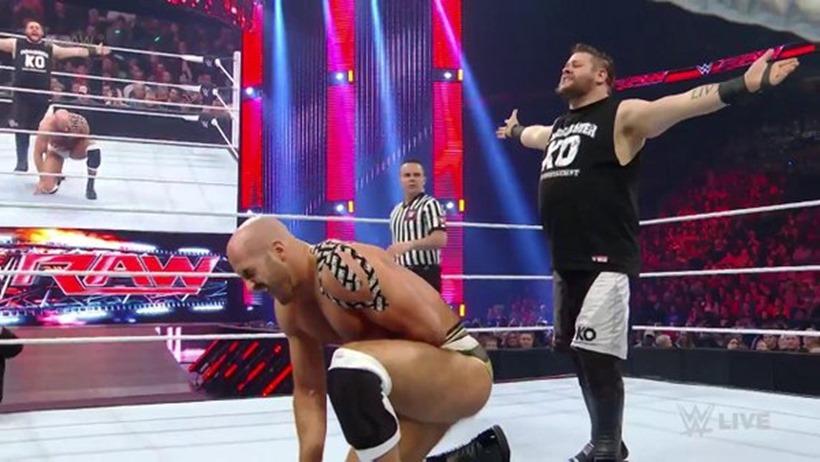 Well that didn't take long. The Miz and Maryse were ringside, handling commentary while KO and Cesaro went at it. A good match, with plenty of offense from both sides that ended with The Miz intefering in the match after getting an uppercut from Cesaro during a ringside brawl. Sami Zayn also joins in on the ruckus, with all four men brawling as the Miz gets hit with Zayn's T-Bone suplex and then follows that up with a big boot on Owens.
Backstage with Dean Ambrose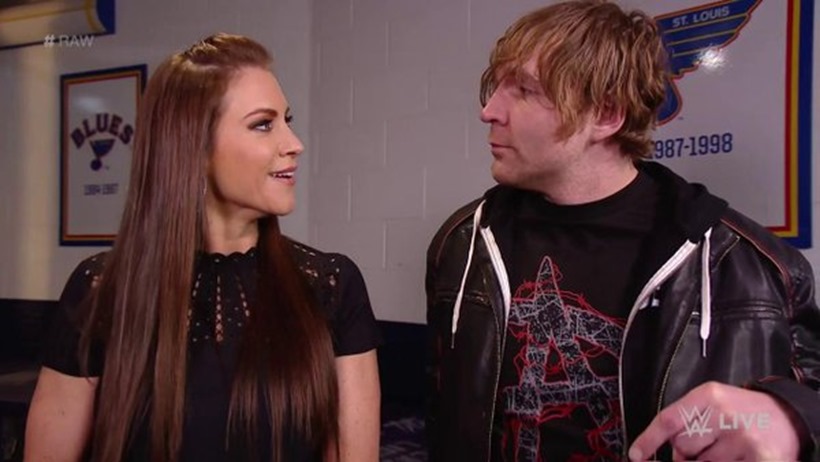 Ambrose wants Stephanie McMahon on the Ambrose Asylum tonight, as he's not buying the whole nice sister act. Meanwhile, R-Truth is busy teaching Tyler Breeze how to rap, who is then challenged by Goldust to fight him later in the night on RAW.
In the locker room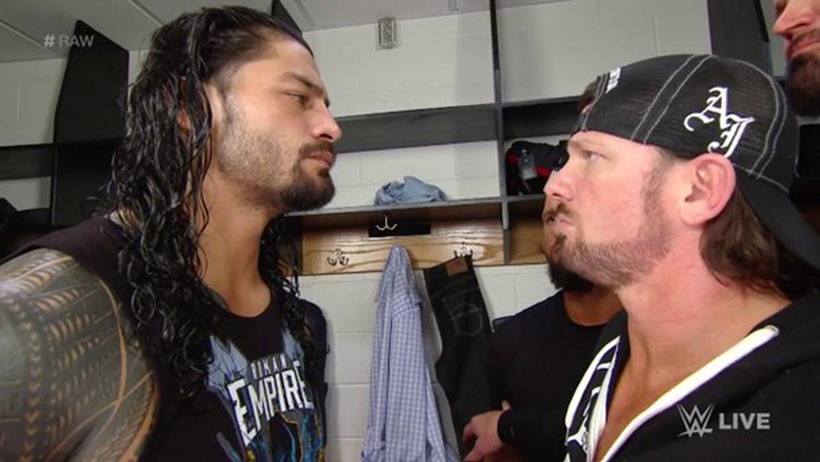 AJ Styles is talking to Luke Gallows and Karl Anderson. The Bullet Club is heaping praise on him, promising AJ that Roman Reigns won't leave the Extreme Rules pay per view as champ. And that's when Reigns walks in, challenging AJ, Gallows and Anderson to a six-man tag team match against him and The Usos later that night.
Tyler Breeze defeats Goldust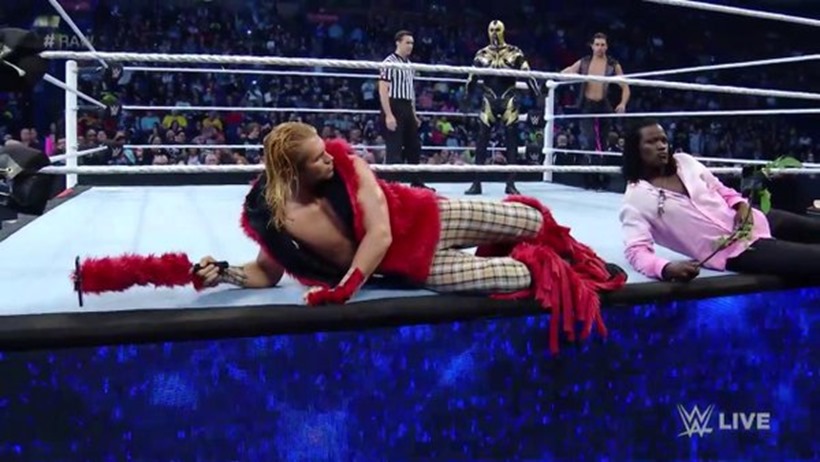 Goldust now has Fandango in his corner, but even suave ballroom dancing can't save him as Tyler Breeze locks in a roll-up in to earn a victory in a very quick match on RAW.
The New Day is in the ring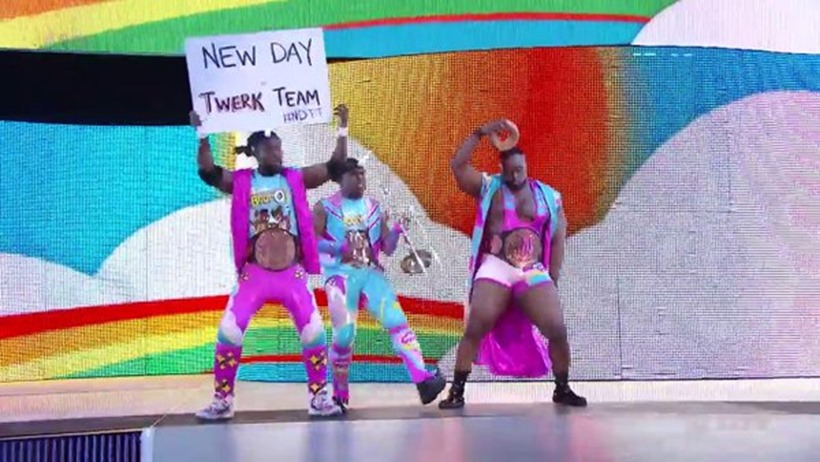 The New Day are in the ring, addressing Enzo Amore's recent concussion from Payback. The Vaudevillains decide to interrupt, as do the Dudleys who say that since the Payback match ended in a no contest, they want it to be restarted without Amore and Colin Cassady. Which signals Big Cass to hit the apron and start another big ol' RAW brawl.
The New Day and Big Cass defeat The Vaudevillains and The Dudley Boyz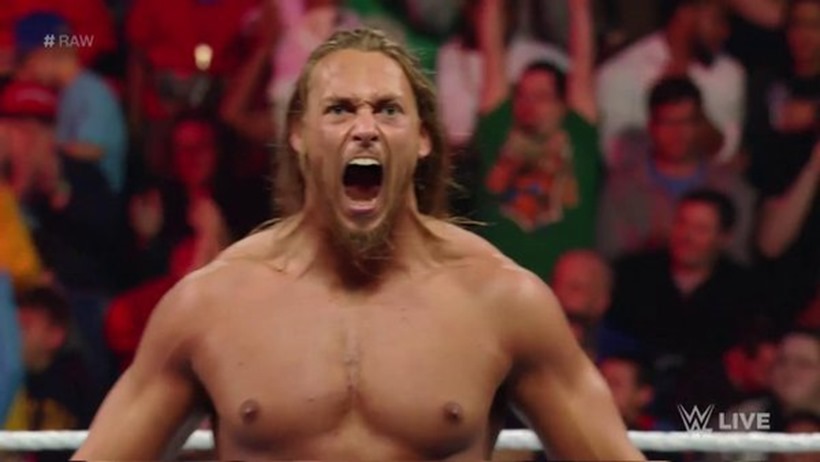 And thus a new big tag team event was set up. Everyone got in a lot of offense during this bout, with momentum shifting away from the New Day to the Vaudevillains as the match carried on, Big Cass would get a hot tag and clear the ring, dropping big boots, splashes and elbow drops on the Vaudevillains. Big E would also contribute his trademark belly to belly suplex to keep the ring clean, as Big Cass ducked a 3D from D-Von Dudley and followed it up with a finisher to earn a three-count win.
Emma defeats Becky Lynch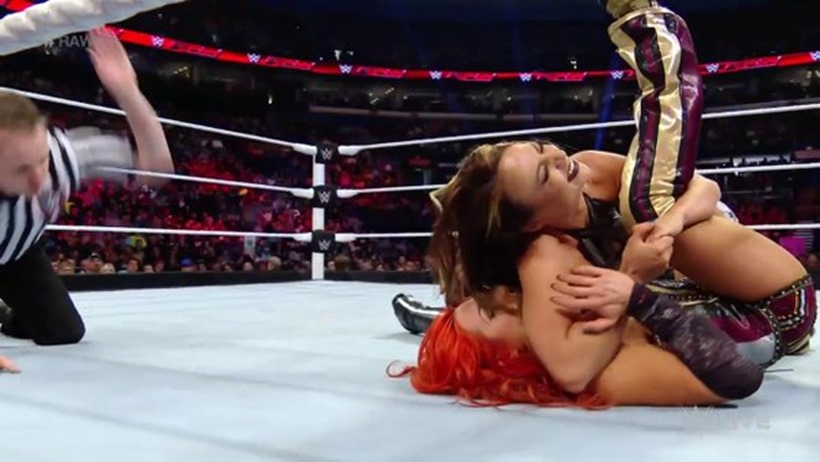 A great medium-length match between the two, that ended when Emma played some dirty tricks and landed a piledriver to secure her win.
The Ambrose Asylum
Ambrose wants to know why Stephanie is being so nice to Shane, because he ain't buying it. Stephanie says she's cancelling the Ambrose Asylum, and bringing back Chris Jericho's Highlight Heel I mean Highlight Reel. Well that's a big response. And guess what? If you said "Chris Jericho appears and brawls with Dean Ambrose," you'd be 100% correct. Jericho managed to hit a codebreaker and beloved pot-plant Mitch on Ambrose, before he scoots off. Dammit Jericho, that houseplant had just two weeks to go until retirement.
Rusev wins the Battle Royal for #1 Contendership for the U.S. Title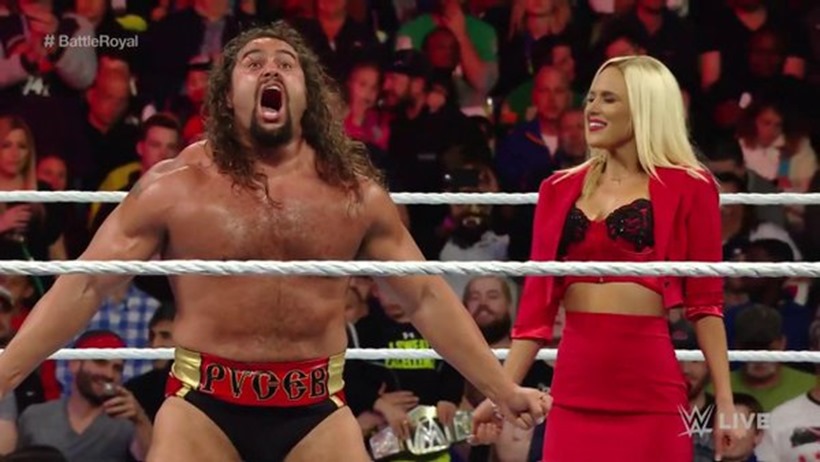 Titus O'Neil is back (Don't ever piss off Mr McMahon in real life), and kicking ass in the over the top rope battle royale. It eventually all comes down to Zack Ryder and Rusev in the ring however, with the Long Island miracle landing a big dropkick and a running knee on the bigger opponent. Rusev overpowers Ryder however, throwing him outside of the ring and becoming the new number one contender for the US Championship that Kalisto holds.
Ric Flair and Charlotte are in the ring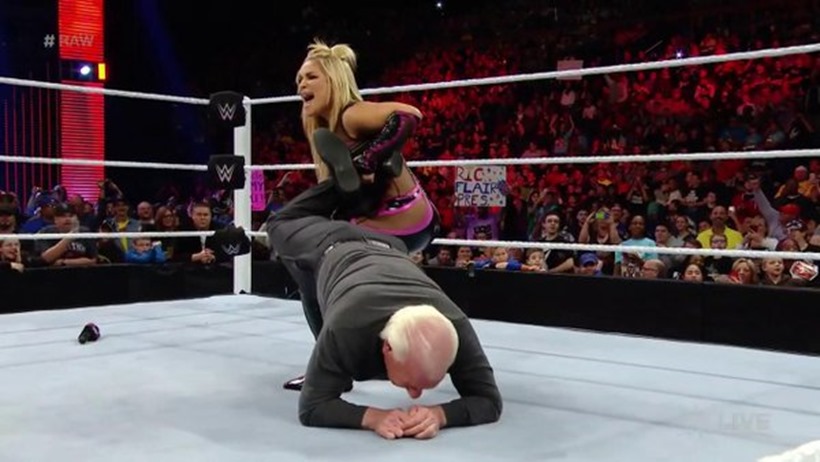 And they totes did not pull a Montreal screwjob at Payback with referee Charles Robinson who happened to be one of Flair's pals in the ol' WCW days. Totes you guys. Natalya is having none of that however, as she knocks CHarlotte out of the ring and decides to give Flair a mouthful of hate. And a Sharpshooter, which has become Natalya's signature reply. Charlotte manages to drag Flair out of the ring, while Natalya decides to pocket hisRolex and Hall of Fame ring.
AJ Styles, Karl Anderson and Luke Gallows defeat Roman Reigns and The Usos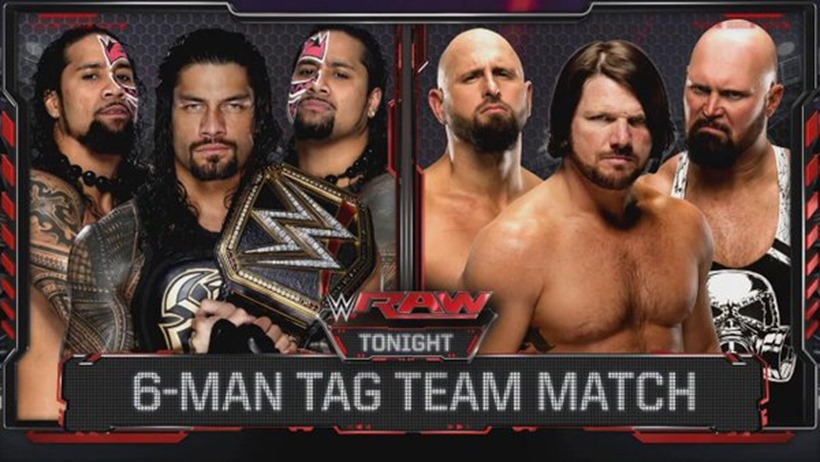 Big, big match. Say what you like about Reigns being terrible on a mic and generally having the personality of a dogsh*t snowman when cutting a promo, but he does bring some excellent ringwork to a match. The Bullet Club, The Usos, Reigns and AJ all go back and forth in this event, with signatures galore being thrown around. It all ends when AJ Styles lands a phenomenal forearm on Jimmy Uso, securing victory in their big RAW match.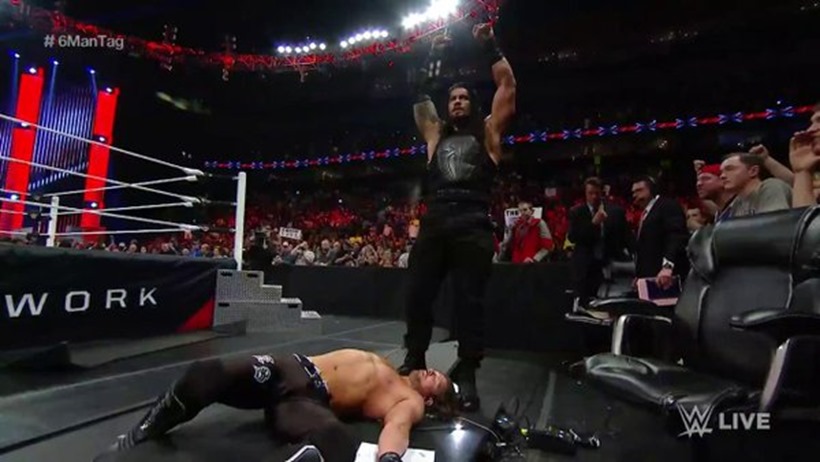 Afterwards, Gallows and Anderson attempt to gang up on Reigns and introduce him to a steel chair, but AJ wants none of that. AJ drops the chair, which may have been a mistake as The Usos decide to lay him out with it instead, with a superkicking to Gallows and Anderson for good measure. AJ is back up, grabs the chair and decides to clear the ring of The Usos, while Reigns revenges himself with a Superman Punch on Styles, powerbombing him through the announce table to close the RAW show for the week.
Last Updated: May 3, 2016