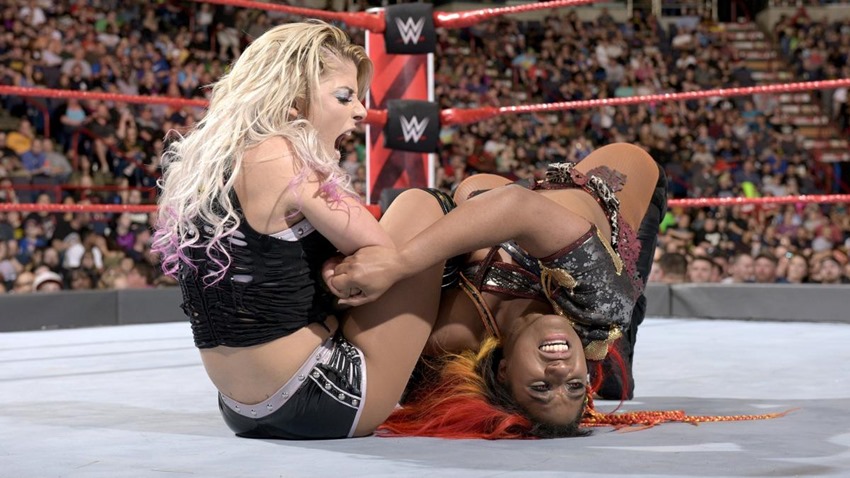 WWE Monday Night RAW took place from the Times Unions Center in Albany, New York. Here's all the action that went down last night.
Raw Commissioner Stephanie McMahon returned and confronted Kurt Angle
And she had plenty of business to take care of! Stealing the planned contract signing between Raw Women's Champion Nia Jax and Ronda Rousey, Stephanie also had no time for Roman Reigns or Kevin Owens when they crashed the scene as she decided to kill two birds with one stone and place both men in a match. With some extra help of course.
Kevin Owens and Jinder Mahal def. Intercontinental Champion Seth Rollins and Roman Reigns
An impromptu tag team match, the Modern Day Maharaja had a few bones to pick with Reigns after he'd suffered a Spear through a wall last week during a backstage scuffle. Reigns and Rollins gave as good as they got in the bout, but the former Shield brothers were bamboozled by the dastardly duo in a hard-hitting match.
Sami Zayn brought Bobby Lashley's "sisters" to Raw
Honestly this was just weird. This is how the latest feud starts, with men in drag brawling in the middle of the ring. Well alright then.
Ember Moon def. Alexa Bliss
A War Goddess facing the former Raw Women's Champion in singles action? Now that's a helluva match. Ember Moon didn't disappoint, as her ruthless style clashed with Bliss and her focus on wearing down her opponent while Mickie James provided some help. In the end, Bliss was no match for the Shenom and and her trademark Eclipse finisher that picked up the 1-2-3.
Baron Corbin def. No Way Jose
Having lost out on earning a spot in the Money In The Bank ladder match, Baron Corbin is on a mission to dismantle anyone who happens to be taking part in that golden opportunity main event. Targeting No Way Jose, the Lone Wolf found himself hunting for prey that was more resilient than he thought but still fell before him when the End of Days found its mark.
The B-Team def. Breezango
Proving that their first win over Tyler Breeze and Fandango wasn't a fluke, Bo Dallas and Curtis Axel went two for two in their tag team gold championship dream and picked up another win. A win which had the duo celebrating maybe too much.
Raw Women's Champion Nia Jax and Ronda Rousey signed their championship match contract
And for once, hands weren't thrown at the end of the signing. That's just weird.
Dolph Ziggler def. Chad Gable
Chad Gable may have reinvented himself as a singles competitor who has serious talent in the ring, but the Show-off was having none of that last night. Ziggler won (barely) when a last-minute superkick found Gable's jaw and laid him out for the three-count. A match-finishing move that was added to, when Drew McIntyre decided to give Gable a taste of his Claymore finisher.
Natalya def. Dana Brooke, Liv Morgan and Sarah Logan to qualify for the Women's Money in the Bank Ladder Match
In a huge Fatal Fourway match, the Queen of Harts came out on top when she caught Sarah Logan in her dreaded Sharpshooter, forcing a tapout in the middle of the ring. What does this mean for Natalya and her friendship with Ronda Rousey? It's simple: Natalya expects the baddest woman on the planet to be the next RAW women's champion. And once Natalya has Money In The Bank, she'll be challenging her friend to see who RAW's best woman really is.
Elias def. Bobby Roode
Just when it looked like Bobby Roode would score another glorious victory, the WWE's resident minstrel of malevolence pulled out a win at the very last second when he tripped his opponent into the turnbuckle and caught him with the Drift Away. A win then for Elias, as the rivalry between the two superstars continues to heat up.
Braun Strowman def. Finn Bálor
RAW's main event was very much a case of David vs Goliath, as Braun Strowman unleashed his monstrous size and power against Finn Balor in the ring. They may have been tag team partners for the last few weeks, but Strowman wasn't exactly feeling sentimental as he unleashed the hands of war on Balor. To his credit, Balor put up a hell of a fight and looked set to deliver a Coup de Grace for the ages, but Strowman was simply too much.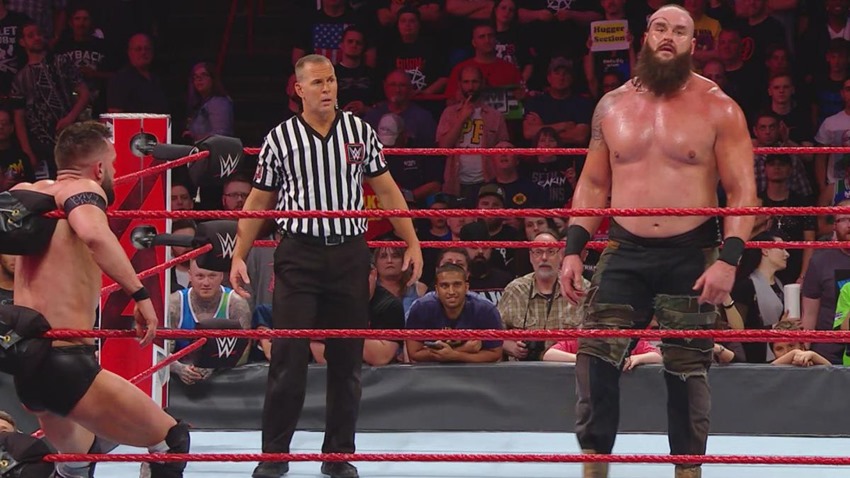 Catching Balor in mid-air and converting the energy of that finisher into a Running Powerslam that resulted in the lights going out for Balor. At the very least, Balor had won Strowman's respect by the end of the match as the Monster Amongst Men hoisted his opponent up from the mat.
Last Updated: May 22, 2018