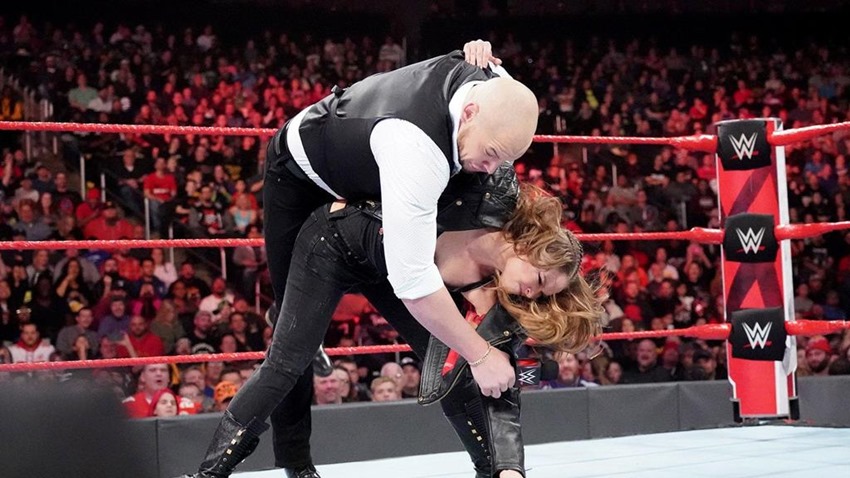 WWE Monday Night RAW took place from the Sprint Center in Kansas City, Missouri. Here's all the action that went down on the road to Survivor Series.
Raw Women's Champion Ronda Rousey crashed Stephanie McMahon and Braun Strowman's negotiation
How do you stop the gift of destruction from running wild across RAW? By giving him exactly what he wants. Strowman's rampage was halted by Stephanie McMahon's savvy negotiating last night, as she'd worked out a perfect deal for the monster amongst men: Not only would he get a match with Acting General Manager Baron Corbin, but he could even choose the match stipulation as well. To sweeten the deal, Strowman was also given a chance to have a rematch with Brock Lesnar for the WWE Universal championship.
The only catch? Strowman would need to keep his hands off of Corbin until Survivor Series was done and help lead Team Raw to victory. RAW Women's champion Ronda Rousey entered the scene to assure Stephanie that she would need no such deals to take down Smackdown LIVE's Becky Lynch at the event, threw Corbin right through the mat when he got too close to her and made her mark heading into Survivor Series.
Tamina def. Ember Moon
Ember Moon's former ally was ready to rumble last night, but the war goddess had plenty of offense stored in her tank for the match. Running circles around Tamina, Moon's brutal offense was only halted by Nia Jax's inteference, leading to a superkick from Tamina that picked up the 1-2-3.
Dean Ambrose burned his Shield vest while Seth Rollins gave an in-ring interview
Seth Rollins may be heading into Survivor Series to face United States Champion Shinsuke Nakamura, but the Kingslayer's mind is firmly on Dean Ambrose. The lunatic fringe popped up on the Titantron, ready to explain his betrayal: The Shield was no longer a source of strength for him, but rather a burden that he wanted to free himself from, as he symbolically burnt the signature vest of the brotherhood that he once belonged to.
Finn Bálor def. Dolph Ziggler; Stephanie McMahon named Bálor to the Raw Men's Survivor Series team
The Extraordinary Man Who Does Extraordinary Things may not have gotten a match with Drew McIntyre after last week's mauling, but he did get the next best thing: A showdown with Dolph Ziggler, that ended with duelling roll-ups, a win for Balor and a spot on the RAW Survivor Series team.
Natalya attacked Ruby Riott
Still seething after Natalya broke the sunglasses that her father Jim "The Anvil" Neidhart would wear to the ring, Natalya was thirsty for revenge. While the Queen of Harts may have gotten her licks in, the numbers game of Liv Morgan and Sarah Logan quickly caught up to her, resulting in a beatdown for Natalya that ended with a Hart Attack from the Riott Squad.
Bobby Roode and Chad Gable won a Tag Team Battle Royal to determine the captain of Raw's Tag Team Survivor Series team
After Bruan Strowman interrupted the original battle royale that was set up to find a duo worthy enough to lead RAW's tag team division at Survivor Series, the second time was the charm as Bobby Roode and Chad Gable who outlasted everyone else. Facing the Ascension of all people, the odd couple pulled off some glorious moves to earn captaincy in the fight against Smackdown LIVE's tag team division.
Jinder Mahal confronted Universal Champion Brock Lesnar
And it didn't end well for the modern day Maharaja. Instead of calming the Beast Incarnate, Mahal found himself clotheslined out of the ring, F-5ed into oblivion and the Singh Brothers found themselves in Suplex City. Oddly, Lesnar looked very calm after that.
Bobby Lashley def. Elias via Count-out to become the final member of the Raw Men's Survivor Series team
Elias had this match in the bag, but the Living Truth found himself captured by Lio Rush, who emerged from under the ring to restrain the ankles of Elias and give Bobby Lashley a count-out victory and the final spot on the RAW Survivor Series team.
Sasha Banks vs. Bayley ended in a no contest
Pouring everything they had in to a bout to determine who would fill the final spot in the RAW Women's Survivor Series team, Bayley and Sasha Banks engaged in a slobber-knocker that ended with Tamina and Nia Jax ruining a classic match and clobbering both plucky superstars. To add salt to the wound? Captain Alexa Bliss appeared, declared that neither competitor had earned a spot on her team and she'd find someone else to serve as the fifth women in her gang.
WWE Smackdown LIVE champion Becky Lynch attacked Ronda Rousey
Becky Lynch made good on her promise to lock Ronda Rousey in the Dis-Arm-Her, and in a Smackdown LIVE invasion, the lass-kicker turned up to ambush the baddest woman on the planet. The Smackdown LIVE Women's Survivor series team continued their assault, attacking their RAW counterparts, before finally being driven off by an injured but dangerous chair-wielding Ronda Rousey.
Last Updated: November 13, 2018