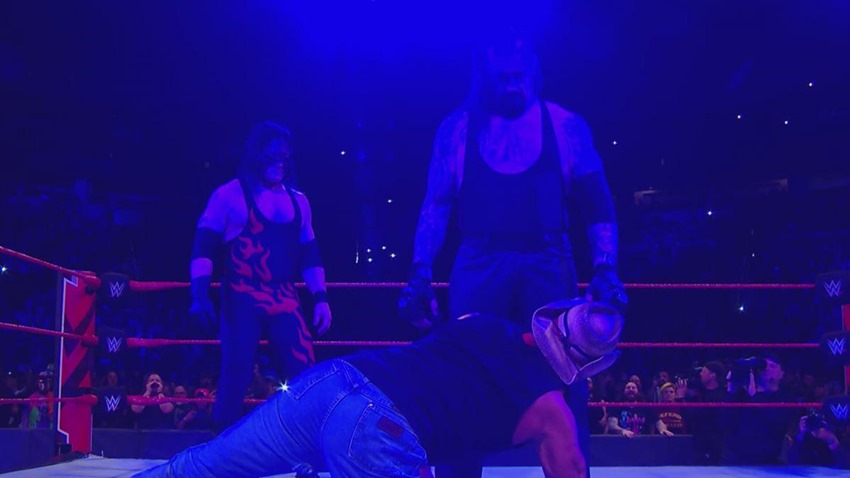 WWE Monday Night RAW took place from the Key Arena in Seattle, Washington. Here's all the action that went down in the run up to the upcoming Australian Super Showdown event.
Dean Ambrose addressed speculation about his loyalty to The Shield
In Dean Ambrose's own words, if he ever were to turn on his Shield brothers, he'd do when it was least expected. Attempting to further sway him to the dark side however, acting general manager Baron Corbin decided to give Ambrose a chance to choose his match. He could either lock horns with Roman Reigns in a WWE Universal championship match, face Seth Rollins for the Intercontinental championship or take on Braun Strowman in singles action.
Hungry for a piece of Corbin, Ambrose instead found the decision made for him when the Lone Wolf brought out the gift of destruction.
Braun Strowman def. Dean Ambrose via Disqualification
Dean Ambrose may be mad enough to stay in the ring with Braun Strowman, but even a streak of lunacy can only carry you so far. Finally defeated after a gruelling bout, Strowman's rampage eventually brought out all the WWE Super howdown rivals, as Roman Reigns, Seth Rollins, Drew McIntyre and Dolph Ziggler all descended on the ring.
Universal Champion Roman Reigns def. Raw Tag Team Champion Dolph Ziggler
Whether it was through dirty tricks or actual talent, Dolph Ziggler certainly brought his A-game to his bout against Roman Reigns, but the show-off eventually fell when he connected with a Spear in mid-air.
Raw Women's Champion Ronda Rousey def. Ruby Riott
If you can't beat 'em with skill, beat 'em by playing dirty instead. Ruby Riott tried every single underhanded technique in her book to score a victory over Ronda Rousey, but when an armbar connected from the baddest woman on the planet, Riott was tapping out within seconds.
Konnor def. Bobby Roode
I don't believe it: TWO back to back victories for the Ascension. Thanks to an assist from his tag team partner Viktor, Konnor got his Gutwrench Slam locked in on Bobby Roode and left the ring feeling…glorious.
The B-Team def. The Revival; AOP attacked after the match
They may no longer be the tag team champions, but the B-Team still proved themselves a force to be reckoned with when they narrowley defeated the self-proclaimed tag team specialists Dash and Dawson. The Revival fell, the Authors of Pain ambushed the weary winners and a message was sent to the entire tag team division.
Raw Tag Team Champion Drew McIntyre def. Intercontinental Champion Seth Rollins
Dolph Ziggler may have come up short against Roman Reigns, but he provided the assist that his tag team partner Drew McIntyre needed when he dodged a Stomp and caught Seth Rollins with the dreaded claymore. All hell would break loose after the match, with Braun Strowman joining the fray and delivering an almighty running powerslam to Rollins.
Kevin Owens def. Bobby Lashley
Bbby Lashley may have had this match in the bag, but when his living hype machine Lio Rush was ensnared in a full Nelson by Elias, the distracted heavyweight found himself rolled up and pinned for the three-count.
Bayley def. Alicia Fox
Thanks to Finn Balor preventing Jinder Mahal from causing a ruckus at ringside, Bayley quickly got a Bayley-to-Belly suplex locked in on Alicia Fox, pinning her for the huggable win.
The Brothers of Destruction attacked Triple H and Shawn Michaels
In other news: Aging WWE superstars who still have plenty of clout in the company and whose best years are far behind them (well, except for Triple H maybe because he's an absolute machine) are going to bank one hell of a payday in Australia when they cruise in on a nostalgia wave for a showdown that was supposed to have been settled way back at Wrestlemania 28.
Last Updated: October 2, 2018