WWE Monday Night RAW took place from the Dunkin Donuts Center in Providence, Rhode Island. Here's all the action that went down last night.
Roman Reigns relinquished the Universal Championship after revealing his battle with leukaemia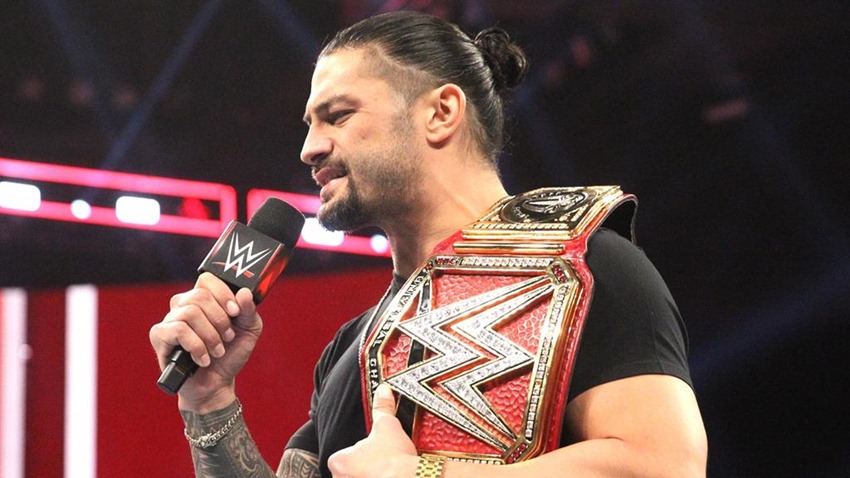 He fought tooth and nail to finally earn the WWE Universal championship, but last night Roman Reigns revealed that a foe worse than an army of Brock Lesnars had forced him to relinquish the title: Leukaemia. Having beaten the dreaded disease back in 2008, Reigns saw it flare up again recently, as a passionate speech from the man behind the persona detailed how he would be returning home to fight back once again.
"I will beat this, and I will be back, so you will see me very, very soon," Reigns said, as he stepped down from the top of the WWE food chain and embraced his Shield brothers at the top of the entrance ramp.
Finn Bálor def. Bobby Lashley
The Extraordinary Man Who Does Extraordinary Things proved that his moniker wasn't just big talk, as Finn Balor put in a heck of a performance against Bobby Lashley last night. In a bout of speed versus power, Balor came out on top using his wits when he reversed a scoop slam into a roll-up pin.
Ruby Riott def. Sasha Banks
The Boss may be back, but Sasha Banks clearly had some ring rust that Ruby Riott and the rest of the Riott Squad took advantage of. Thanks to her team providing a distraction, Riott was able to lock in her signature kick and pick up a massive win ahead of this Sunday's WWE Evolution event.
The Brothers of Destruction confronted D-Generation X
They may have a storied history, but throughout the years that they were actinve Degeneration X never tangled with the Brothers of Destruction. That all changes at WWE Crown Jewel soon, as Triple H and a returning Shawn Michaels who entered the WWE ring to remind the WWE Universe that old just means better.
Kane and the Undertaker appeared before the duo on the Titantron, ready to deliver a message of their own. "Pride goes before destruction and arrogance precedes the fall. Your arrogance will be the vessel of your total annihilation," the brothers said. Rest in piece? More like rest in pieces when Kane and the Undertaker are done with the legends.
Braun Strowman confronted Paul Heyman; Drew McIntyre attacked Strowman
With the WWE Universal title now up for grabs, it was time for RAW to find a new champion. Who would it be? Well it might very well be either Braun Strowman or Brock Lesnar, as the two will face off at WWE Crown Jewel for the vacant title. Strowman hit the ring to interrupt Paul Heyman's promotion of Lesnar, promising not only a weekly defense of the title as opposed to Lesnar's more staggered schedule, but a chance for Reigns to get on the wrong side of his fans when the Big Dog eventually returns.
Only problem? Looks like Drew McIntyre wants in on that action, as the Scotsman rushed Strowman, dropping the giant with a Claymore in the process.
Elias def. Apollo Crews
Crafty as ever, the Living Truth weathered a storm of abuse from Apollo Crews and bounced back with a knee to the face that put the big man down for the count.
Elias smashed a guitar over the back of Acting General Manager Baron Corbin
Ready to celebrate his victory, Elias found himself once again cut off as acting general manager Baron Corbin decided to flex his managerial powers and end the music. After being interrupted perhaps one too many times, Elias offered an alternative to Corbin: A guitar, delivered across the spine of Corbin.
Raw Women's Champion Ronda Rousey and Nikki Bella signed their WWE Evolution contract
That's nice. Next!
Ember Moon def. Nia Jax, Dana Brooke and Tamina (Fatal 4-Way Match)
In a preview of things to come at WWE Evolution, it was Ember Moon who came out on top and earned a full tank of momentum juice to put in her tank. Picking her time and landing an Eclipse on Tamina, the War Goddess proved to have just the right amount of power and wit to clinch a huge victory last night.
Dean Ambrose and Seth Rollins def. Dolph Ziggler and Drew McIntyre to win the Raw Tag Team Championships; Ambrose attacked Rollins after the match
It was a devastating night for The Shield, with their brother Roman Reigns forced to take a leave of absence and relinquish the WWE Universal Title. Could Dean Ambrose and Seth Rollins carry on the spirit of the Shield in his absence? Yes…and no. While The Shield might have dethroned Dolph Ziggler and Drew McIntyre as tag team champions, that victory was short-lived when Dean Ambrose turned on his partner Seth Rollins, dropping with a Dirty Deeds in the ring and on the concrete floor outside.
A bout of madness, or the result of something more sinister? Maybe, maybe not, but last night one thing was made clear: Don't believe, in the Shield.
Last Updated: October 23, 2018