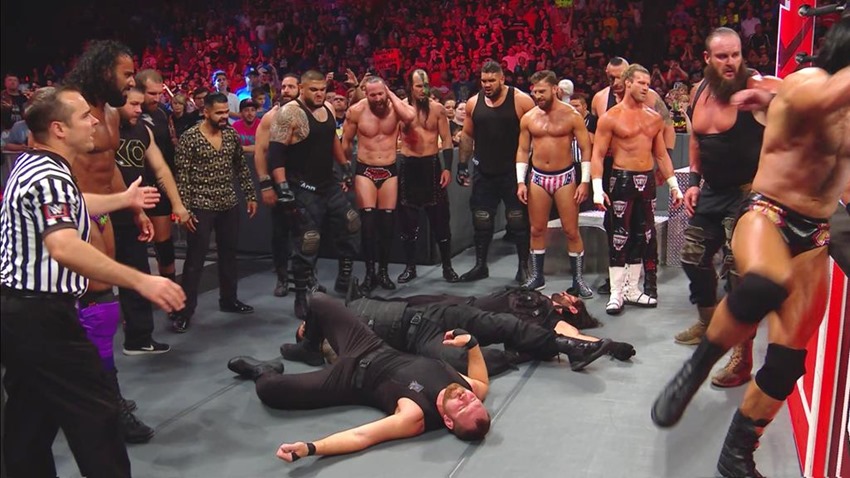 WWE Monday Night RAW took place from the Schottenstein Center in Columbus, Ohio. Here's all the action that went down last night.
The Shield got arrested after attacking Braun Strowman, Dolph Ziggler and Drew McIntyre
Payback may have been on the agenda of The Shield when they hit the ring to confront Dolph Ziggler, Drew McIntyre and Braun Strowman, but the hounds of justice found themselves severely outnumbered and in trouble with the law when acting General ManagerBaron Corbin sicced the entire RAW locker room on the trio. Making maters worse, Roman Reigns, Dean Ambrose and Seth Rollins soon found themselves cuffed and shoved into a police van, their thirst for retribution fully denied.
The Bella Twins def. The Riott Squad
One Rack Attack 2.0 later, and the Bella Twins made an impact on their return to RAW. You better Bella-lieve it.
Bobby Roode and Chad Gable def. The Ascension
Looks like Chad Gable is back in the tag team business, as his team-up with Bobby Roode last night saw him earn a victory over the team of Konnor and Viktor.
Alexa Bliss def. Natalya
Thanks to an assist from Mickie James and Alicia Fox, Alexa Bliss managed to catch Natalya in a painful armbar, sending a message to her opponent Ronda Rousey.
Dolph Ziggler and Drew McIntyre def. The B-Team to become the new Raw Tag Team Champions
Dolph Ziggler may no longer be the Intercontinental champion, but last night saw a new belt added to his collection: The RAW tag team championship. With Drew McIntyre, Ziggler ran all over the B-Team (after sneakily demolishing The Revival who were meant to face Bo Dallas and Curtis Axel) and it wasn't long before a Zig Zag found its mark. One, two and three: New champs are in the house.
AOP def. Keith Thompson and Jimmy James
Ziggler and McIntyre might soon have their work cut out for them however, as 205 Live's Drake Maverick is now managing the Authors of Pain, and they're looking to earn the tag team gold for themselves. Showing off their power against some local talent, Akam and Rezar demolished the victims in front of them before even a minute had passed in this squash match.
The Undertaker confronted Shawn Michaels
Nostalgia! Although come on, you thought the prospect of another hefty payday wasn't going to keep two WWE Legends out of retirement?
Sasha Banks and Bayley def. Ember Moon and Dana Brooke
Thanks to Apollo Crews and Titus O'Neil being more of a hindrance than a assist at ringside, Dana Brooke's solid effort in the ring last night was squashed by a quick roll-up pin from Bayley.
Kevin Owens crashed Bobby Lashley and Jinder Mahal's meditation session
Well that retirement didn't last long for Kevin Owens.
Braun Strowman def. Finn Bálor; the Raw locker room attacked The Shield
Sure, Braun Strowman and Finn Balor put on a terrific match that ended with a Running Powerslam to the Extraordinary Man, but the real story here was the return of The Shield. Having commandeered the police van that they had been thrown into earlier in the night, The Shield was hellbent on getting even with Dolph Ziggler, Drew McIntyre and Strowman.
Instead, The Shield got a beating from an army of RAW superstars, ending the night in a broken heap while their opponents stood tall yet again.
Last Updated: September 4, 2018