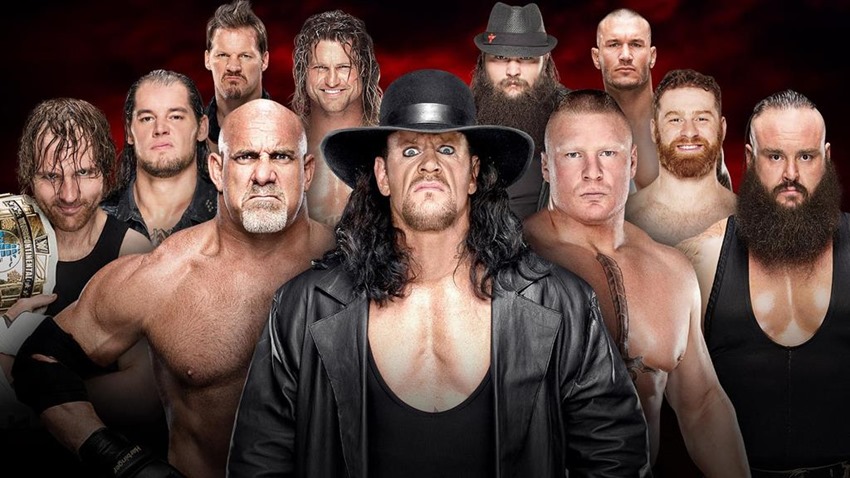 The 2017 Royal Rumble took place from the Alamodome in San Antonio, Texas. Here's all the action that went down as 29 men went over the top rope in pursuit of glory.
Naomi, Nikki Bella and Becky Lynch defeated SmackDown Women's Champion Alexa Bliss, Mickie James and Natalya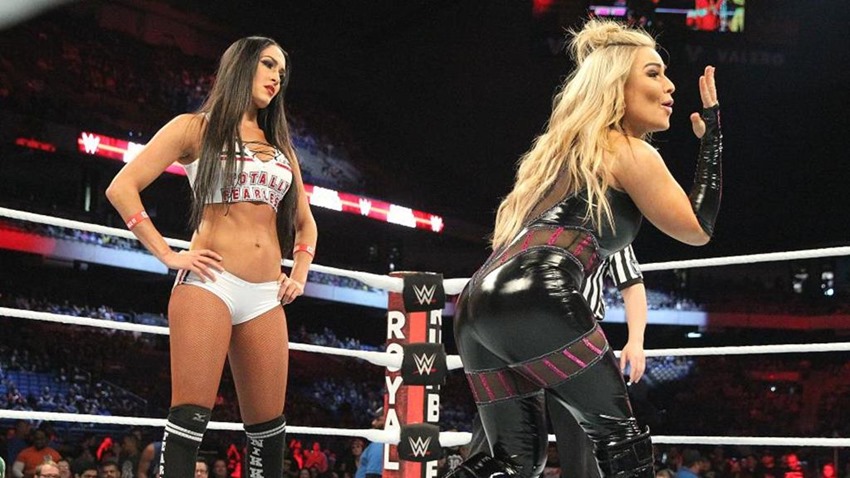 Current Smackdown Women's champion Alexa Bliss has no shortage of enemies, and they were all gunning for her at the Riyal Rumble last night. But it was Naomi who stole the show with a glowing performance in the six-women tag team match, with the rest of her team joining the fray at one point to deliver a triple-suplex to Bliss, Natalya and Mickie James that shook the ring.
With that momentum, and her teammates keeping Natalya and Mickie James distracted, Naomi was able to drop Bliss with a split-legged moonsault that had her down for the three-count.
Luke Gallows and Karl Anderson defeated Cesaro and Sheamus to win the RAW Tag Team Championships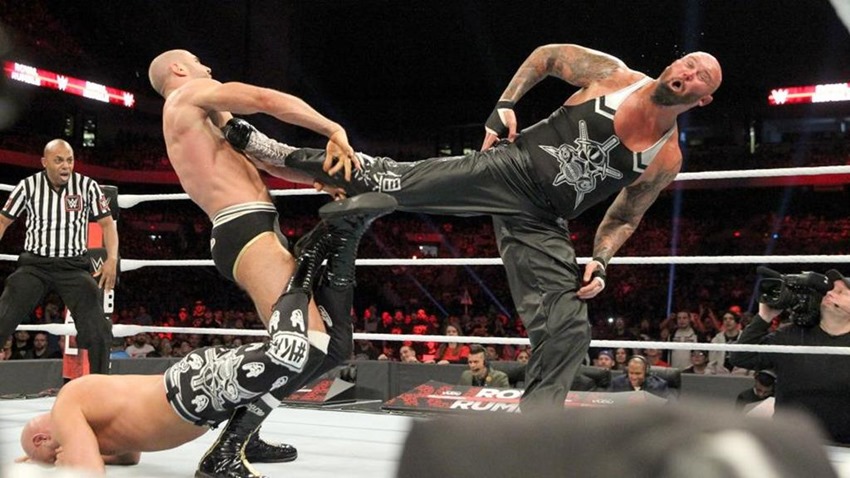 For months now, Luke Gallows and Karl Anderson have been in hot pursuit of the RAW tag team titles. Flustered at every turn by previous champs The New Day and regularly stopped in the tracks by the likes of Sheamus and Cesaro, last night was finally the night for the duo. Fighting tooth and nail to earn their first-ever tag team titles in the WWE, Anderson and Gallows made good use of a knocked out official and some ring confusion, rolling up Cesaro for the win as a prone Sheamus lay dead in the ring.
Nia Jax defeated Sasha Banks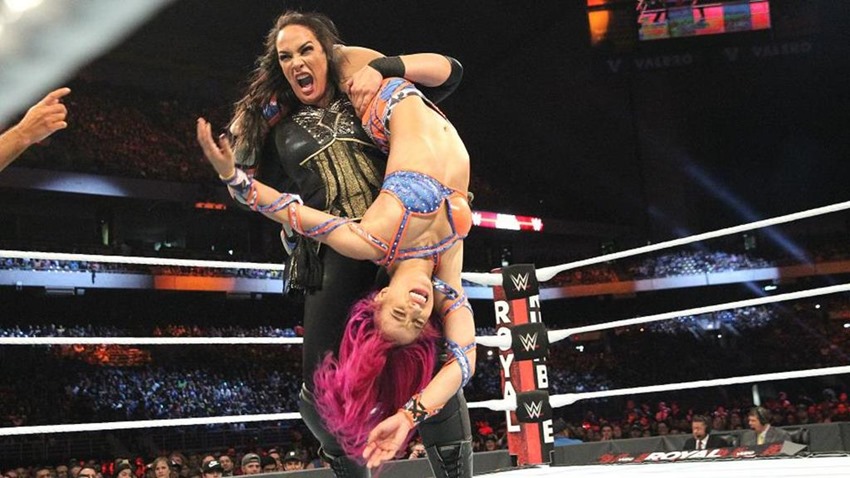 Taking advantage of a knee injury that had plagued Banks for several weeks now, Nia Jax ran riot all over Sasha Banks, knocking aside any effort at staging a comeback and squashing the plucky former champ with a Samoan drop for the ages.
RAW Women's Champion Charlotte Flair defeated Bayley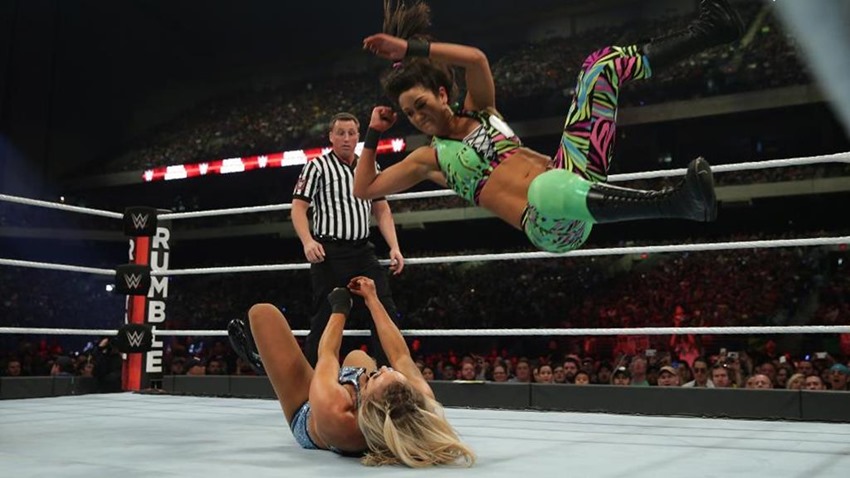 With 15 straight victories in pay-per-view appearances, Charlotte was hoping to extend her streak to 16. And so she did, but not without having to earn that extra digit as Bayley put up one hell of a fight at the Royal Rumble. Charlotte wasn't messing around the second the bell was rung, as she slammed Bayley headfirst into the ring apron and continued her assault with strikes and slams until the doctor of huganomics managed to counter a clothesline…with another clothesline.
But that was all the momentum Bayley needed to stage a comeback, tearing Charlotte a new one and landing an elbow drop that would make Shawn Michaels proud. But the huggable one is perhaps too clean of a fighter, as Charlotte upped her cunning to lock in a Figure-Eight leglock that did considerable illegal damage when she made use of the ring ropes.
The damage done, Bayley soon fell to Natural Selection as Charlotte began walking down the road to Wrestlemania with her title secure.
WWE Universal Champion Kevin Owens defeated Roman Reigns (No Disqualification Match, with Chris Jericho suspended above the ring in a shark cage)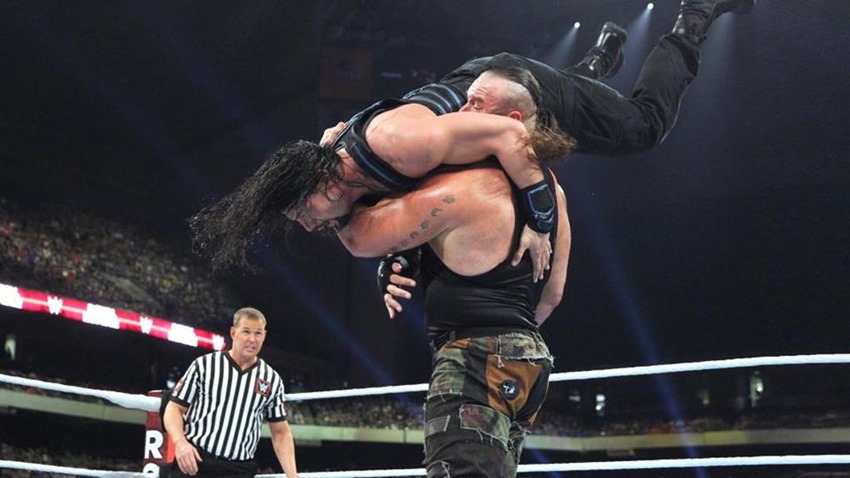 Roman Reigns was this close to walking out of the Royal Rumble with the WWE Universal championship belt around his waist. But when Reigns was given the gift of destruction, those plans were scattered for good. With a No Disqualification rule in place, Kevin Owens did his damndest to take advantage of it, roping in Chris Jericho to deliver a two on one assault before the bell was even rung.
Reigns managed to stave off the assault however, allowing the match to officially get underway at long last as Jericho was made to enter the shark cage above the ring and watch the devastation unfold below. And with no holds barred, the match quickly saw traditional strikes and holds bolstered by foreign objects aplenty as the prizefighter did everything he could to retain his title.
But then it looked as if the end was near. A Superman Punch that sent Owens flying off the top rope and into a selection of steel chairs below looked like it would finally be enough to put the champ away, but Reigns decided to play it safe. With a powerbomb through the announcers table of course. But just when Reigns was ready to finish the Royal Rumble with a victory spear, Braun Strowman appeared.
The destroyer of men utterly annihilated Reigns in a surprise attack, annihilating a table in the process and leaving the big dog broken. Just the opportunity that a nearly-comatose Owens needed to crawl on top of Reigns and have his pin reach the full count of three.
Neville defeated WWE Cruiserweight Champion Rich Swann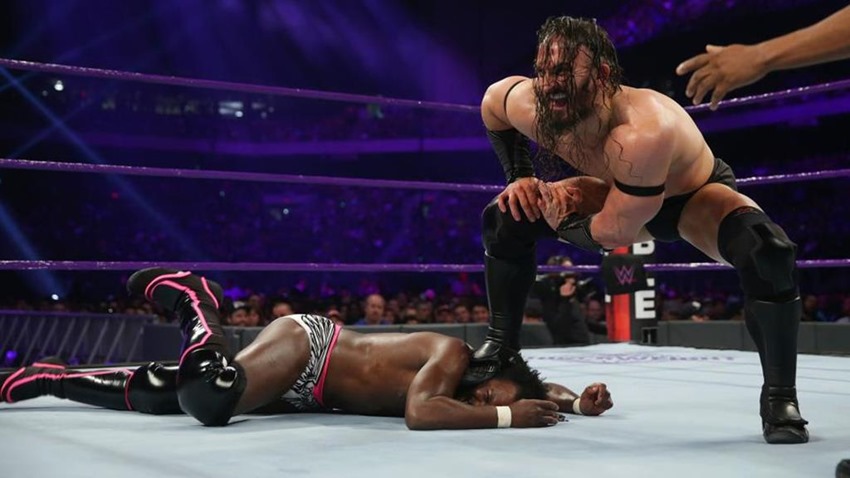 When Neville and Rich Swann collided at the Royal Rumble, it was a cruiserweight match that shook the top ropes in a display of high-flying athleticism and skill. But even Swann's arsenal of Superplexes and quick boots wasn't enough to stop the self-proclaimed king of the cruiserweights from reclaiming gold that he believed could only be worn by him, as Neville dropped Swann with the Rings of Saturn submission.
John Cena defeated AJ Styles to win the WWE Championship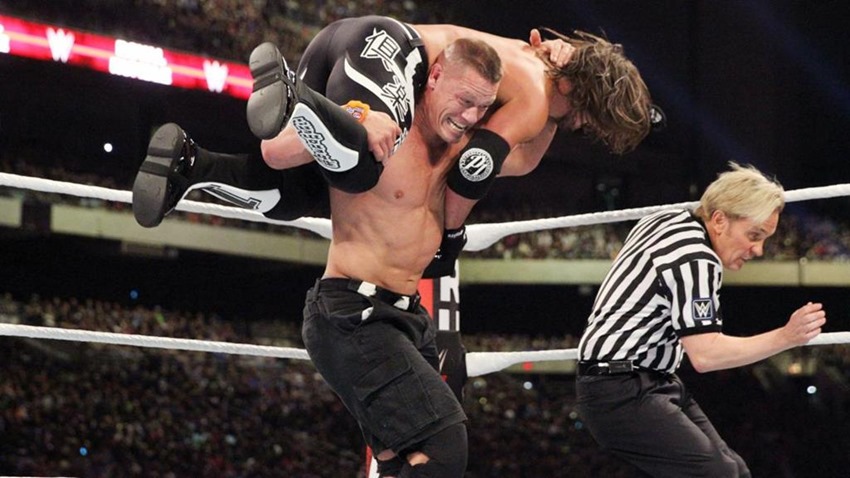 Spoiler alert: Cena wins. For months now, AJ Styles has been the champ that runs the camp of Smackdown. Having secured the WWE Championship at 2016's Backlash event, Styles enjoyed a title reign that went unbroken for months. But when Cena matched him blow for blow at the Royal Rumble, that reign came to an end.
The punishment on display was world-class stuff, with Cena and Styles trading leglocks, phenomenal strikes and Attitude Adjustments in pursuit of the gold. But in a display that gave Cena his first championship again since 2014 and his 16th world title win, with  a pair of match-deciding Attitude Adjustments that finally put Styles away after he had soaked up a hellacious amount of damage.
Randy Orton won the Royal Rumble
And finally, it was time for the main event. The Royal Rumble itself was finally ready to begin, as Big Cass and Chris Jericho started the match. With more superstars arriving every 90 seconds, the ring quickly became crowded, a problem that was rectified by eliminating superstars by throwing them over the top rope. Rivalries were reignited, friendships were tested and the WWE had a surplus of boots going over the top rope as chaos erupted.
Towards the end of the match, the big guns finally arrived. Lesnar hit the ring as the 26th entrant in the Royal Rumble and utterly annihilated the competition. With F-5s leaving bodies everywhere and Doplh Ziggler, Enzo Amore and Dean Ambrose quickly eliminated by the beast incarnate, it looked as if Lesnar was walking away with the ticket to Wrestlemania.
But when Goldberg appeared at #28, that's when the fun really began. Goldberg hit the ring, ducked a clothesline from Lesnar and countered with a ring-shaking Spear. But even that wasn't enough to stop Lesnar as he quickly came to his feet, only to meet a clothesline that sent him over the top ropes. With Lesnar beaten again, Goldberg went to work in the Royal Rumble and began cleaning the ring of everyone else still inside of it.
And then a familiar gong was heard. The Undertaker had finally appeared at #29, as he made his presence felt as he managed to eliminate Goldberg. With Roman Reigns entering at #30, the endgame had begun. The Miz and Sami Zayn were eliminated by the Undertaker, but Roman Reigns managed to toss the Deadman out of the ring, Superman-punching Chris Jericho into elimination as well for good measure.
Bray Wyatt and Randy Orton then began double-teaming Reigns, but the big dog managed to survive long enough to eliminate Bray. With just Orton and Reigns left in the ring, it was all or nothing. Reigns attempted a Spear, but the Viper deflected it with an RKO outta nowhere that saw his opposition eliminated at long last.
Your winner of the 2017 Royal Rumble, Randy Orton. And that was the show folks!
Last Updated: January 30, 2017