WWE Smackdown LIVE took place from the Valley View Casino Center in San Diego, California. Here's all the action that went down last night.
Randy Orton shut down the outspoken Kevin Owens and Sami Zayn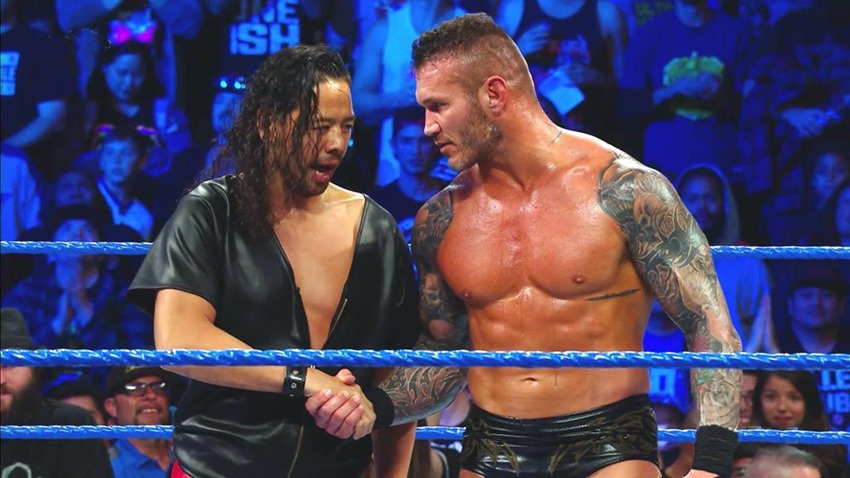 Like a mosquito on a hot summer night, Smackdown LIVE just can't seem to swat away the annoying problem that is Kevin Owens and Sami Zayn. Kicking off the show with their usual whinging in the ring, Zayn and Owens were also in a mood to gloat over last week's No-Disqualification match against Randy Orton that saw Zayn hop through a loophole to save his best buddy.
Deciding to shut the pair up, Randy Orton sneaked into the ring and hit an RKO on Owens, while Zayn found himself caught between a rock and a hard place as Shane McMahon had also made an appearance alongside his favourite steel chair. While Shane wouldn't make use of that tool, he would announce a match for later on in the night: Zayn and Owens vs Orton and Shinsuke Nakamura at Night of Champions. That wasn't all that Shane-O-Mac had planned however, as he also announced that Zayn would face Orton later on in the night…while Owens would be handcuffed to the ring rope.
Rusev and Aiden English def. The New Day
Having successfully managed to prevent Aiden English from unleashing the horror of a festive song by the tune of "Twelve Days of Rusev", The New Day were looking to pick up a win. Unfortunately, the power of positivity was no match for English and Rusev as their teamwork of distractions and an almighty kick to the back of Kingston's head resulted in the heels getting the pin.
A massive win, that secured the duo a slot in the SmackDown Tag Team Championship Match at WWE Clash of Champions, against the teams of The Usos, The New Day and Chad Gable and Shelton Benjamin.
The Bludgeon Brothers def. Adam James and Josh Carr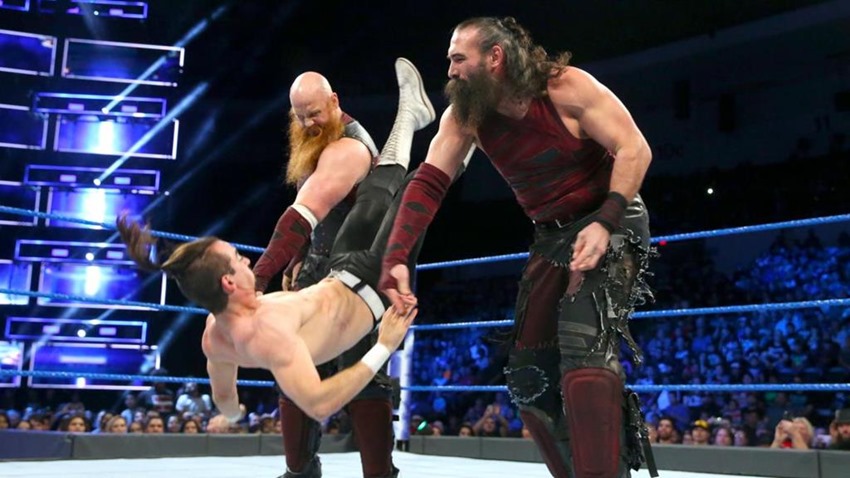 Making short work of some local talent, the Bludgeon Brothers demolished Adam James and Josh Carr with their trademark combination of devastation and teamwork.
Bobby Roode def. Baron Corbin via Disqualification
With Night of Champions hosting a triple-threat face-off for the United States title, Dolph Ziggler was looking to one-up his fellow opponents as he interrupted a showdown between Bobby Roode and reigning champ Baron Corbin. Dropping Roode with a Zig Zag, Ziggler doubled up on his finisher when he locked it onto Corbin, leaving him as the last man standing in the ring.
SmackDown Women's Champion Charlotte Flair def. Tamina
Deciding to bring some order to the Smackdown Live women's locker room, general manager Daniel Bryan greenlit a novel match for Night of Champions: Charlotte Flair vs Natalya for the Smackdown LIVE women's title, with the ring surrounded in a Lumberjane match. With the Riott Squad hopefully evened out by the numbers, it was time for Charlotte Flair to send a message to Tamina.
Locking her into a Figure-Eight Leglock in their one-on-one match, Tamina had no choice but to tap out. Tensions rose in the ring afterwards however, as Natalya, Carmella and Lana hit the ring. The Riott Squad joined in on that action, leading to Tamina to drop a heavy hand on Sarah Logan, as the ring erupted into chaos.
Randy Orton def. Sami Zayn
Now that Kevin Owens had been handcuffed to the ring, Orton could sort-of-safely fight Sami Zayn without having to open the eyes in the back of his head too often. The singles match quickly turned into a handicap bout however, as Zayn found a pair of bolt-cutters that he used to free Owens, resulting in a beatdown on Orton.
Going for the Helluva Kick, Orton slyly countered that finisher into a sneaky roll-up pin, scoring a win and then facing off against the dastardly duo. Shinsuke Nakamura arrived to even the odds however, leading to Owens and Zayn feeling the full effect of a Kinshasa and an RKO. Could the night get any worse for Owens and Zayn? Yes it could, as Shane McMahon revealed that he would be the referee for the upcoming tag match at Night of Champions. If Owens and Zayn failed to win, they'd be fired and their run in the WWE would finally be over.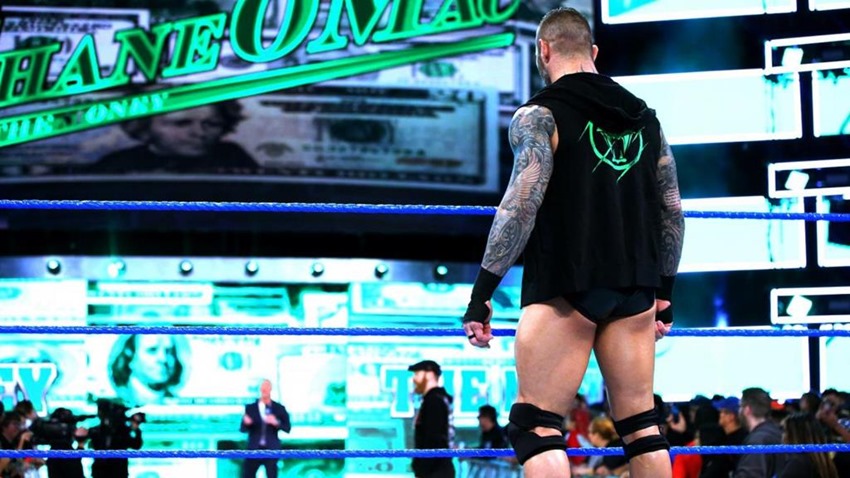 Last Updated: December 6, 2017