WWE Smackdown LIVE took place from the Denny Sanford Premier Center in Sioux Falls, South Dakota. Here's all the action that went down.
Shane McMahon and Kevin Owens finally came to blows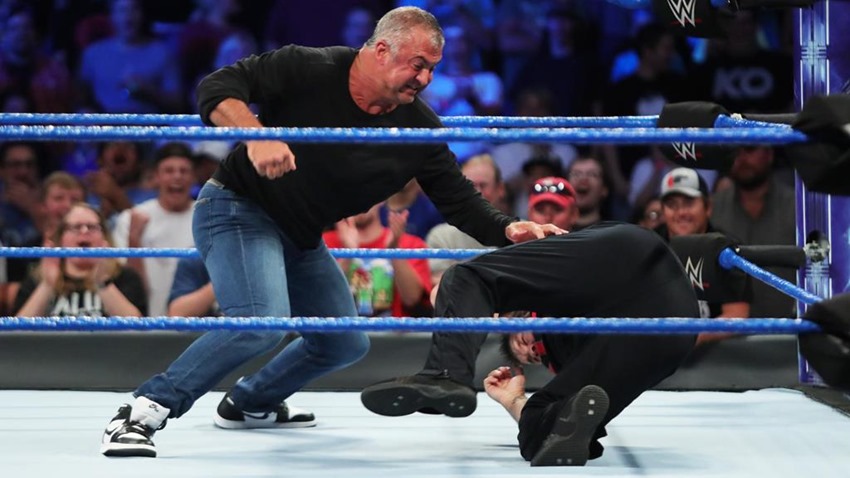 Deciding to interrupt the Carmella vs Natalya match, Kevin Owens took it upon himself to be the referee for the bout. Again. SmackDown LIVE Commissioner Shane McMahon decided to make an appearance, with the two exchanging words to the point where Owens triggered the younger McMahon by claiming that he should have died when his helicopter crashed some time ago.
Bad move Owens. Shane decided to hammer away on Owens, with the two brawling around the ring until General Manager Daniel Bryan pulled them apart. Owens decided to run off and lick his wounds, promising a lawsuit that would demolish the WWE.
Natalya def. Carmella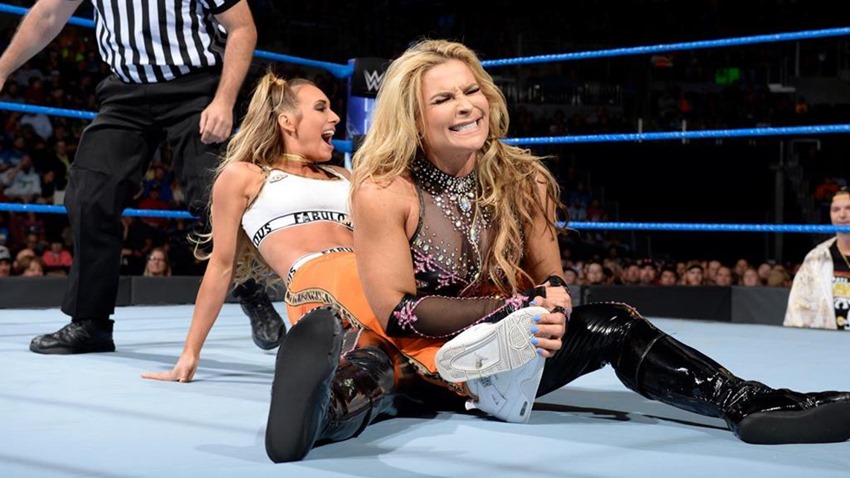 Anyway, back to this match. A solid match, that ended with Natalya rolling up Carmella for the win after James Ellsworth proved to be more hindrance than help for the Staten Island princess. Which I'm hoping means that the entire Ellsworth character is over, judging by the level of hate that Carmella threw at him after the match. Oh please let it be so. Please.
Dolph Ziggler re-debuted on SmackDown LIVE … sort of
Here's what happened. Dolph Ziggler returned, mimicking the entrances of John Cena, Randy "Macho Man" Savage and Naomi. Which apparently was part of a point that the Showoff was attempting to make, because while he can imitate anyone outside of the ring, no one can copy what he does inside the ring. Well alright then.
Aiden English def. Sami Zayn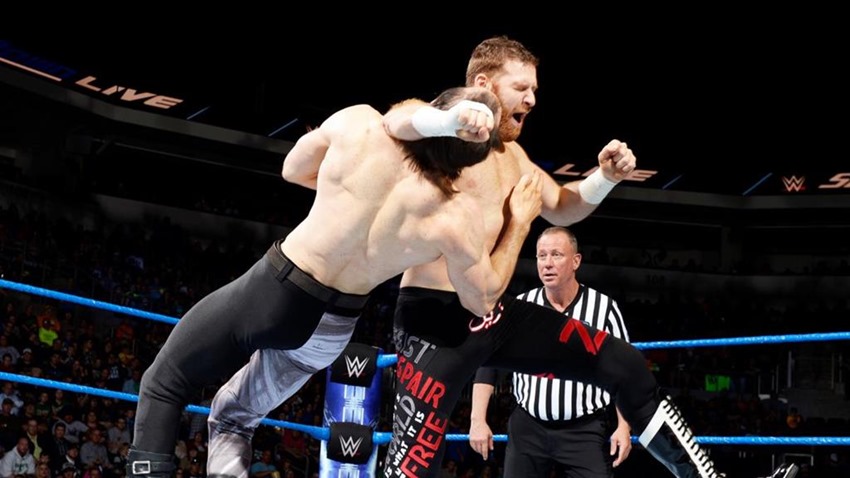 With Kevin Owens no longer a referee shirt-stealing threat, Aiden English and Sami Zayn could finally have a round of action. While English was determined to torture the serenade the audience with his musical torture, Zayn's entrance music mercifully interrupted him and the two went at it. Despite some high-level offense, Zayn would fall victim to a roll-up pin from English. That's something worth singing about.
Shane McMahon was suspended indefinitely as the SmackDown LIVE Commissioner
After coming to blows with Kevin Owens, Smackdown General Manager called Shane McMahon to the ring and informed him that Mr McMahon himself had decided to indefinitely suspend him from his post as Commissioner. I've got a feeling, that this is merely the beginning of a new feud with KO, yo.
Baron Corbin def. Tye Dillinger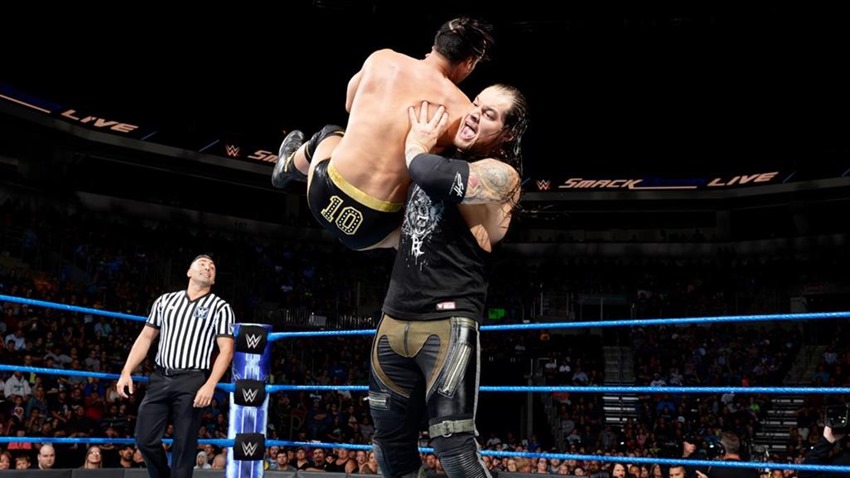 Having ruined Tye Dillinger's chance to take on AJ Styles for the United States championship last week, Baron Corbin found himself in the crosshairs of the Perfect 10 as the two collided. While Dillinger proved to be a solid opponent for Corbin, it was that split-second when the ref's back was turned that Corbin landed a move that looked to be rather illegal, setting up his opponent for the End of Days and scooping up the win.
Dillinger may have lost out, but there was some good news. Impressed by his performance, AJ Styles declared that he was more than ready to give Dillinger another shot at the US title, when Smackdown LIVE heads to Las Vegas.
Shinsuke Nakamura def. Randy Orton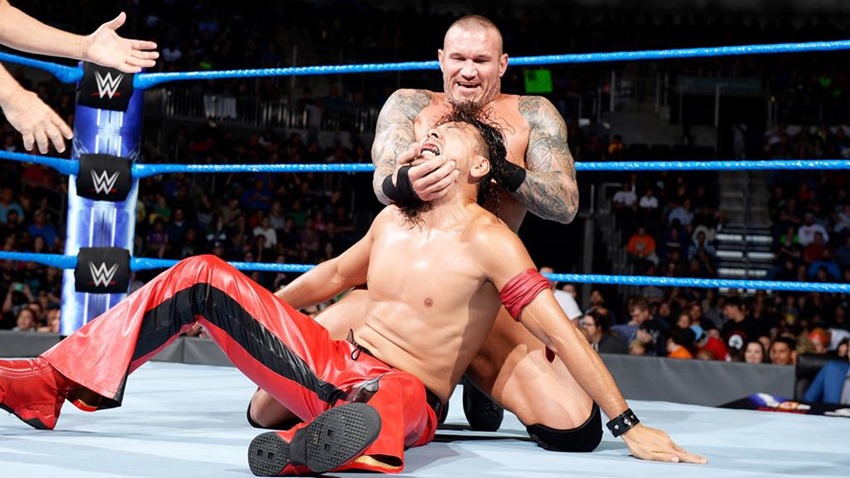 Main event time, and with a chance to face WWE Champio Jinder Mahal at WWE Hell In A Cell for a shot at his championship, Randy Orton and Shinsuke Nakamura were ready to empty their tanks in pursuit of the gold. That they did, with both superstars landing heavy offense against one another in the early minutes of the round and taking the match outside the ring.
Orton's backdrop onto the announce table may have done some big damage to Nakamura, but the King of Strong Style rallied back and countered a pair of RKOs, landing his signature Kinshasa to score a major win.
Last Updated: September 6, 2017