WWE Smackdown LIVE took place from the PPG Paints Arena in Pittsburgh, Pennsylvania. Here's all the action that went down.
AJ Styles called out the SmackDown LIVE front office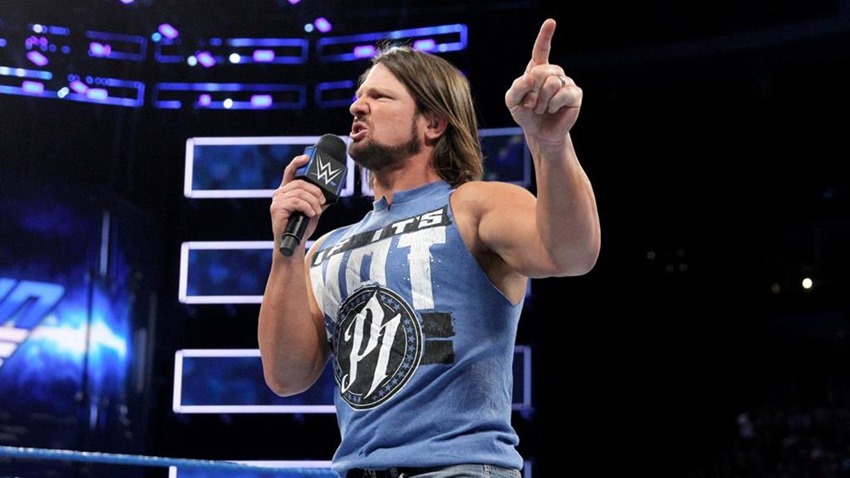 It ain't easy being the former champ who ran the camp lately. AJ Styles looked set to punch a ticket to a main event at Wrestlemania, but recent events have seen the phenomenal one's goal of reclaiming the WWE title derailed. And it's all the fault of Smackdown Live commissioner Shane McMahon and general manager Daniel Bryan according to Styles, as he claimed that he would soon have a conversation with the top brass regarding his career.
Except this time, Styles wasn't going to talk with his face-hole, but rather his hands.
Becky Lynch defeated Natalya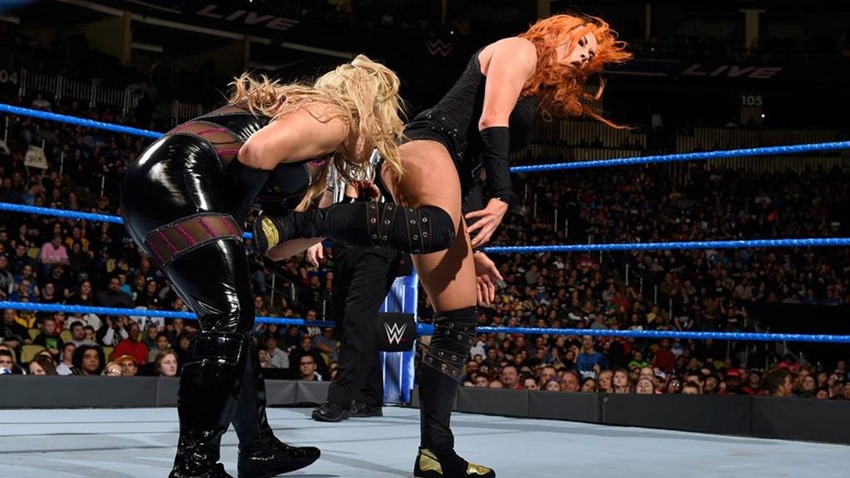 There's going to be a big rumble at Wrestlemania for the Smackdown Women's championship, and Becky Lynch looked set to enter the showcase of the immortals with some major momentum as she overcame Natalya in the ring. The Lass-Kicker's celebrations were short-lived however, as Carmella decided to enter the equation and lay out her rival, delivering notice that she too would be entering the championship race.
John Cena and Nikki Bella will battle The Miz and Maryse at WrestleMania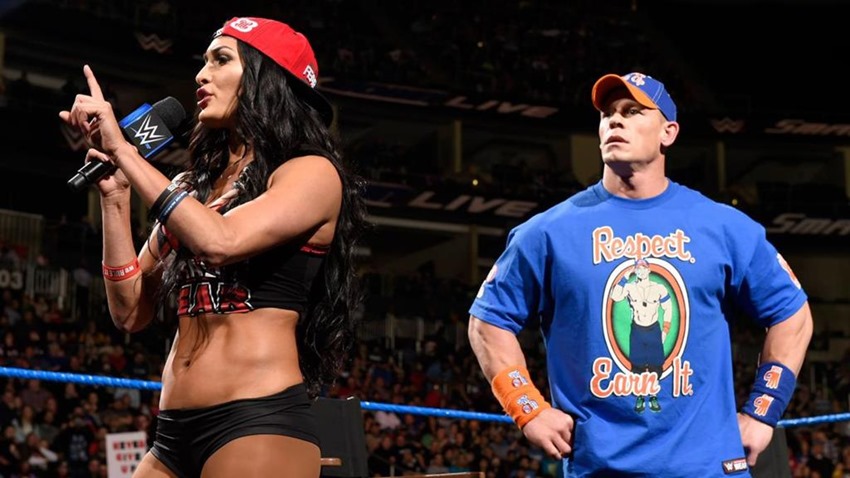 Yes, this is happening. Nobody really cares. NEXT!
Mickie James defeated Alexa Bliss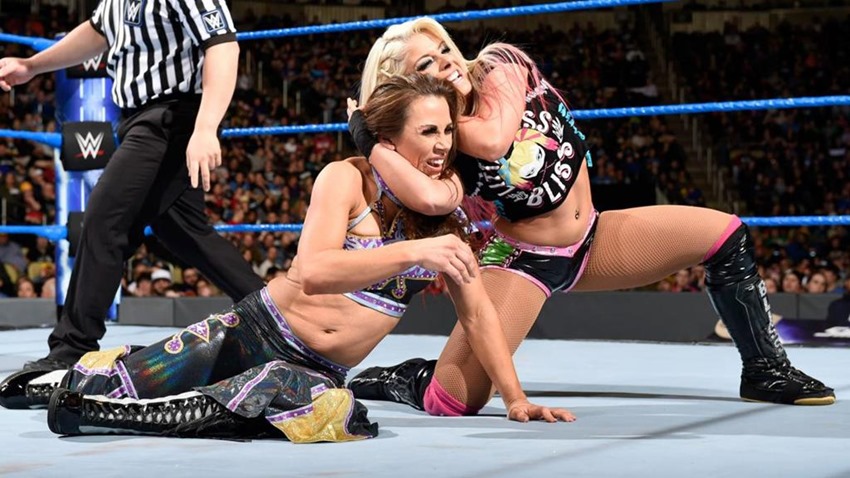 Smackdown's reigning champion in the women's division has made plenty of enemies lately, even turning former ally Mickie James against her last week, as the two faced off last night in a non-title match. And it's a good thing for Bliss that her title wasn't on the line, as James picked up a momentous win with her patented Mick Kick, putting the wicked witch of the WWE to rest for the night.
AJ Styles ambushed Shane McMahon in the parking lot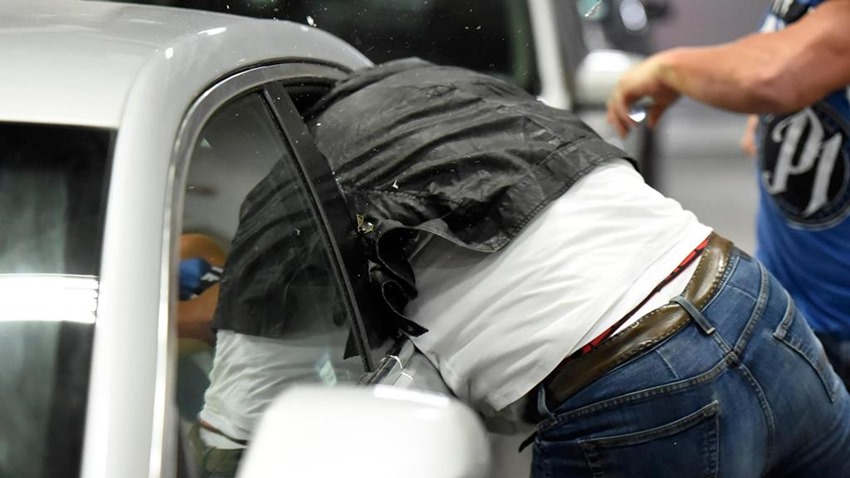 Remember when AJ Styles said that he'd have words with Smackdown boss Shane McMahon later in the night? Well he certainly did, as Styles let his actions speak for him with a parking lot ambush. Smashing Shane-O-Mac through a car window, Styles quickly found himself out of a job as Daniel Bryan and a security team arrived to evict the phenomenal one from the premises.
As for Shane? He may have had a scalp full of glass shards, but he wasn't ready to head to the hospital just yet.
Mojo Rawley defeated Dolph Ziggler by Count-Out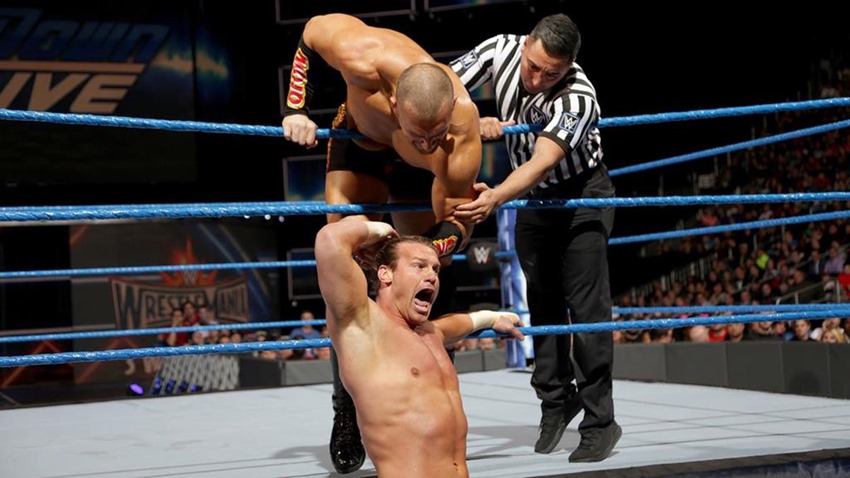 The Andre the Giant Battle Royal gets held for the fourth time at Wrestlemania this year, and of the many many superstars who'll be present you can count on Mojo Rawley to be there as well. Especially with a victory over the show-off himself, as Ziggler decided to walk away from his match last night and earning a count-out loss after Rawley threw him over the top rope.
Bray Wyatt informed Randy Orton that he still possesses the power of Sister Abigail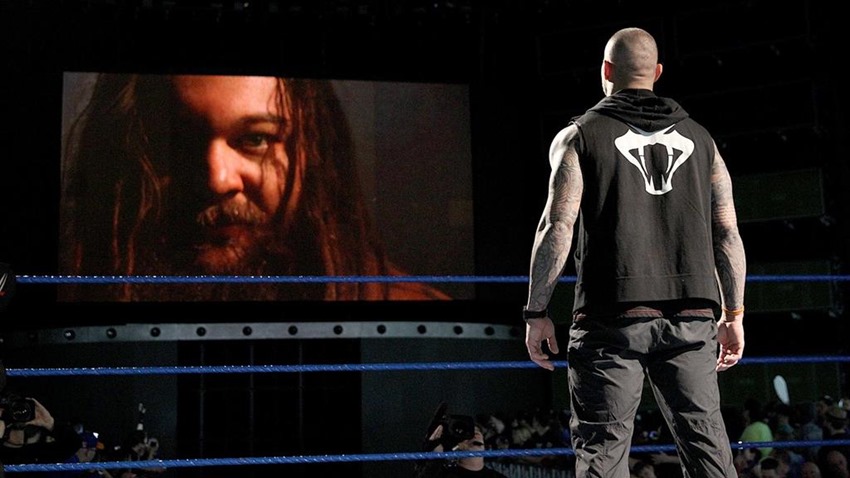 In a few weeks, Smackdown could have a new champion when Randy Orton faces Bray Wyatt at Wrestlemania. Confident of his recent mind games against his former master, the Viper hit the ring to discuss how he would finish a long game that he had been playing against Wyatt after he burned his family compound to the ground with the remains of the fabled sister Abigail inside.
But the Eater of Worlds wasn't done for just yet, as he appeared on the Titantron to deliver a message to Orton: He was feeling stronger than ever, thanks to the ashes of his beloved Sister Abigail, which he said now allowed him to consume all of her wickedness. Yup, things just got weird.
The Usos defeated American Alpha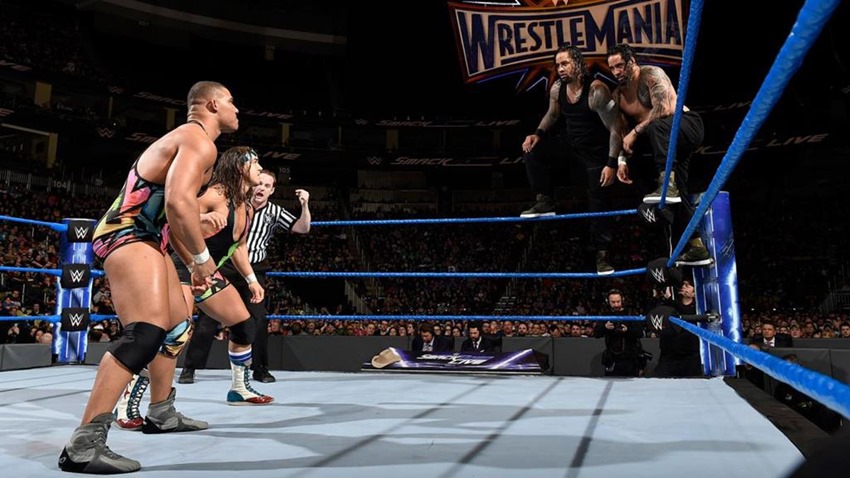 For months now, American Alpha has ruled the tag team division of Smackdown, but it looks like their days may be numbered thanks to weeks of mind games from The Usos. And last night the heels sent a message to Jason Jordan and Chad Gable, with a ferocious assault in the ring that ended with Jey rolling up Jordan for the pin after Jimmy helped out with a superkick out of nowhere.
Shane McMahon seemingly called AJ Styles out for WrestleMania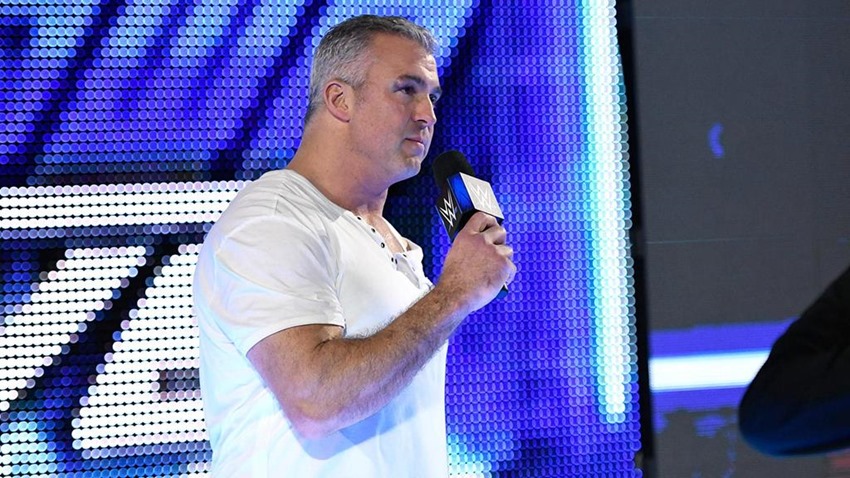 The boss of Smackdown has had better nights, but after some first aid in the backstage area Shane McMahon was back on his feet. And livid. Shane had a message to the audience in attendance: If AJ Styles was looking for a fight at Wrestlemania, he was going to get one. But Shane didn't explicitly mention that it would be him facing Styles in the ring. Not yet anyway.
And there was still the matter of Styles having been fired by Bryan earlier in the evening. But whatever the end result, if Styles was looking for a match at the showcase of the immortals, then he got one alright. Just be careful what you wish for, as the old adage goes.
Last Updated: March 15, 2017