WWE Smackdown LIVE took place from the Bridgestone Arena in Nashville, Tennessee. Here's all the action that went down ahead of Sunday's Wrestlemania.
Shane McMahon returned to SmackDown LIVE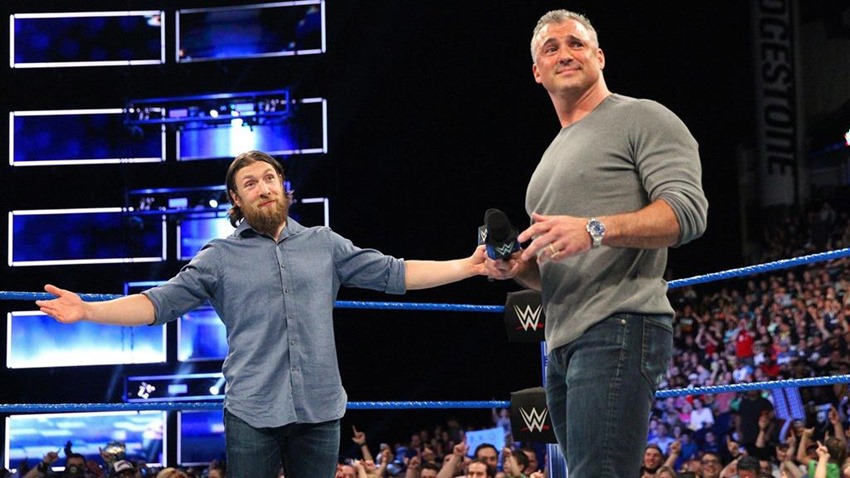 Down but definitely not out, Smackdown LIVE commissioner Shane McMahon made his way back to the land of opportunity, just in time to confirm his involvement with Daniel Bryan as the duo tackle Sami Zayn and Kevin Owens at Wrestlemania. Setting grievances aside, this Sunday the mission is clear: It's time to rid the WWE of the Yep movement.
Charlotte Flair def. Natalya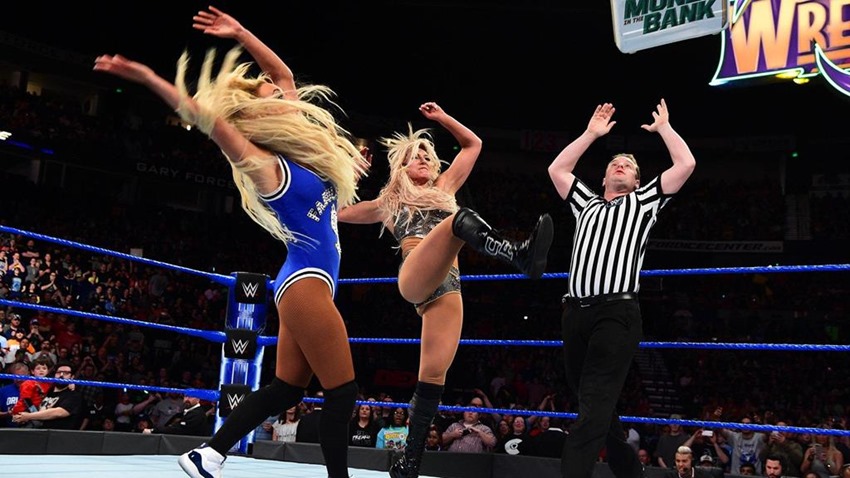 Looking to derail Charlotte Flair ahead of Wrestlemania, Natalya clashed with the Queen, in a slobber knocker of a match that had both superstars down for the count at one point. Looking to finally cash in, Carmella hit the scene with her Money In The Bank briefcase, but before she could bank that golden ticket, Charlotte Flair managed to kick it out of her hands and send the Staten Island princess packing.
With Carmella out of the way, it wasn't long before Charlotte locked Natalya inside of the dreaded Figure-8 lock, forcing her foe to submit. The match may have been over, but the night certainly wasn't as Asuka arrived to stare down her Wrestlemania opponent, leaving the air thick with tension.
Rusev def. Jinder Mahal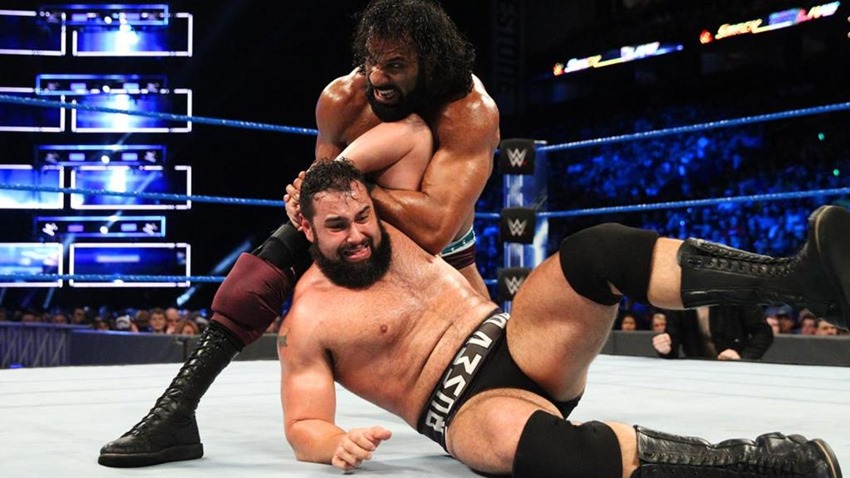 With Rusev added to the United States championship match at Wrestlemania, Jinder Mahal was looking to remove 25% of the challenge facing him on Sunday, with an absolutely brutal match. Mahal may have underestimated Rusev however, as a Machka Kick found its mark and knocked out the modern day Maharaja for the 1-2-3.
Baron Corbin, Dolph Ziggler, Mojo Rawley and Primo def. Tye Dillinger, Zack Ryder and Breezango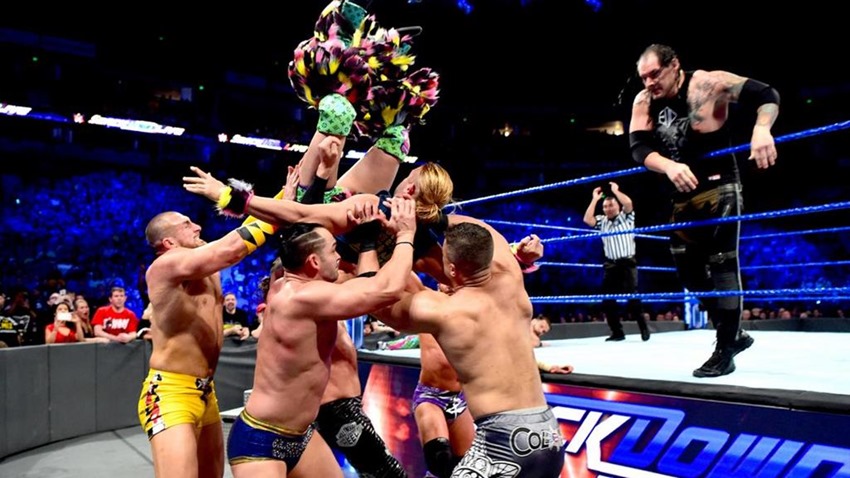 Looking to overcome the Woken wisdom of Matt Hardy and many other superstars at this Sunday's Andre the Giant Memorial Battle Royal, Baron Corbin sent a decisive message to everyone involved in this tag team match, knocking out Fandango with the End of Days as he begins the hunt for an elusive second victory in that upcoming over the top rope challenge.
Kevin Owens and Sami Zayn crashed SmackDown LIVE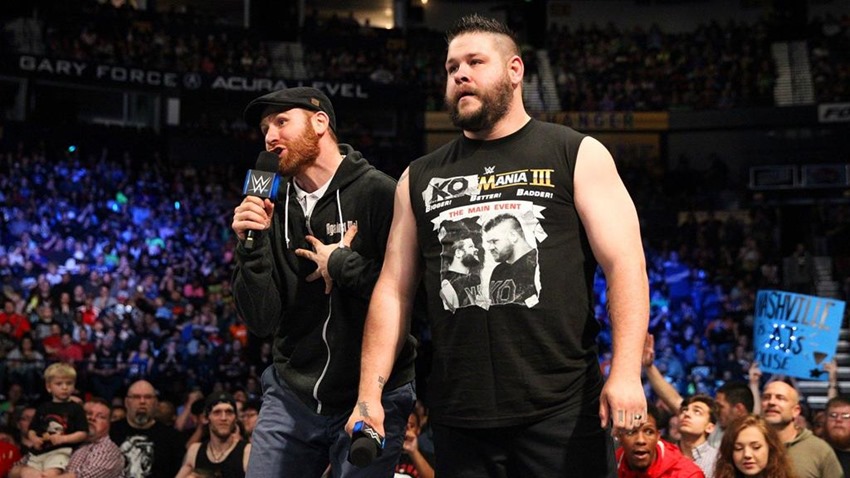 But don't worry, security soon chased them off. With the Yep movement doing their usual whinging act, Daniel Bryan and Shane McMahon summoned security to chase off the duo, promising the Smackdown LIVE audience that this would be the last time that either superstar would be seen on the blue brand.
AJ Styles and Shinsuke Nakamura def. Shelton Benjamin and Chad Gable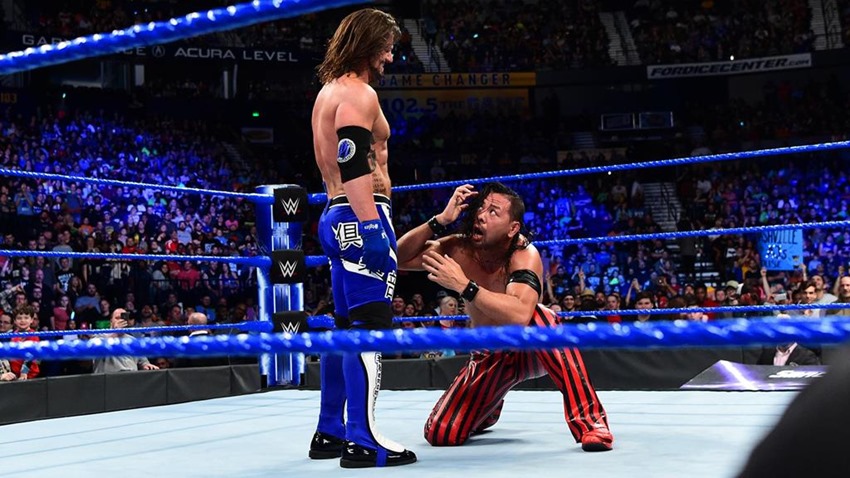 They may be opponents in a Wrestlemania main event this Sunday, but for one last night AJ Styles and Shinsuke Nakamura were allies…for a little while at least. Working together for the greater good, Smackdown LIVE's champion and number one contender sent Shelton Benjamin and Chad Gable packing, with Styles landing the decisive Phenomenal Forearm to pick up the pin on Benjamin.
The night ended with Benjamin trying to jump Nakamura after the match, but it was a potential Phenomenal Forearm that almost spelled doom for the king of strong style, as Styles delivered his Wrestlemania intentions loud and clear.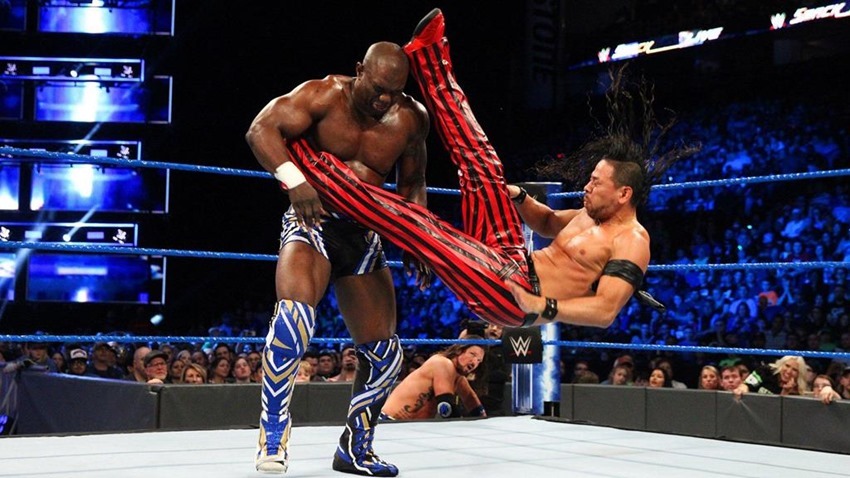 Last Updated: April 4, 2018