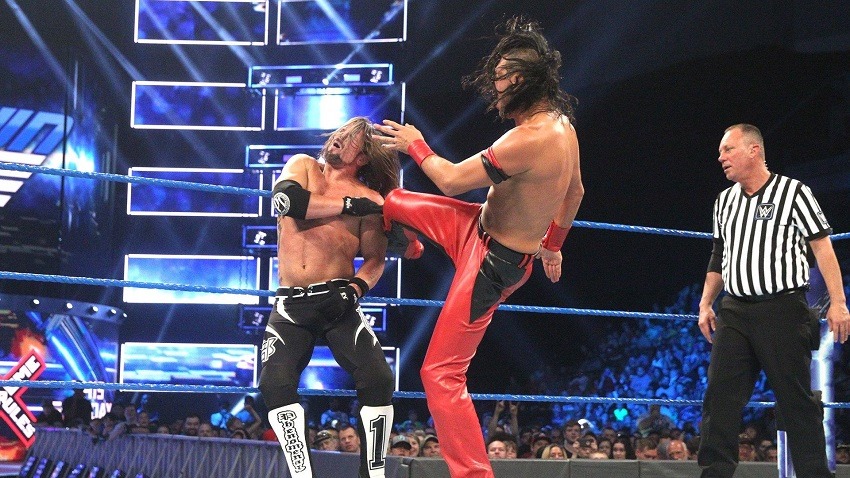 WWE Smackdown LIVE took place from the SNHU Arena in Manchester, New Hampshire. Here's all the action that went down a few days before this Sunday's Extreme Rules event.
Chaos broke out between Team Hell No, The Bludgeon Brothers, SAnitY and The New Day on "Miz TV"
I for am, positively shocked that the provocative nature of The Miz saw many a tag team superstar throw some heavy hands at one another in a highly charged atmosphere. The only way to settle the score between the offending parties? A huge main event that would pit Team Hell No and The New Day, against the Bludgeon Bros. and SAnitY of course.
AJ Styles def. Shinsuke Nakamura via disqualification
The bad blood between WW Champion AJ Styles and Shinsuke Nakamura continued to escalate last night, as the two locked horns once again in a singles match. With Rusev watching from the commentary desk, inteference was bound to happen sooner or later. The trigger for the Bulgarian's brute entry into the ring?
His partner Aiden English receiving a ringside battering, that saw Rusev rush the ring and join Nakamura in a DQ beatdown. United States Champion Jeff Hardy arrived to save the day, with Smackdown LIVE general manager Paige appearing shortly afterwards to announce a match reset. With a twist of course.
Rusev and Shinsuke Nakamura def. AJ Styles and Jeff Hardy
Picking up right where they left off, Styles and Hardy seemed to be on fire, but the night would not belong to them. With Styles out of the ring and a Machka Kick finding its mark, Rusev picked up a huge win ahead of his upcoming showdown at Extreme Rules where he'll fight for the WWE Championship.
Asuka def. James Ellsworth in a Lumberjack Match
Talk about being a glutton for a punishment. After having received several ass-kickings from the Empress of Tomorrow, James Ellsworth found himself in yet another match with Asuka: A lumberjack match. With nowhere to run and Asuka hot on his tail, Ellsworth even tried to use a mystery spray to blind Asuka, but the legendary NXT champion saw through his plans.
One Asuka Lock later, and Ellsworth was down for the count, but not before he managed to finally blind Asuka with the bottle of eye-scorching liquid.
Andrade "Cien" Almas def. Sin Cara
El Idolo had his hands full when a very angry Sin Cara sought justice within the ring after being blindsided last week by his foe, but a running double knee attack from Almas found the mark and sent Cara to la-la-land.
Team Hell No and The New Day def. The Bludgeon Brothers and SAnitY
If you predicted that chaos would reign supreme when Smackdown LIVE's hottest tag teams collided, then you'd be 100% correct. What began with the usual ebb and flow of momentum soon boiled over into anarchy, but it was Daniel Bryan with a Running Knee to Eric Harper that had the final say in this bout. A big win, and some much-needed fuel in the tank of Team Hell No as they march towards Extreme Rules for a match that has the Smackdown LIVE tag team championship on the line.
Last Updated: July 11, 2018