Smackdown LIVE took place this week from the Save Mart Center in Fresno, California. Here's all the action that went down in the first episode after the Payback pay-per-view.
The United States Championship picture heated up on Team Blue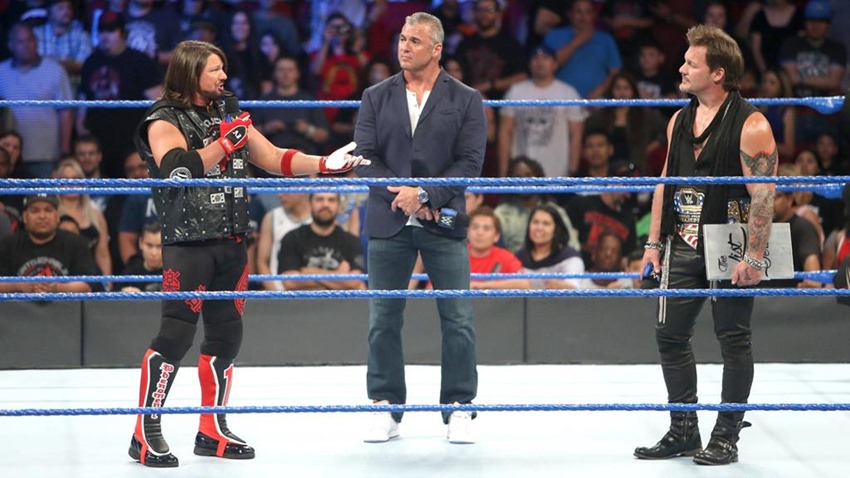 Much like RAW this week, Smackdown opened up by focusing not on the biggest championship on its roster, but rather the more vaunted United States title currently held by Chris Jericho. Commissioner Shane McMahon kicked off the show by inviting Jericho to the ring, as Y2J was now a member of the blue brand.
It wasn't long before AJ Styles got involved however, as the face that runs the place had a vested interest in the US title. After all, he'll be battling it out at Backlash for the belt. And then Kevin Owens appeared. While the Prizefighter may not have had a belt to his name, he did have something else: A rematch clause, that he was determined to cash in that very night. Right after the officials had to pry KO away from Styles after the two got into a fracas.
Jinder Mahal defeated Sami Zayn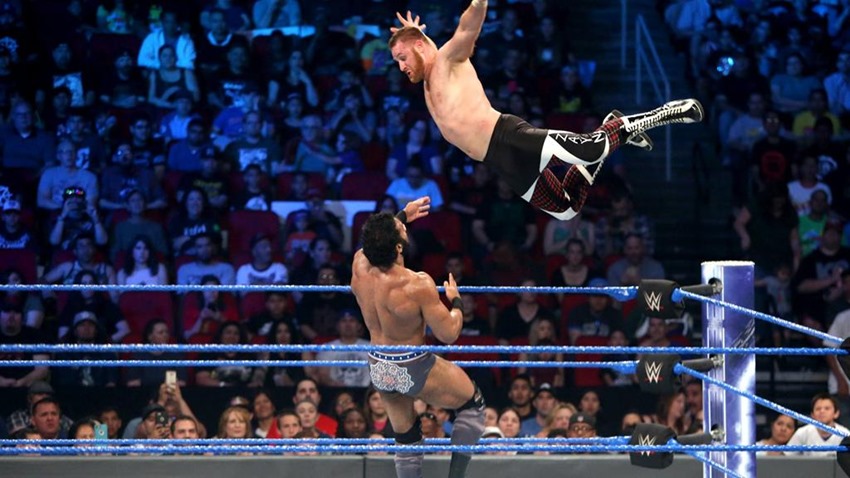 Ruthless aggression has a new face, and it belongs to Jinder Mahal. The number one contender to Randy Orton's WWE championship has been on a tear as of late, having helped Bray Wyatt secure victory in his house of horrors match by ambushing the apex predator as he began a campaign to secure the gold. That momentum continued last night on Smackdown, as Mahal used not only his size advantage but also his connection to the Bollywood Boyz to put Sami Zayn down for the count with a Cobra Clutch Slam.
Tye Dillinger defeated Aiden English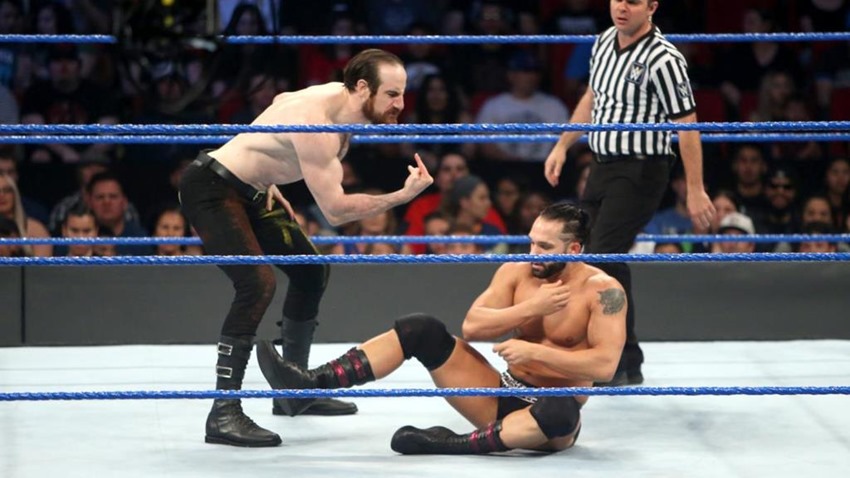 Speaking of momentum, Tye Dillinger has also been somewhat unstoppable lately. Last night's match against the drama king known as Aiden English was a picture perfect example of wrasslin' 101, as Dillinger dropped his competition with time to spare and left English a quivering wreck afterwards.
Carmella and Natalya defeated Naomi and Charlotte Flair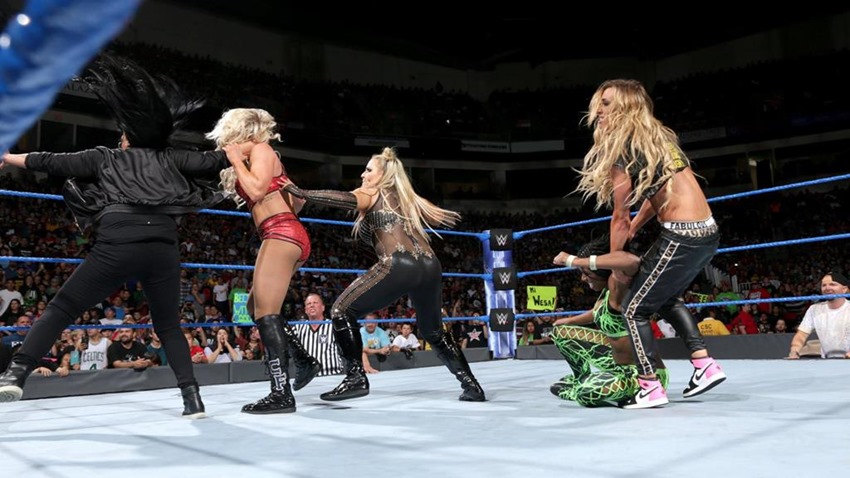 Over in the Smackdown women's division, Carmella and Natalya managed to continue the mutiny that had begun last week alongside Tamina when they attacked Charlotte Flair and Naomi. This week, the numbers game was more evenly balanced. Sort of. Ok, not really. Before the tag team match between the teams could even kick off, the heelish three attacked Charlotte backstage, leaving Naomi trapped in a handicap situation.
While the odds looked grim, Charlotte Flair resurfaced just in time to help Naomi out, with victory this close. A victory that was snatched out of thin air, as a ringside distraction saw Naomi blindsided and pinned by the heels. Things got even more complicated with the arrival of Becky Lynch, as even that fiery lass-kicker couldn't stop the evil trinity from making another massive statement on Smackdown.
Dolph Ziggler defeated Sin Cara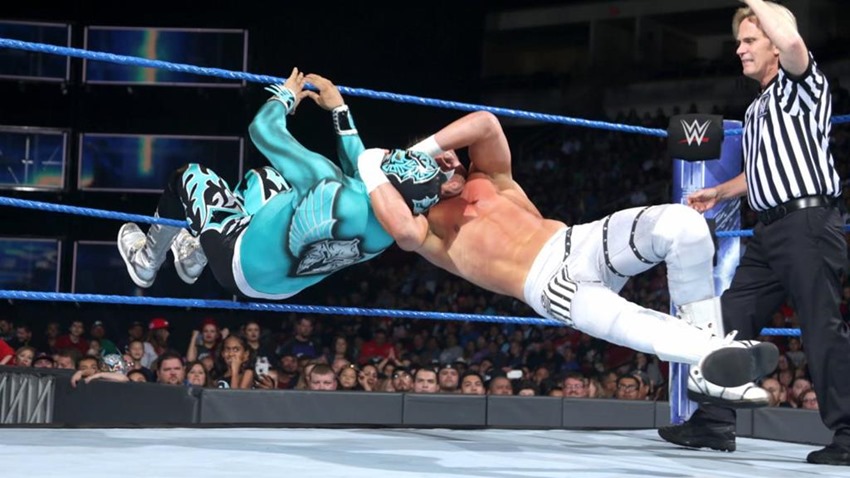 Show-off, meet luchador. Sin Cara may have been bouncing all over the ring last night, but a superkick from Ziggler at the perfect moment knocked out the masked mauler. With Sin Cara down, Ziggler's attention is now fully focused on getting his hands on Shinsuke Nakamura.
Kevin Owens defeated Chris Jericho to win the United States Championship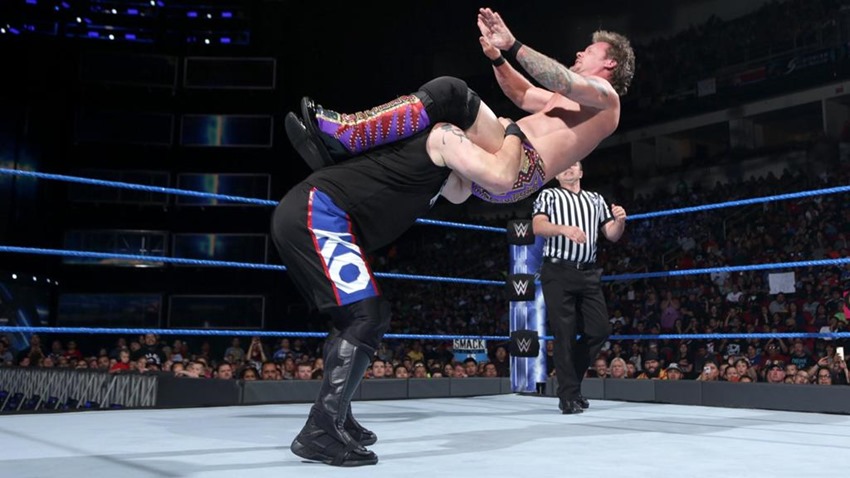 It's a classic story in the WWE: Two superstars find common ground, become bestest friends and then one of them eventually ends up on the wrong side of a steel chair. The Smackdown main event was another chapter in the book of the former friendship of JeriKO, as the two men fought each other tooth and nail with an experience earned from beatdowns in the past.
Owens proved to be the better man however, shaking the ring with a Pop-Up Powerbomb that left Jericho down for the count and stripped of his United States championship. The night wasn't over however, as Jericho found himself trapped by KO, his neck and throat pulverised by a hellish steel chair attack that signalled the end for Y2J for the foreseeable future.
Last Updated: May 3, 2017