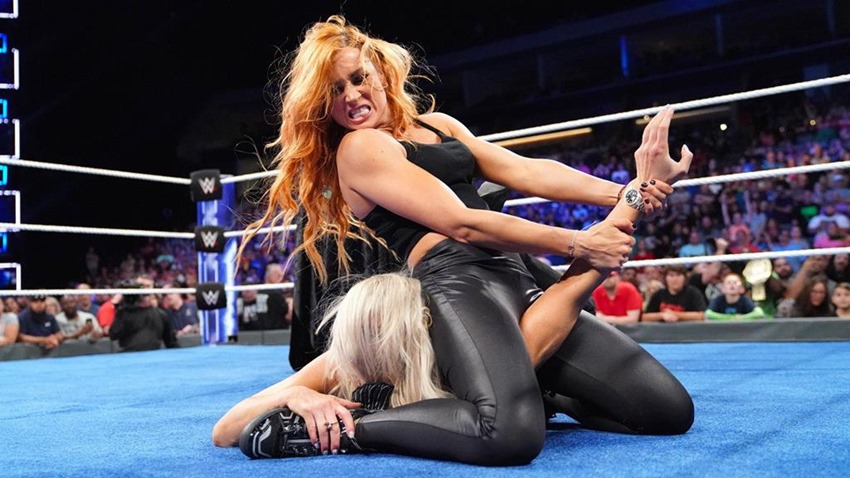 WWE Smackdown LIVE took place from the BOK Center in Tulsa, Oklahoma. Here's all the action that went down in the aftermath of Hell In A Cell.
Daniel Bryan raided "Miz TV" with Miz and Maryse
Looks like the war between The Miz and Daniel Bryan is far from over. Narrowly edging out a victory against the eternal underdog at Hell In A Cell, The Miz hit the ring with a plan to gloat and call plenty of cheap shots on not only Bryan but also his wife Brie Bella. Hitting the ring to confront The Miz and Maryse, Bryan's initial opening attack apparently injured Maryse in the scuffle, but it was all part of a cunning ploy to get the beard in position for a Skull Crushing Finale.
A plan that quickly went awry, as Bryan's experience eventually saw him drive off the A-Lister, amping up their rematch at the upcoming WWE Super-Showdown.
Cesaro def. Kofi Kingston
They may have beaten Rusev Day, but The New Day will have to face another team of challengers in a few weeks: The Bar. In a taste of things to come, Cesaro managed to outfight Kofi Kingston, with the Swiss Superman landing his patented Neutraliser to pick up the win.
United States Champion Shinsuke Nakamura def. Rusev
Betrayal! Just when it looked like Rusev would once again have the United States Championship around his waist, the super-athlete found himself blindsided by the Mozart of Mayhem who he had called his friend. Distracted, blasted in the face with a microphone and falling into a picture-perfect roll-up pin by the champ, Rusev's number one supporter belted out one final "happy Rusev Day" and left the ring. Aiden English, you've changed man.
AJ Styles def. Andrade "Cien" Almas
Fresh off a successful title defense, AJ Styles proved just why he's the best in the business with another victory over Andrade Almas. The real story came after the match however, as Styles was blindsided by Samoa Joe. Surprised but not victimised, Styles bounced back and sent his foe scurrying out of harm's way, as the feud between the two is far from over.
Asuka def. Billie Kay
Thanks to Naomi and the power of the glow, Asuka didn't need eyes in the back of her head when she faced Billy Kay, as Naomi kept Peyton Royce in check. One Asuka Lock later, and the Empress of Tomorrow was back to her old habits of winning every match she happens to be in, again.
Becky Lynch made am emphatic statement during her SmackDown Women's Championship coronation
There's a new champion in the Smackdown LIVE women's division, and her name is Becky Lynch. Toppling Charlotte Flair from her throne, Lynch's reign was a day old and had already made a statement when she hit the ring to celebrate and soon found herself face to face with the former champ. Arrogant and more vicious than ever, the egocentric demands of Lynch eventually caused Flair to snap, with the two coming to blows.
Lynch came out on top, manhandling Flair and eventually giving her a taste of pain with a Dis-Arm-Her and a Bexploder, sending a new message to the former Queen of team blue.
Last Updated: September 19, 2018