WWE Smackdown LIVE took place from the Target Center in Minneapolis, Minnesota. Here's all the action that went down on the road to WWE TLC.
A major SmackDown Women's Championship Match was announced for WWE TLC
Becky Lynch is back, up to her old tricks and ready to once again kick off her rivalry with Charlotte Flair. Smackdown LIVE general manager Paige's solution? Throwing some tables, ladders and chairs into their rivalry, as Lynch and Flair will have their own extreme match at the final WWE event of the year. The only problem however, was that the majority of the Smackdown LIVE women's division wanted a piece of Lynch and a shot at her gold, so Paige decided to settle that issue as well.
How? By greenlighting a main event that would see the winner of a battle royal earn a spot in the WWE TLC match.
AJ Styles returned to SmackDown LIVE with impassioned words
WWE champion no more, AJ Styles hit the ring to deliver a promise: Pain and glory, for when he faces Daniel Bryan in a rematch at WWE TLC.
Shinsuke Nakamura attacked Rusev before their match began
Last night was meant to be a highlight for fans, as Shinsuke Nakamura was scheduled for his first ever against the super athlete Rusev. Instead, Nakamura decided to blindside Rusev, raining down blow after blow before the match could get started and punctuating the assault with a duo of Kinshasas.
The Usos def. The Bar
It hasn't been a good week for The Bar. The tag team champions lost their gigantic ally The Big Show, Cesaro got a KO punch after running his mouth and The Usos decided to answer their open challenge, handing the champs a loss for the ages.
Samoa Joe crashed Jeff Hardy's 20th Anniversary Celebration
I mean, how could you not see this happening?
Kofi Kingston def. The Miz
The Miz may be more concerned with forming a tag team with SmackDown LIVE Commissioner Shane McMahon, but his lack of focus cost him dearly in his match against Kofi Kingston. Hoping to put the New Day acrobat down for the count using the exposed steal of a turnbuckle, Big E saved the day when he softened the blow with a stack of flapjacks being placed in the corner.
His other dirty tricks thwarted by Xavier Woods, The Miz soon found Trouble in Paradise, with Kingston earning the pin.
Randy Orton once again viciously attacked Rey Mysterio
After a vicious attack last week that saw Rey Mysterio unmasked, Randy Orton was back and up to his old tricks again. Mysterio may have had more fight in him this week when Orton attacked again, but the Viper quickly gained the upper hand and left the WWE legend in a crumpled mess yet again.
Asuka won the Nine-Woman Battle Royal to be added to the SmackDown Women's Championship TLC Match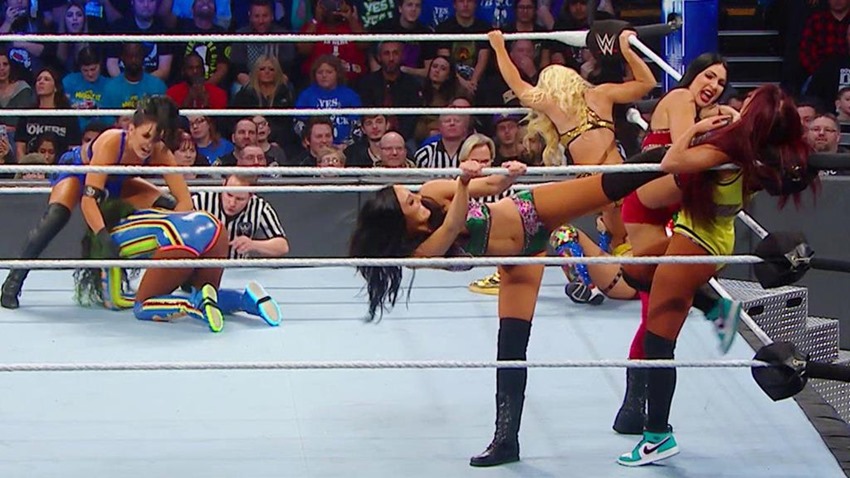 Nine women, one ring and only one chance at grabbing the Smackdown LIVE Women's championship. Who was going to walk out of that brouhaha? None other than the Empress of Tomorrow, as Asuka survived everything that the women's division could throw at her, eliminating Sonya Deville to claim victory and her shot at glory.
Last Updated: November 28, 2018