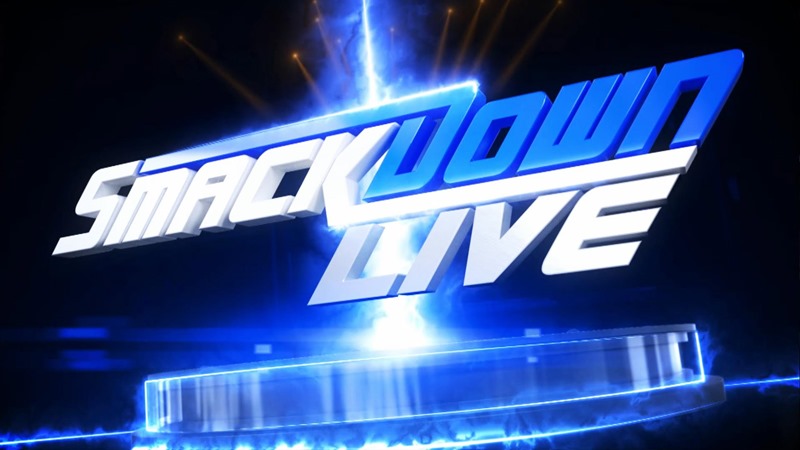 WWE SmackDown this week took place at the Pepsi Center in Denver, Colorado. Here's all the action that went down.
Opening segment
After a brief locker room session where jobber with a winning streak James Ellsworth had a chat with Dean Ambrose, Randy Orton made his way to the Smackdown ring to talk about all things Bray Wyatt. Orton is starting to lose his mind, and he's coming for Wyatt. The Titantron then flickered on, to show a scene of Bray Wyatt in a casket, surrounded by a small gang of Bugs Bunny fans. Rising up, Bray Wyatt promised to take Orton on a journey, right after Luke Harper was done with him.
Randy Orton defeated Luke Harper via DQ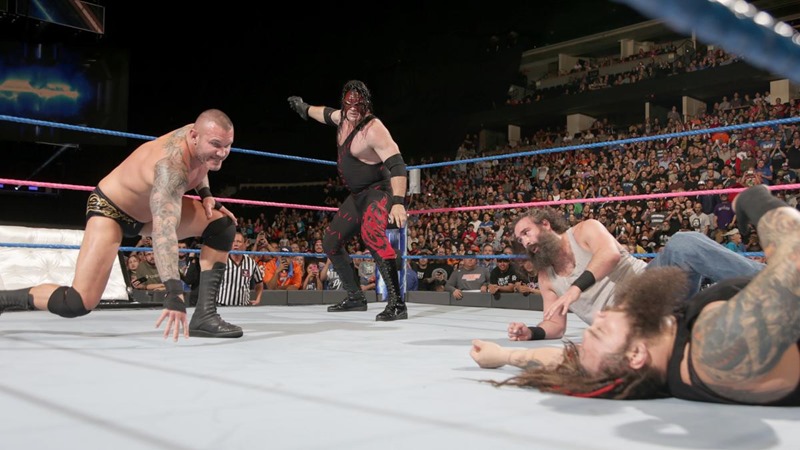 And the first Smackdown match of the night was on! Orton took control immediately, nailing Harper with a massive mid-rope superplex, but then the lights went out as Wyatt was wheeled to the ring in his casket. Taking advantage of the distraction, Harper beat Orton down as Bray Wyatt intefered. Looking to toss Orton into the casket for an early burial, Bray opened it to find none other than Kane waiting inside, who was more than ready to clean the ring of Wyatt and pals.
Alexa Bliss defeated Naomi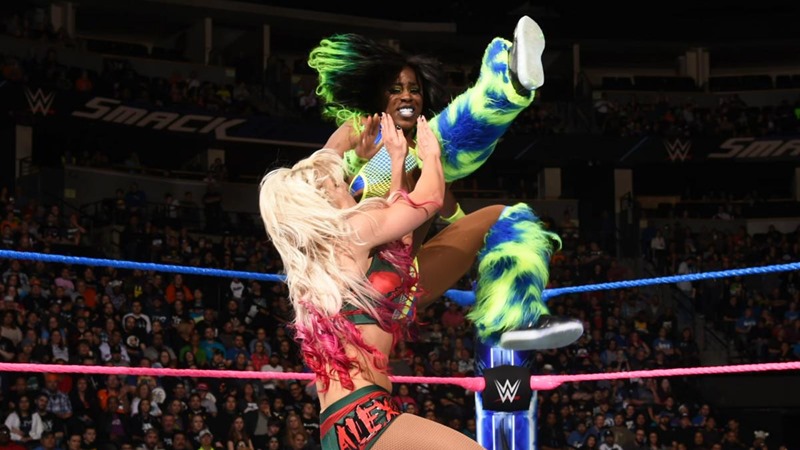 Typical action from the two, as Naomi focused on kicks and Alexa Bliss went in for a few counters. After dropping Naomi from the top rope, Alexa Bliss landed a few kicks to her head and went in for the kill with a Twisted Bliss off the top rope to wrap up this Smackdown match.
Apollo Crews vs. Curt Hawkins ended in a No contest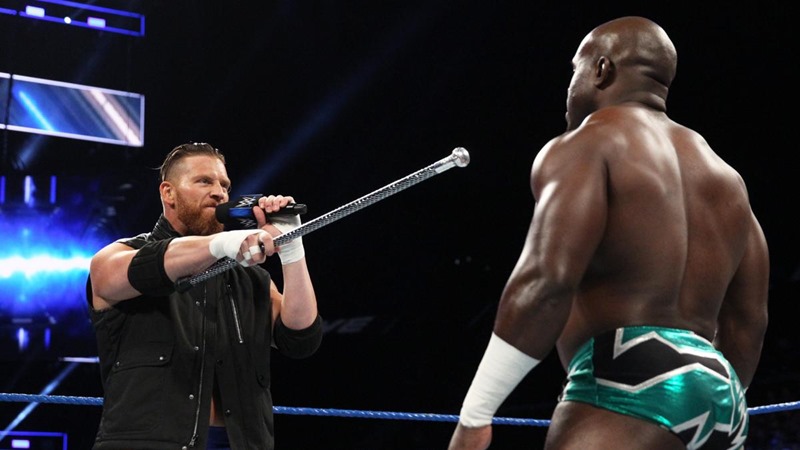 After murdering the idea of comedy by claiming that Apollo Crews would have to change his name to Apollo Lose after he was done with him, Curt Hawkins hit the ring to make a statement on Smackdown. And then he got bopped in the nose, said that his debut had been ruined and he left. Well alright then.
The Miz and The Spirit Squad defeated Dolph Ziggler, Rhyno, and Heath Slater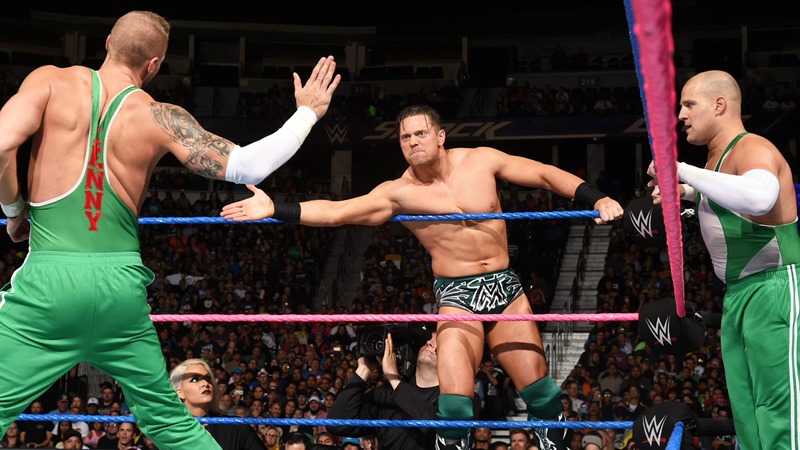 The Miz may have a merry band of male cheerleaders on his side these days, but they've faced some heat lately from current Intercontinental champion Dolph Ziggler and the Smackdown Tag Team champions Rhyno and Heath Slater. Facing off last night, both teams wanted to settle the score after weeks of hostility as Rhyno kicked the bout off with some heavy offense.
Victory wouldn't belong to the faces however, as the Miz managed to get one over on Slater, allowing Kenny to quickly roll him up for the win.
Baron Corbin defeated Jack Swagger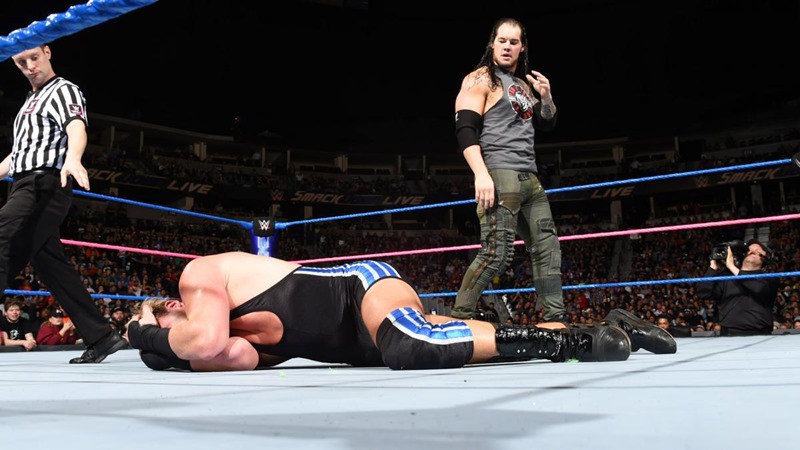 Corbin and Swagger were looking to be brutally physical in this next Smackdown match, but it was Corbin who emerged victorious as locked in the End of Days to settle this quick match decisively.
James Ellsworth defeated AJ Styles via DQ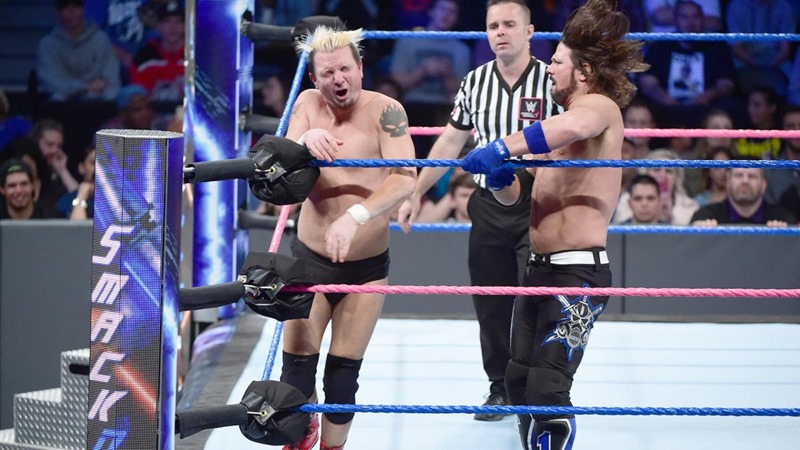 AJ Styles may be the current champion of the Smackdown brand, but he happens to have a black spot on his record from none other than a jobber. With Dean Ambrose ringside to do introductions and time-keeping, it was finally time for a rematch between Styles and Ellsworth. An utterly brutal rematch, peppered with distractions from Ambrose as he got up to all manner of shenanigans at ringside.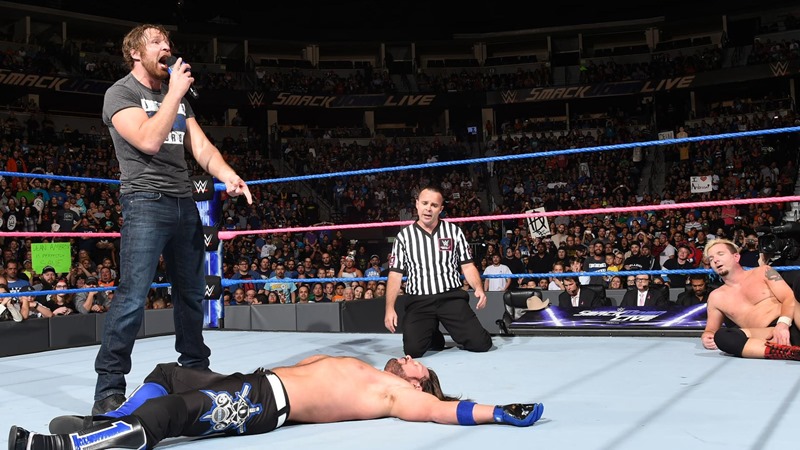 The Smackdown main event eventually came to a close as AJ began mercilessly assaulting Ellsworth back in the ring, ignoring the ref's commands to stop and thus finding himself disqualified. Rubbing salt in the wound, Ambrose hit the ring to drop Styles with Dirty Deeds and announce Ellsworth as the main event winner of the night.
Last Updated: October 19, 2016