Smackdown Live took place at First Niagara Center in Buffalo New York last night. Here's all the action that went down.
Opening segment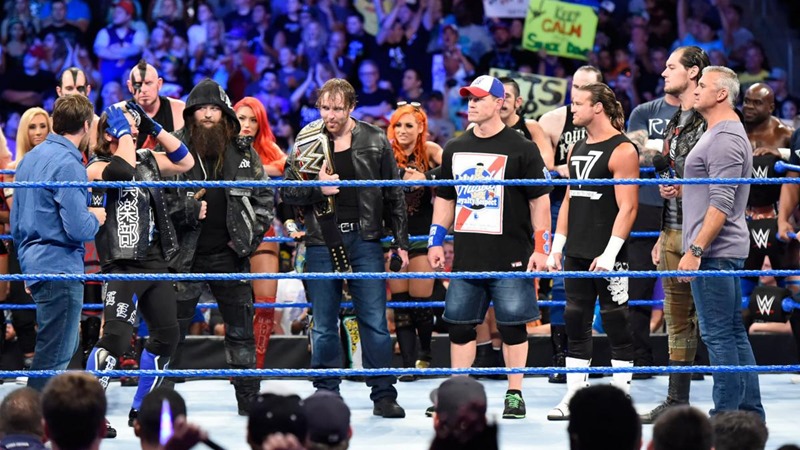 Smackdown commissioner Shane McMahon and general manager Daniel Bryana re in the ring to kick off Smackdown, with the entire roster surrounding the ring. First bit of news: A Smackdown-exclusive pay-per-view will be held soon, titled Backlash. As for the other big PPV that features both RAW and Smackdown talent, Shane says that an opponent needs to be found for WWE Champion Dean Ambrose.
To do that, Smackdown will hold a six-pack #1 challengers match that will include John Cena, Bray Wyatt, Dolph Ziggler, Baron Corbin and AJ Styles. Which counts for five wrestlers. Spot number six? That'll be determined by a battle royale, with the winner of that bout going into the six-pack challenge.
Apollo Crews won the Battle Royale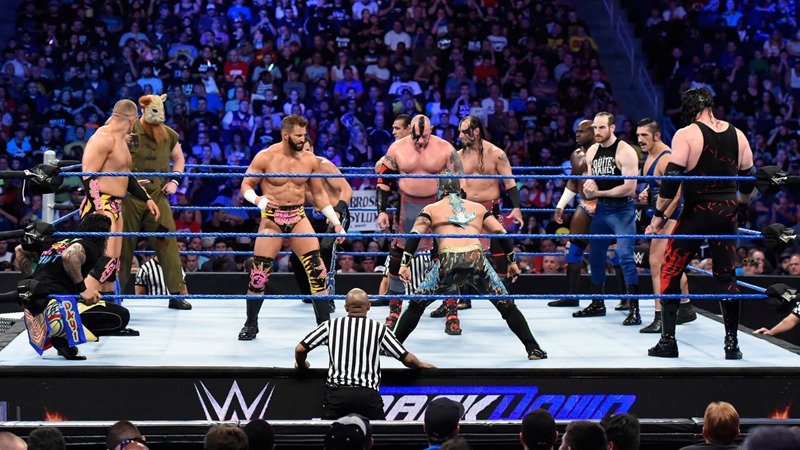 And it was on! Eliminations aplenty here as Kane took out Simon Gotch and the entire Ascension team while Breezango got rid of Jey Uso. Zack Ryder and Apollo Crews threw Alberto Del Rio out of the ring, thinning the competition even more. Kane would continue to wreck the ring, with the battle royale coming down to just him and Crews. After a monumental struggle, Crews managed to eliminate Kane and get a spot in the Smackdown main event later in the night.
Becky Lynch defeated Natalya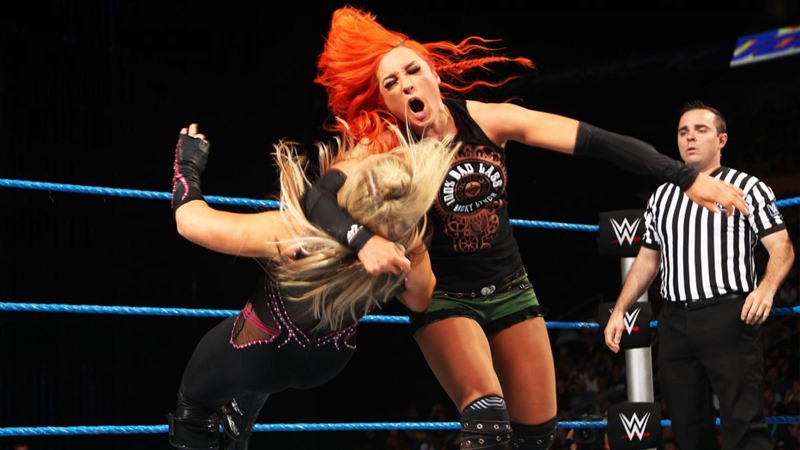 Some initial back and forth action between Becky Lynch and Natalya kicked this Smackdown match off, with Natalya quickly gaining enough momentum to dominate when she chucked her opponent out of the ring. Becky Lynch went for a comeback via a top-rope splash, but Natalya managed to power out of the pin and land a German suplex and attempt a Sharpshooter. Lynch was having none of that however, and managed to escape and counter the submission into a Dis-Arm-Her for the win.
With that victory secured, Alexa Bliss appeared to cut some words on Lynch, but was interrupted by Naomi and Eva Marie.
The Miz TV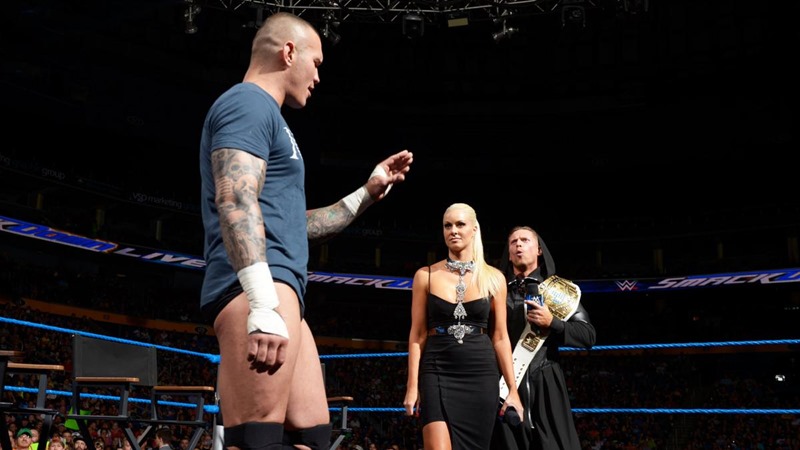 The Miz TV was back on Smackdown, with special guest star…The Miz? The awesome one decided to cut a promo on just how great he was, a move that earned an interruption from Randy Orton. Orton was looking for a fight, but The Miz decided to decline. Orton wasn't backing down however, with some trash-talking directed at The Miz and Maryse resulting in her accepting on behalf of the awesome one.
Randy Orton defeated The Miz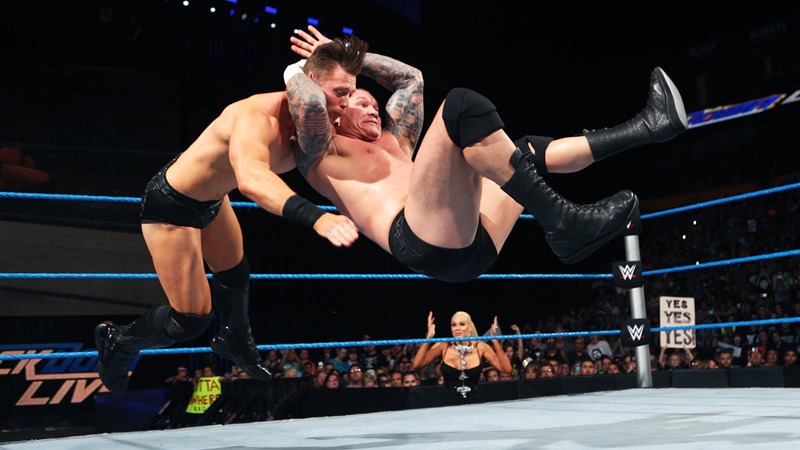 And The Miz really did not want any piece of Orton that night. When he was battling, Miz favoured working the shoulder of Orton, with a ringside beatdown added in for extra carnage. Eventually, Orton would drop an RKO outta nowhere but decided to wait for The Miz to get back up so that he could keep the match going for a little bit longer. Long enough to hit him with a second RKO and pin him for the three-count.
Heath Slater got annihilated by Rhyno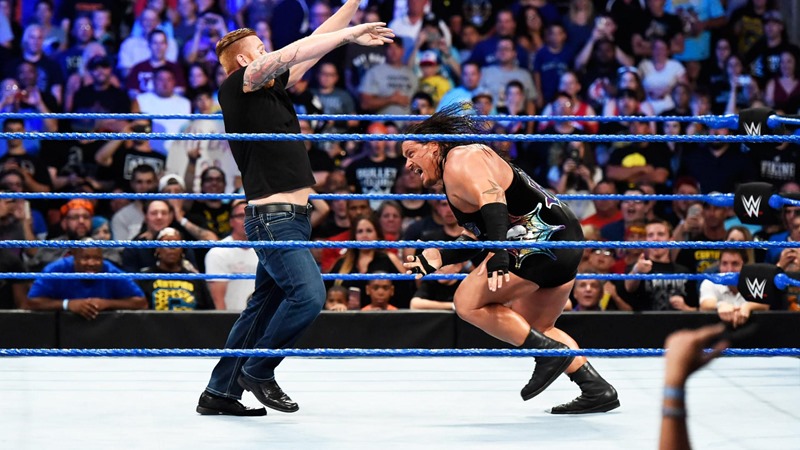 The one-man rock band decided to attack a local wrestler who was in the Smackdown ring, grabbed a mic and complained that he was left out of the recent WWE draft, having been selected for neither Smackdown nor RAW and demanding that he be inserted into the main event. Shane McMahon then appeared to have a chat with Slater, as did Rhyno. Except a chat with Rhyno usually results in being gored from behind as Shane declared the big man to be the hottest free agent around.
Dolph Ziggler defeated AJ Styles, Apollo Crews, Baron Corbin, Bray Wyatt and John Cena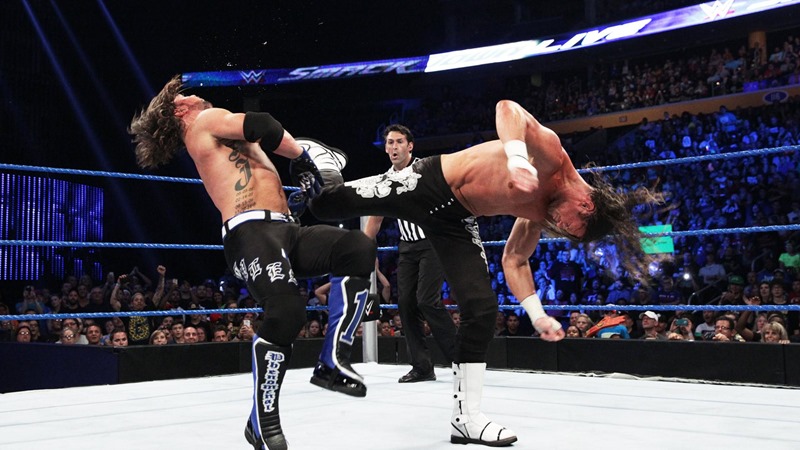 And the Smackdown main event was on! AJ Styles and Bray Wyatt decided to take turns on Apollo Crews, at least long enough for Bray to turn on Styles. Dolph Ziggler landed some big offense on Bray, Corbin locked his eyes on his regular rival and took the match outside of the ring. Back inside the ring, John Cena broke up a pin from AJ, resulting in those two battling it out. And on and on it went as the six main-eventers wracked up big slams and top-rope splashes.
The ending to this match was written when everyone started nailing finishers, with Dolph Ziggler capitilising on all the mayhem by landing a superkick on AJ and covering him for the win.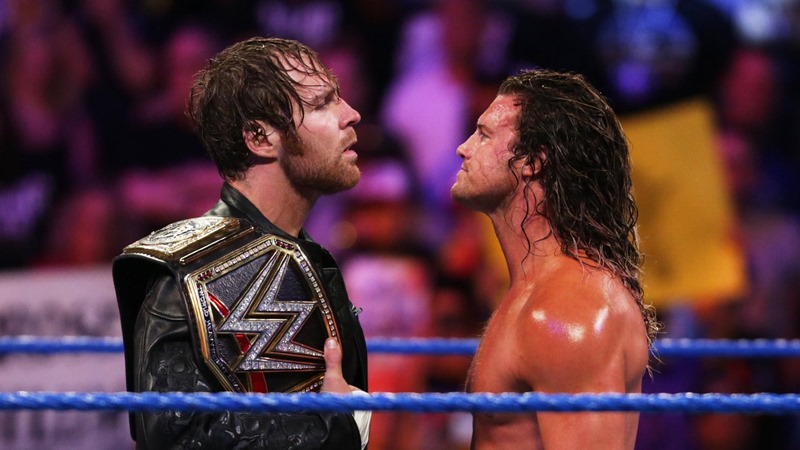 With a new #1 contender organised for the Smackdown championship, Dean Ambrose came down to the ring to lock eyes with Ziggler, as Daniel Bryan and Shane McMahon joined them in the ring to end the show for the night.
Last Updated: July 27, 2016