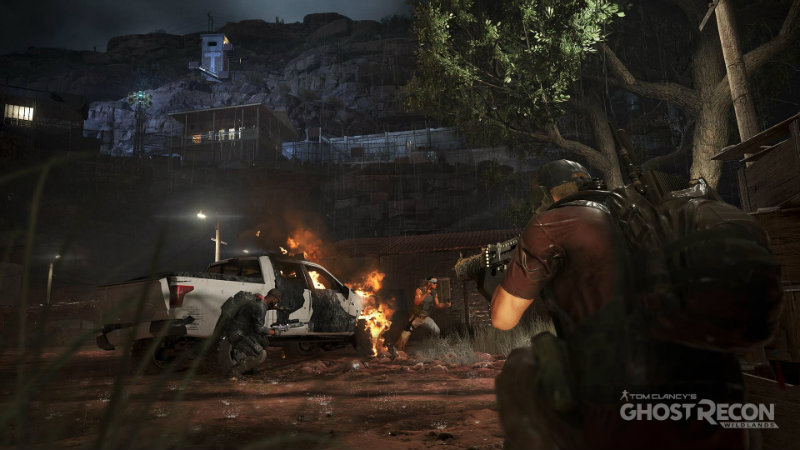 I wasn't sold on Ubisoft's Ghost Recon Wildlands. It looked like a fun game when it was shown off at E3, but I'm just not that interested in co-op or multiplayer shooters. Sure, it can be cathartic to kill everyone on a base, running in guns blazing and all that, but it just isn't the kind of gameplay that I generally enjoy. However, the developers have shown off another way that you can play, and I'm much more convinced.
Before I add my commentary, here is the video:
First of all, I'm glad that you can play with friends but you don't have to. You can complete the entire game on your own using AI teammates. I don't hate multiplayer, but it's not always feasible to get a crew together. Plus, with a tiny human who may or may not start screaming at any time without notice, it can be really hard to play with other people – I just don't know if I'm going to have to disappear all of a sudden. So the option to play on my own is always welcome.
Then there is this whole new stealth side of things. I really adore it. It's something that we already know Ubisoft can do so well, and this take on it really looks phenomenal. Sneaking into a base, stealing a truck and going on to wreck havoc on all the unsuspecting people? Sign me up! This isn't just stupid run and gun, this is some intelligent tactical planning, and I really enjoy that – I totally plan to get that drone fully upgraded with EMPs and distraction tools. What more would I need after that?
I haven't played previous Ghost Recon games – are you excited by what you see here? Is this par for the course or is it a fantastic new element that is getting you all hot and bothered and keen for the game to release next year?
Last Updated: October 4, 2016