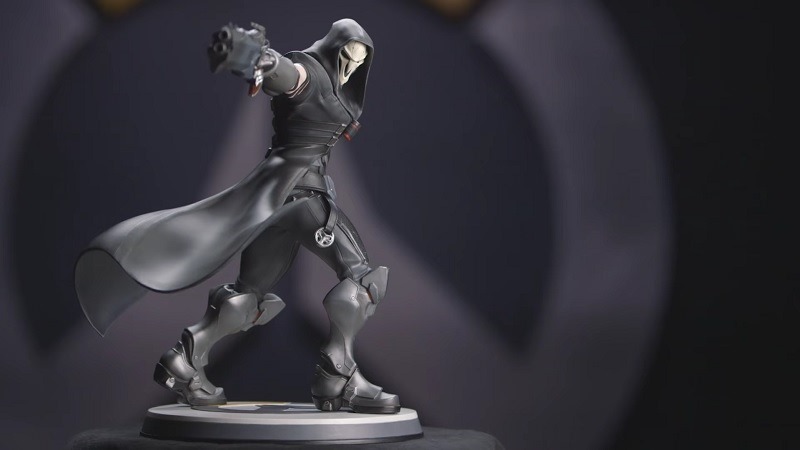 I don't collect figurines myself, but if I ever were to start a collection, I'd definitely do it with Overwatch's premium Tracer statue. Alessandro and I first laid our eyes upon its beauty way back at Gamescom 2015. Unfortunately, we spent too much time oohing and aahing, because by the time we had considered laying down the money to buy it (a cool R1500), it had sold out.
We've both regretted that indecision ever since, because if you look at the price now, a Tracer statue will set you back $150, which works out to just over R2000 with the current exchange rate. Oh, and the damn thing is also sold out, and it has been for what feels like forever now. Will Blizzard ever produce the spunky British lass again? Who knows.
There is an opportunity for redemption at least, thanks to the brand new Reaper statue that Blizzard have just unveiled. I saw it as a prototype back at BlizzCon last year, and now, finally, they've given the bringer of death a spot of colour (lots of black of course), and he's launching soon.
"Death walks among you." This ruthless mercenary cannot be reasoned with or even bound to the grave. Gaze upon the herald of the end. Behold the Reaper.

Celebrate the our newest, dynamic universe: Overwatch™ with this premium, polystone REAPER statue. Sculpted by staff Senior Sculptor Brian Fay, no detail has been lost in recreating Reaper's Ultimate – Death Blossom.

Measures 12"/30.48cm (floor to head).

Note: Each statue is hand painted, there may be a slight variance in the final production piece.

Wave 1 – Will ship before the end of Q1 2017

Wave 2 – Will ship before the end of Q3 2017
How beautiful is that? "DIE! DIE! DIE!" has never looked better!
If you'd like to get your hands on Reaper, you can pre-order him at the same price a Tracer statue goes for – a casual $150. That's a fair price I reckon. Reaper is a tall, highly detailed, and beautiful figurine after all. Unfortunately, I don't have that sort of money lying around, so I'm off to "CRY! CRY! CRY!"
I wonder which hero Blizzard are planning to tackle next? They're going to have to speed up the process I reckon. At one hero a year, we're looking at having the entire (current) roster released over the next two decades!
Last Updated: November 28, 2016