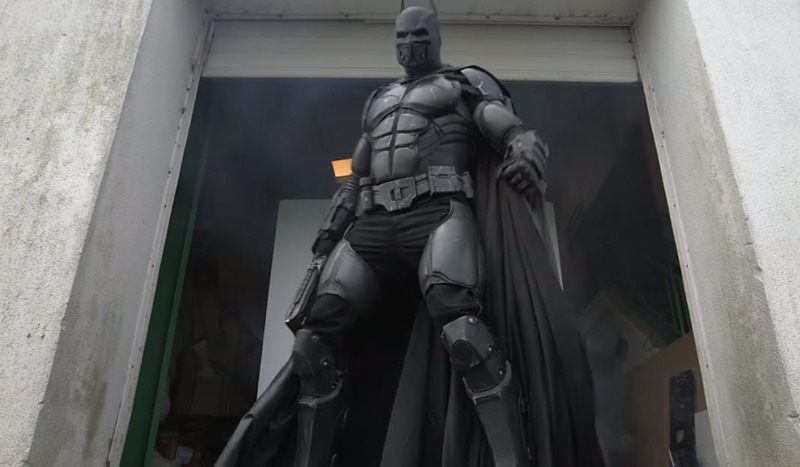 I'm going to let you in on a little secret when it comes to Batman cosplay: Most of the costumes you see guys wearing? They're aren't exactly examples of tactical genius. Rubber muscles may look cool, but not being able to actually turn your neck is somewhat of a hindrance. It also somewhat ruins the illusion of being Batman: A billionaire who fights crime with fists and an arsenal of gadgets.
At least there's one cosplayer out there however, whose suit is packed with numerous gear and tech. So much in fact, that Julian Checkley has earned the Guinness World Record for Most functional gadgets on a cosplay suit. "There were many long hours trying devising the gadgets and finding ways to store them on the suit," Checkley said to Guiness.
They are classic gadgets but also some are specific to Batman: Arkham Origins. I am immensely proud of my Guinness World Records title and to be part of the Gamer's Edition is just the next level."
The Arkham Origins suit (This one made by the lovely folks over at Gauntlet FX, Crimson Coscrafts and Tundra Designs) is easily one of my favourite Batsuits. Besides the sleek look, the segmented armour setup makes it actually easy to move around in, while anyone wearing it can also turn their head. That's properly useful that is. Here's the full list of gear which he isn't just packing, but has actually managed to somehow hide to become a walking arsenal:
Fireball Shooter
Gauntlet Video Screens x 2
Bat Tracking Beacon
Bat Sign Projector
Folding Batarang
Grapnel Gun
Cowl Respirator
Pneumatic Tranquilliser Gun
Ultrasonic Anti Dog Device
Bat Shuriken x 4 11. UV Lamp
Ball Bearing Grenades x 2
Gauntlet Flashlight 14. Medi-kit
Battery Pack
Laser Designator
Bat-cam.
Strobe Stun Gun
Gas Dispenser
Smoke Bombs x 2
The Bat Flask.
Concealed Laryngeal Microphone
Two-way Radio
I'm properly jealous, as the crowning achievement of one of my own Batman costumes is that I happen to have a straw hidden in the one gauntlet for when I start over-heating and need some water. The benchmark, it has been set. Now to see if anyone can challenge Checkley for his well-earned title.
Last Updated: August 25, 2016