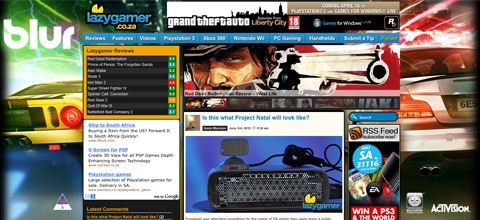 So as you may have noticed, we have a new look for Lazygamer. Now, we didn't just change the layout a bit and add some colours, we added a lot more functionality to the site as well.
I put as much effort as possible into ensuring that Gavin's life was a living hell during the design process, constantly requesting that entire elements shift 1 pixel to the right, then 2 pixels to the left. If we didn't live so far apart, I would surely be dead.
I'm going to give you all a quick rundown of what the new site can do, so that you know that you haven't missed anything.
Okay, let's begin.

Feature Bar
If you didn't notice it, then you are surely blind. We have now added a feature bar to the top of the website to highlight reviews, editorials and features so that you never miss out on any of the good stuff.
Popularity Bars
Next to article titles, we have now included a popularity bar. The more people read and comment on articles, the more it increases in popularity. The bar ranges from 1 to 5 coloured bars. Be sure to look out for the burning popularity bar, when you see this one, it means that the articles is seriously newsworthy on a global scale.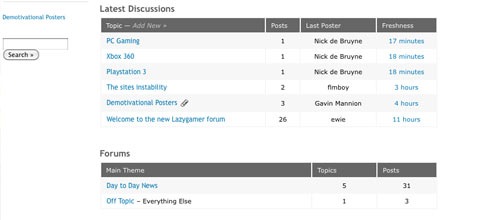 Forum
After years of requests we have added a forum to our site. Now we know that there are already a couple of forums out there, so we decided to keep it simple, fast and light. You can get to the forum and register by clicking on the forum button in the site menu at the top.
The added bonus of registering on the forum is that you can finally be logged in on our site at all times, so that commenting will not require your details either. So go and register as soon as you are done reading this.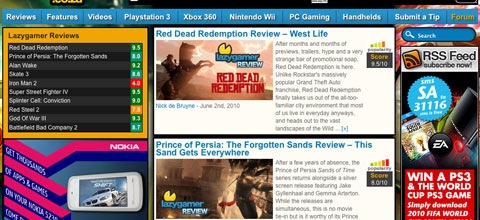 List Views For Categories
You will also notice that if you click on any of the categories in the top menu, you will be presented with an easy to view list, instead of full posts. This will make it much easier to check out the news that you may have missed in the past or browse videos, features etc.
For the reviews category, we have also added the review scores into the list view so that you can easily see how games scored.

Press Releases
We often get press releases from various places, but many of them don't warrant a full article, or our schedule is too full up to add them in. To bring more information to our readers, we have now created mini press release posts. When you see these posted, you can click on them to view the full press release and get yourself informed on the happenings in the industry. Sweet.
Improving The Community
Our community of gamers and readers are important to us so we have added a bunch of goodies to keep you involved in the website.
On the left column, we have placed in a Twitter feed of local gamers and readers. If you would like to be added to the Twitter feed, you can send us a tweet to @lazygamers and we will add you to the group of individuals that show up. We may take a quick look at your timeline to make sure that your tweets aren't just about sandwiches and traffic, and if it's all good, you will be added.
We have also brought back the reader poll, which will be updated regularly for our readers to give their opinions on and we even allow you all to add your own answers if ours don't gel with you.

Sharing

You know what they say folks, sharing is caring. When you click through to an article, you will now see a thin bar on the right side of the site. This makes it easy for you to tweet about posts, submit them to digg as well as repost them on your Buzz accounts.
Community News
Fancy yourself as a writer, or just want to do your bit for the local community? In the top menu, you will see a button that says submit a tip. By using this page, you will be able to post a news story that you find interesting on the site. You can write it out and then submit it to us, and if we like it, haven't already scheduled a similar story or don't need to rewrite the entire thing, we will post it up. Be sure to add your name in, if you want credit.
Ok done, for now
That's the majority of the new features added onto our new site. We will be constantly looking to improve the site and make it even better, so be sure to send us any suggestions.
Hope you guys enjoy the new site.
Last Updated: June 3, 2010