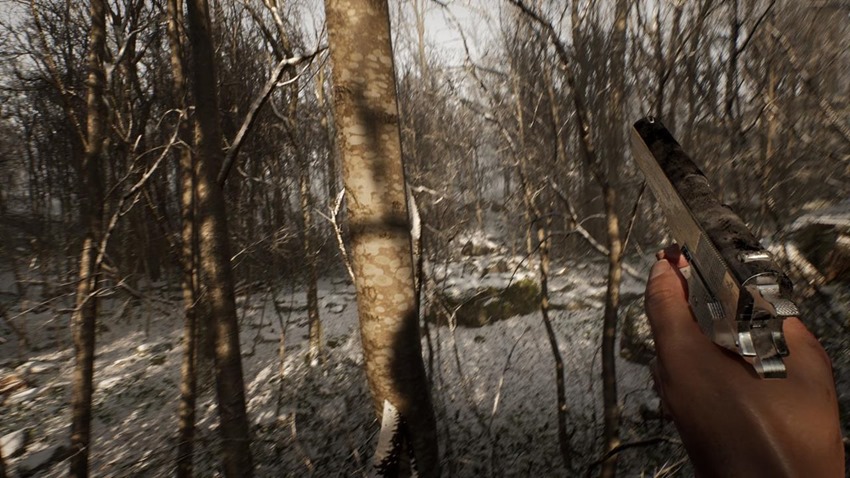 Sales of brown pants have been in the proverbial crapper for most of 2021, but finally salvation is on the horizon in the form of a new PS5 exclusive survival horror game. Going by the title of Abandoned, developer Blue Box Games is aiming to raise your heart-rate to dangerous new levels of activity with its game, which is currently scheduled to be out later this year.
What's it all about? Details are slim, but Abandoned has you stepping into the shoes of a dude who is straight-up not having a good time bro. Kidnapped by the local loonies in a religious cult that's one Kool-Aid drink away from making headlines, you're all alone in a very thick forest that probably has a few corpses from the Blair Witch Project floating around, and something is out there.
At least you have a gun! Only this firearm is balanced by realistic physics, sparse ammo, and a bad aim if you've just spent the last couple of minutes running for your life. Blue Box says shooting feels "realistically slow" and that you won't be going John Wick on the nightmares hiding in the shadows. "This is no fast-paced shooter in which you just run, aim and shoot. Abandoned requires you to hide and plan every shot before pulling the trigger," the studio said in an announcement post.
We want you to be nervous come each and every enemy encounter. To be aware that a wrong move can be the deciding factor between surviving a combat scenario or not.
The game doesn't look too shabby either, as it'll hit 60fps and run at a Native 4K resolution on the PS5. Its terror will be exclusive to that platform, and it'll make good use of the DualSense controller to deliver some chills directly to your hands. Blue Box said that it's still getting a handle on what the PS5 is capable of, but Abandoned's environments will be "as close to the real thing as possible."
Last Updated: April 8, 2021