By Chris House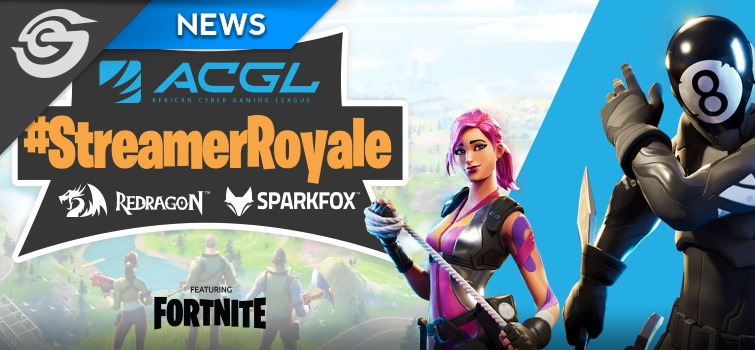 Yesterday ACGL announced that they've teamed up with Redragon and Sparkfox to bring us the first ever Fortnite #StreamerRoyale. The tournament sees R15,000 up for grabs, and comes off the back of the massive hype train that is Fortnite's global launch of Chapter 2 a few hours prior to the local announcement. The event includes eight high-profile local streamers including; Clouds, Dianne Lydia, DoNsPlaYs, Grant Hinds, Hutchie OG, Samplayze, Suspekt Zero, and Vinx. The qualifiers start on the 26th October and end on the 16th of November. The #StreamerRoyale grand finale takes place on the 30th of November.
Fortnite #StreamerRoyale Details
The competition seems fairly straight forward. Each week you can choose which streamer qualifier you wish to participate in (it's a choice of one or the other streamer for that week, since the qualifiers take place simultaneously). This means that you have four attempts to qualify for the grand finale, so you can attempt more than once. If you finish in the top three of a particular qualifier, you will join that streamers team in the grand finale on the 30th of November. Qualifiers take place on the following dates:
The Grand Finale will kick-off at 17h00 on the 30th of November where the eight streamers and their qualified three teammates will jump into a custom lobby to battle against one another for their share of the prize pool. A total of five matches will be played where the teams will accumulate points based on their position and amount of eliminations. The prize pool breakdown for the finale is as follows (equally split between all players in the team, including the streamer):
1st – R8,000
2nd – R4,000
3rd – R2,000
4th – R1,000
What are you waiting for? Go to ACGL's website to sign up already!
Like esports?
Check out esports central
Last Updated: October 16, 2019