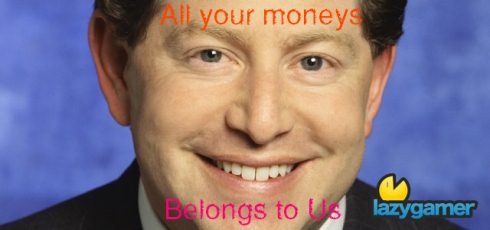 Activision don't get much good publicity at the moment as many people just see them as money grabbing greedy capitalists and this latest story really isn't going to help them shrug off that image.
According to reports coming out of the latest BMO Capital Markets Conference, Activision are planning on introducing new ways to monetise their incredibly popular Call of Duty series with the first option being to charge for online Call of Duty play.
Now I am all for Microsoft and Sony charging a nominal fee to bring us a decent and integrated online experience but there is no way I am ever going to pay a single price for a game and then a monthly subscription to play that very same game online.
What I may do however is take the game for free and then pay to play online… but not while there are other free alternatives like Halo or Battlefield: Bad Company.
What I do support is introducing some sort of idiot tax where they can sell custom helmets and outfits for the real die hard fans, as long as it doesn't give them an added advantage in game that is.
Source: CVG
PS: I realise they may only be talking about the PC version but if it happens on that platform it will cross over to platforms
PPS: I also realise Bobby has nothing to do with this statement but we don't want to thin out our hatred by bringing someone else in from Activision now
Last Updated: November 16, 2009