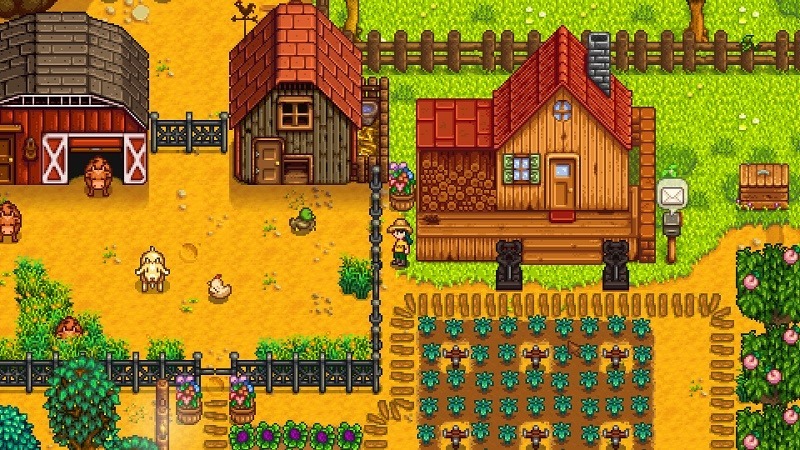 I've had my eye on Stardew Valley all year now, but I must admit, I've been watching it only from a safe distance*. I know if I get to close, even for just a moment, it'll swallow me whole, and I'll never come back.
Trust me, I've already lost so much time to the likes of Minecraft and Terraria! If I give even a second to Stardew Valley, it'll be game over, and I'll have to kiss my loved ones goodbye for months, maybe even years.
Others on the other hand, are open to mindless addictions, welcome them even, and have been dying to play it. The problem is, Stardew Valley is a PC exclusive, which leaves a large portion of gamers out in the cold.
Sorry, did I say is a PC exclusive? I meant was, because the addictive country-life RPG is now available on consoles too!
Stardew Valley is now available on Xbox One, and Playstation 4 in North America and Europe! The price for the console version is $14.99 USD, just like PC.
You've inherited your grandfather's old farm plot in Stardew Valley. Armed with hand-me-down tools and a few coins, you set out to begin your new life. Can you learn to live off the land and turn these overgrown fields into a thriving home? It won't be easy. Ever since Joja Corporation came to town, the old ways of life have all but disappeared. The community center, once the town's most vibrant hub of activity, now lies in shambles. But the valley seems full of opportunity. With a little dedication, you might just be the one to restore Stardew Valley to greatness!
If you had no plans for the festive season, consider your diary now filled for it and well into 2017. Stardew Valley has lots to do! Zoe has already fallen victim to its addictive charms:
At the time of writing, I have about 22 hours on record in the game. There is still so much that I want to do. I find myself thinking about my farm and my plans during the day. I find myself planning how I want to approach the new season or how I want to play the coming days. Yes, it's "just" a silly farming game, but it is also a zen experience with some incredibly deep RPG elements.
Me? I won't play it, even though farming up cabbages sounds alluring as hell. What about you though? If you're a console owner, are you excited to get your hands on Stardew Valley?
*basically this
Last Updated: December 15, 2016