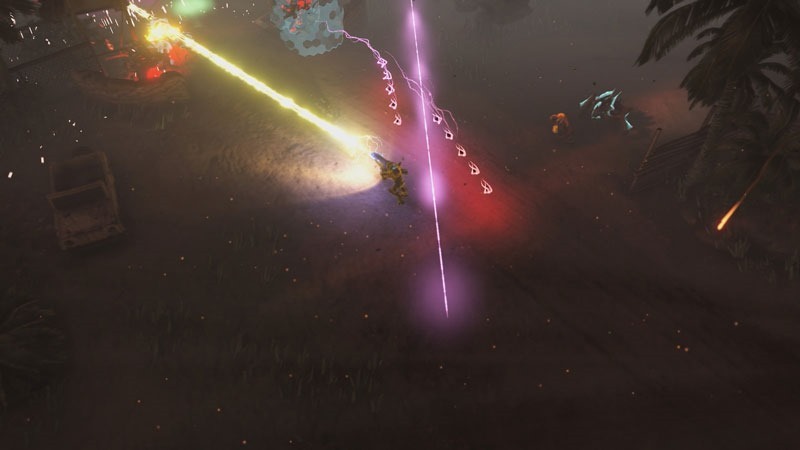 I am still playing the hell out of Housemarque's Alienation. Almost every day, I do a run through one or two stages, trying to make sure I keep up my League ranking, hoping to get a better Legendary gun or push on through to the max Hero level.
I've probably spent as much time on that game as I did on The Witcher 3, with three characters all sitting on about 30 hours of play each. And I know, deep down, that it's not the most amazing game to have ever been made – but it's certainly got its hooks in me. It doesn't quite have the depth of something like Diablo, but whatever its grind for loot engages in my brain, it does it exceptionally well.
And it's set to get better. Housemarque have just dropped a free content update that adds more depth and variety to the game, giving me even more reason to boot up and shoot some Xenos. Today's new patch adds quite a few features and fixes. First up is a new type of loot; armour. Players can now customise their armour with different modifiers to suit play style. Getting the right drop might allow you to have a suit that charges your Rush ability faster, at the expense of your reload time.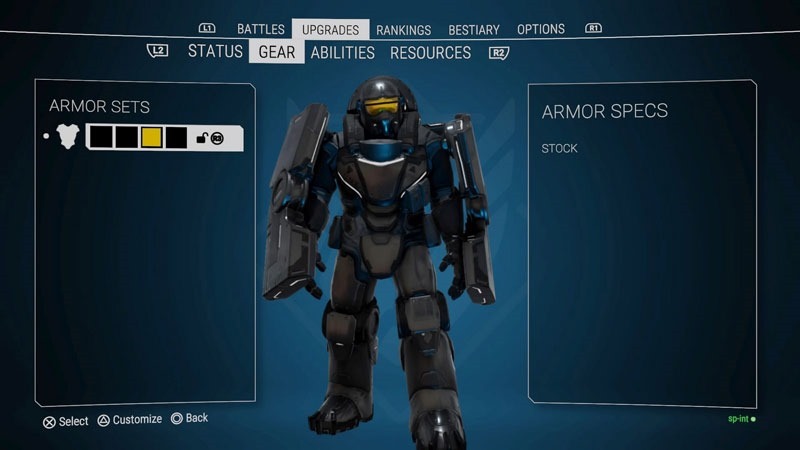 There are also new weekly challenges to go along with the daily UNX assignments. They have "unusual rules," making them a new challenge for those who've hit the level cap and aren't finding the game particularly difficult anymore. There's also a new Legend difficulty for those people who're tired of playing through on Master, and an increased Hero Level cap to go along with that. The game will also receive six more trophies.
One of my favourite new additions though, is the ability to drop loot in local co-op, so that others may pick it up. I've played through the game (twice!) with my wife, but she has a terrible habit of picking up every single Legendary weapon that spawns, even for gun types she doesn't use – so now she'll be able to drop them. For me to pick up instead.
Players can now also turn off the visually impressive World 2 effects, which are nice to look at but make it hard to see what's going on.
There's also some paid content for the game, in the form of a new laser secondary weapon called the Devastator, and a new Heavy Weapon called the Collapser. There's also an Armor Paint Pack with three exclusive armour colours and Veteran Heroes Pack that lets you start out new characters at Hero Level 15 on World 2. They're not at all necessary to enjoy what is a fine, fine game that's only becoming better.
Changelog (patch 1.04 + 1.05)
Major additions:
Added weekly missions.
Added a new difficulty level.
Added collectible armor sets.
Added armor paint customization.
Added option to disable World Level 2 visuals.
Added new trophies.
Increased Hero Level cap by 25.
Miscellaneous bug fixes, tweaks and optimizations.
Major fixes:
Fixed the bug that caused players who were not part of the squad when the mission started to get worse loot (and worse score in Ark Ship).
Fixed Ark Ship score exploit bug and increased score cap for future scores. Quality of life improvements:
Added an option to lock your favorite inventory items so that they won't be accidentally salvaged.
Added a possibility to drop inventory items in local co-op so that they can be collected by another player.
Added salvage all option which salvages all unlocked inventory items in the current category.
Legendary items show up on minimap.
DLC:
New secondary weapon: Devastator (DLC)
New heavy weapon: Collapser (DLC)
Start at level 15 (DLC)
Last Updated: August 24, 2016