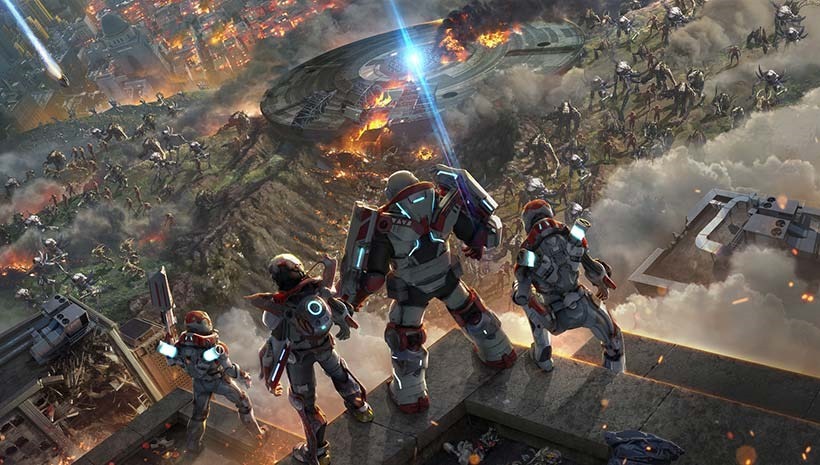 Dead Nation, from Resogun and Super Stardust developer Housemarque was one of my favourite couch co-op games from the last generation – and I even replayed it on the PS4 when it was re-released. A twin-stick shooter with gun upgrades that had you blasting away at hordes of the undead?
Yeah, that sounds like a good time. I've been chomping at the proverbial bit for its follow-up, Alienation, which was announced at Gamescom 2014. Replacing the undead with a race of Xenos, Alienation offers much the same sort of gameplay.
"Some similarities to a previous "zombie" outbreak (Dead Nation) are visible but Housemarque has clearly upped their game since that last time they had to save the world," Says the European PlayStation Blog.
Said blog has also revealed the game's release date: April 26. Curiously, the PlayStation Store has, for a long time, suggested the game would be out this month, but alas.
The game is now up for pre-order on the South African PlayStation Store for R269.10 – down from its regular price of R299.
The big difference this time? Instead of two player co-op, it's 4 player co-op.
Lead your elite squad in the fightback to save Earth from a huge alien invasion in this frantic, top down twin-stick shooter.

With hordes of alien creatures swarming across the planet, you'll need to work together with up to three friends to devise tactics and keep each other alive under mounting pressure.
Here's what you'll be doing:
Unleash a devastating array of firepower, shooting and looting Alien hordes in massively destructible environments.
Experiment with different player classes, earn skill upgrades and customize weapons and equipment to suit the way you play.
Fight alongside your friends, or become a ruthless mercenary to invade other players' games and cause mayhem.
Track your kills and compare statistics against other players.
Experience brutal arcade action from the makers of Dead Nation, RESOGUN and Super Stardust.
Last Updated: March 9, 2016