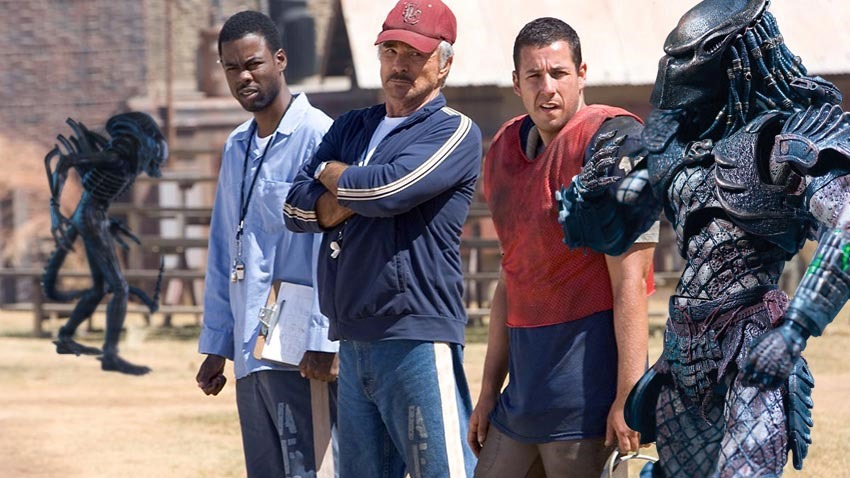 Man, the 1990s were a wild time for gaming. Had an idea, a team of developers and enough funds to get the project realised? Congrats! SEGA and Nintendo would be happy to have your game ported to their systems. Basically, SNES and SEGA Megadrive game libraries were the beta for Steam's online collection of games only much much less worse.
One of those game franchises which found a perfect home back in the day? Aliens vs Predator. The original arcade game based on the Dark Horse Comics was an absolute hoot, back in an age when Konami's brand hadn't yet been sullied by controversy. There was only one way to settle the ancient feud between Xenomorphs and the Predator race, and that method involved an entire NRA convention's worth of bullets.
If SEGA had been given a chance, they'd have settled the hash between two of the deadliest species in a much different way. On the sports field:
Yes sir, an Aliens Vs Predator American football game almost got the nod, with the flavour text on the above mock-up from the National Video Game Museum revealing some priceless and bonkers ideas:
Mankind had neutralized the 400+ year war between Aliens and Predators. Now they have agreed to finalize the conflict by American Football on Earth. The Alien Football League and the Predator Football League were born and fierce battles engaged for the Super Bowl Title. There was only one new rule. The quarterback must be human.
There is no way in hell that being selected for either team would not end in blood, carnage and a few limbs being removed in the process. How would you even corral a squad of Xenomorphs to follow your commands when regular American Football makes no sense when the team captain starts shutting about huts and numbers from behind the scrum? Madness.
Meanwhile, the rest of the game would have featured such teams as the Anchorage King Salmons, the Los Angeles Blade Runners, the Houston Exterminators, the Chicago Dirty Heroes, the Dallas Jet Flying Kickers and the Washington D.C. Bashings making up the Alien side. As for that Xenomorph in the cover art? Turns out that some nepotism may have gotten it a spot on the team as it says in the pictures: "My mom is the team owner. I crave some fresh human-quarterbacks".
The Predators would have also had their own teams, such as Seattle Samurai Mifunes, San Francisco Black Catfish, Detroit Big 3, Las Vegas American Dreams, New York Psychic Murders and the Miami Dolphin Creatures. The Predator's flavour text? "My chieftain is the team owner. I will turn you into a fully-grown quarterback warrior."
Well alright then.
Last Updated: March 19, 2019