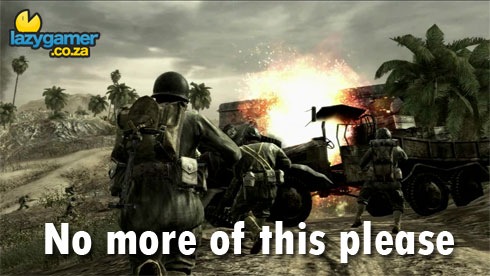 After the phenomenal success of the first Modern Warfare, it was generally suspected that Treyarch, one of the alternating developers of the franchise would take a page from Infinity Ward and give their game a more recent setting. Instead they opted to keep the game bound to world War 2, producing the less-than-fantastic World at War (which, being Call of Duty still sold by the boatload).
Now that Modern Warfare 2 is the biggest thing since RubberDuckzilla, will Treyarch finally take the series in a new direction? Well…No, if a recent job posting on their site is anything to go on.
The post, looking for a level designer for a Call of Duty game specifically seeks one who'll "Research subject matter for history and look of the level" – leading many to believe that the next Treyarch game will be set in the past.
It's doubtful though that they'll be revisiting World War II – Treyarch staffer Noah Heller, when the last game came out said "…we are showing the final battles of the Pacific and the European Theatre and that lets us put a close to the war. I'm sure game companies will be making World War II games for years to come and World War II is a very classic war. But we're happy that we put the war to bed."
If not World War II, then which particular conflict might it be based on? I've had my fill of killing Nazis and the Japanese – maybe it's time to put holes in a few digital Vietnamese?
Source : Treyarch
Last Updated: December 4, 2009