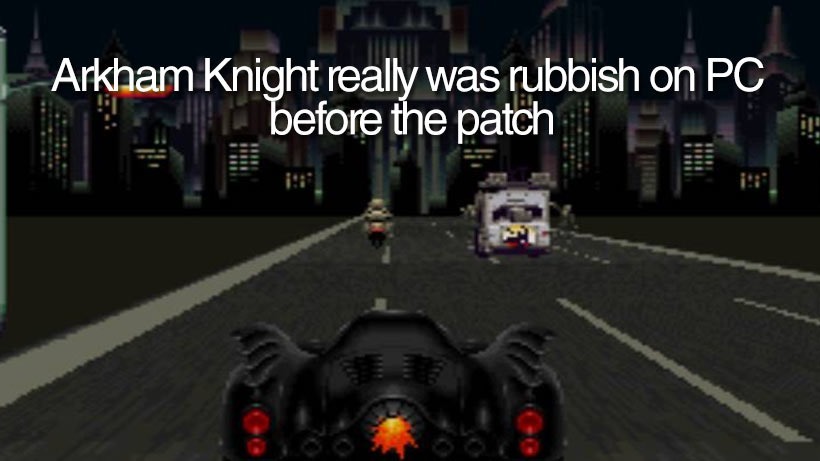 Arkham Knight was finally patched up well enough on Pc to make the game not only playable, but optimised enough for PC gamers with the requisite hardware to feel like their GPU purchasing decisions were justified. By all accounts, the PC version of Arkham Knight is finally in the state it should have been when it was released months ago.
It was so bad that the PC version was pulled from shelves, both retail and digital as Rocksteady, Warner Bros and Iron Galaxy scrambled to fix the game on the one platform that really should be able to hand everything thrown at it. If you've been waiting patiently, hoping to grab the latest Batventure on PC, you shouldn't have to wait too long.
While Warner hasn't announced a new date, they've sneakily included a worthwhile titbit in the press release for the game's newest DLC (via VG247).
"Batman: Arkham Knight is based on DC Comics' core Batman license and is available now for the PlayStation®4 computer entertainment system and Xbox One, the all-in-one games and entertainment system from Microsoft. The PC version of the game will be available in the coming weeks."
It may be too little too late for Warner though; many Pc gamers won't be interested, waiting for it to go for a song in one of Steam's inevitable sales. It also means that the game is coming in time to compete with some of the year's big heavy hitting blockbusters – like Call of Duty, Battlefront and Fallout 4.
I've not played Arkham Knight, and I have very little interest in doing so. For me, the series peaked with the very first game, and has become an increasingly cluttered and unfocused series since. Many say Arkham Knight is the best Batman game ever made, but it just doesn't appeal to me – and the inclusion of forced driving stuff thanks to the Batmobile makes it even less appealing.
Last Updated: September 23, 2015