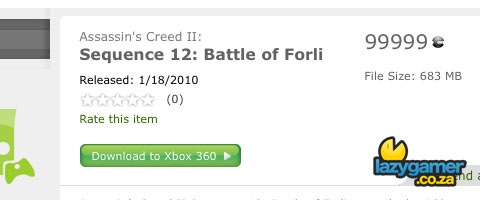 The first set of DLC for the magnificent Assassin's Creed II, titled The Battle Of Forli is now available for download but I wouldn't buy it on Xbox Live Marketplace just yet.
After visiting the Xbox.com marketplace page for the DLC I noticed that it's price was a little hefty, as in 99,999 MS points. This occasionally happens when certain DLC get put up on the marketplace so it should drop soon.
Most of you probably won't be able to buy it by mistake with that price anyways, but we know that the actual price is set at 320 MS points, so when it drops to that, go ahead and pick it up. The game is fantastic and the DLC is getting a good reception so far and at 320 points, it's worth taking a look.
Marketplace download link here (683MB)
Source: Xboxgamer
Last Updated: January 28, 2010