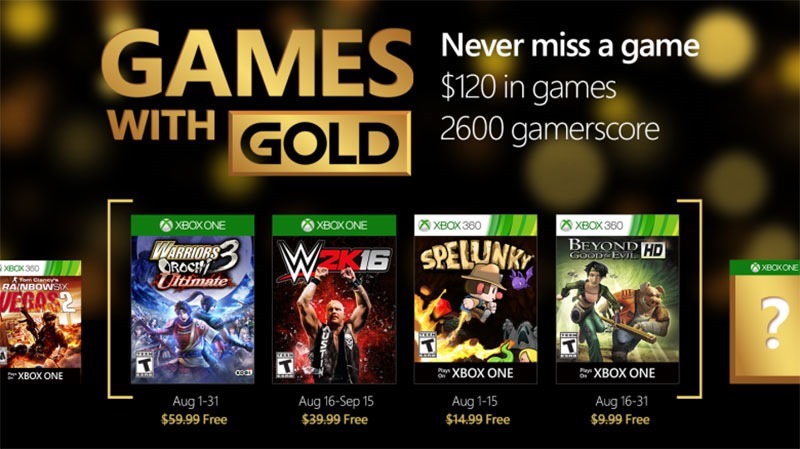 Every month, owners of either modern console who subscribe to said consoles online service are given the chance to download a handful of games for free. Sometimes, those games are awful – barely reason enough to log in to download them. Sometimes, they're amazing, worth the annual price of the subscription alone.
What they always are, however, is divisive. It's impossible to please all of the people all of the time, so whichever games feature are likely to have as many fans as detractors. August's Games with Gold is a perfect example; probably not everyone's proverbial cup of tea.
The first game Xbox One owners will be able to grab is WARRIORS OROCHI 3 Ultimate, a Dynasty Warriors and Samurai Warriors crossover game that sees you hacking and slashing your way through thousands of enemies. If you already like Musou games, you've played this already, and if you don't this isn't likely to convince you otherwise. Still, it's a good game, with hundreds of hours of content, which explore "Themes of loyalty, betrayal, friendship and love are explored in the human drama created as these heroes clash on the field of battle."
The next Xbox One game is also pretty good. It's Wrasslin time, as later in the month WWE2K16 becomes yours to play. While WWE shenanigans may not be your sort of sports entertainment, it's worth playing for the robust character creation tools alone – or for a bit of wrestling nostalgia, I guess.
On the Xbox 360 we have one of the most perfect games ever made. The rogue-like Spelunky is still as fun and challenging to play as it was released in 2008. The other 360 game (both of them backwards compatible, it's worth noting) is Beyond Good and Evil HD. It's a decent up-res of the classic Ubisoft game that introduced us to Jade and Peyj – and still has fans clamouring for a sequel. They never did fix the controls though…
Still, it's a pretty good month for Xbox fans.
To sum:
Last Updated: July 26, 2016