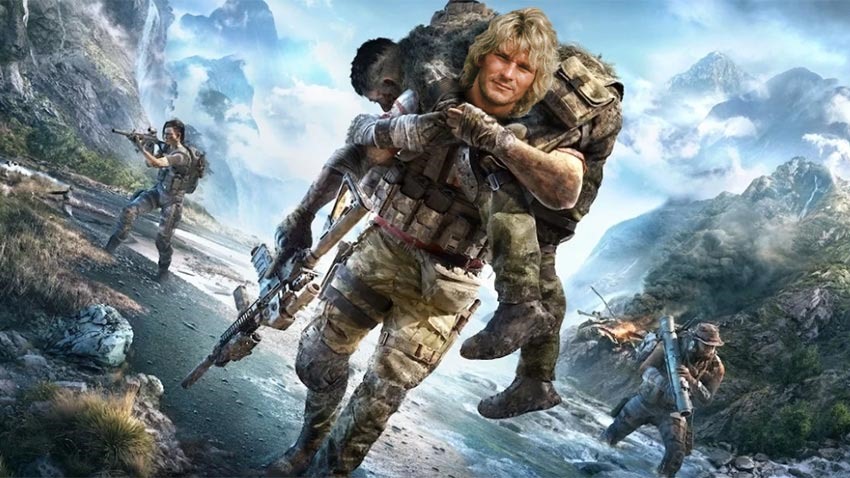 Ubisoft may have a talent for creating some of the best sandboxes in modern gaming, but said beauty may not always be the most authentic slice of reality around. Take Ghost Recon Wildlands for instance, a game whose lush Bolivian jungles and vast open salt pans were met with scorn from locals who weren't too keen on their country being portrayed as a backwater gangster's paradise that was rife with political corruption, between each gorgeous biome.
For Ghost Recon Breakpoint, Ubisoft is dropping players onto the fictional island of Auroa, a sandbox checklist of various locations that are perfect for a squad of hairy black ops soldiers to engage in a bit of the ol' Rambo LARP. You've got rainforests, snowy mountains and even a freakin' volcano to navigate around. Pretty diverse terrain, which happens to be populated with killer attack drones that have zero empathy and ethical safeguards thanks to inventor Jace Skell not having to worry about pesky government regulations.
"Creating a fictional setting gives us unmeasurable license to expand on the world," Breakpoint writer Emil Daubon said to Game Informer.
We can create a variety of terrain with a variety of physical and social landscapes that you have to navigate, and we can expand on it as we choose. That's a really exciting aspect. While the setting is fictional and the characters are fictional, the question behind the story is still sort of palpably real.

The freedom to create within the fictional setting was the most appealing aspect, both from a narrative standpoint and from a gameplay mechanics standpoint. The expandability of the world is what's most exciting narratively because we're unlimited; we can create anything, and that in order to support the overarching desire to give our players the feeling of being a Ghost. The potential is unlimited there.
That, and Ubisoft won't have to worry about getting slapped with an official complaint from a French embassy again. Still, if Auroa slots into Ubisoft's vision to expand on a game for years after launch, having a modular island that clicks in new biomes every couple of months sounds like a fine plan. Ghost Recon Breakpoint is out on October 4 for PC, PlayStation 4 and XBodhi One. I mean Xbox One.
Last Updated: May 13, 2019