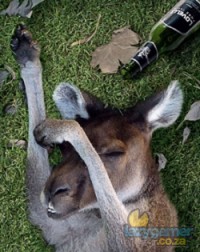 It seems like if you want specific figures on game sales you need to live in either America, Britain or Japan… everywhere else prefers to release percentages which makes me feel like they are trying to overplay the importance of their own market.
Lazygamer is currently in discussion with the relevant parties locally and we will hopefully bringing you figures on the local industry in the very near future but until then here is how the Ozzie market is shaping up.
Year on year the Ozzie market has grown by an incredible 47.8% with a total market value of an incredible R12.8 Billion… that's a whole lot of entertainment.
According to the stats the average game price is R342, which is a lie from first hand experience. The average price of a new game is R640.
Their top selling title was Wii Fit quickly followed by Wii Play, Mario Kart WIi and Mario and Sonic at the Olympics… Yeah that's a clean sweep for Nintendo and the Wii.
The gimped GTA IV was the only hardcore title to make any solid standing along with World of Warcraft.
Source: MCVUK
Last Updated: April 7, 2009