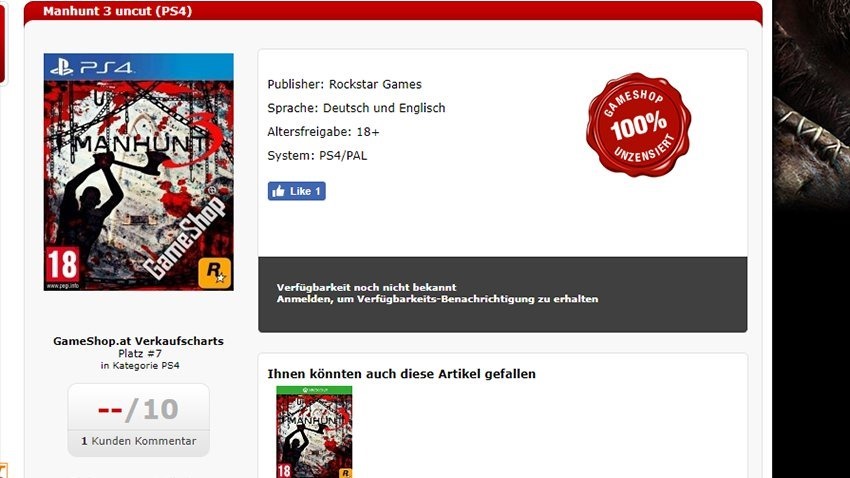 Manhunt was one of Rockstar's more controversial games. Released in 2003, the game featured graphic, gratuitous violence. In it, players played as James Earl Cash, a prison inmate forced to enact torturous and grisly murders for use in snuff films. The game was banned in several countries – but it was received and sold well enough to warrant a sequel, which was released in 2007.
It may be getting a new sequel. A listing on an Austrian games retailer with a penchant for putting up faux games has put up a decidedly dubious listing for Manhunt 3. There's no word on release, but it looks set to hit PS4 and Xbox One. There's a bit of information about the game that we've run through Google translate, to come up with the below:
"The player takes on the role of James Earl Cash, a convicted criminal awaiting his execution. However, a rich, influential former Hollywood director named Lionel Starkweather has bribed the local justice, so the execution is faked and cash handed over to the director. This uses cash to turn with his help snuff films in which Cash should kill the members of various gangs in front of the camera in the most brutal way possible."
That's really just the story behind the first game. Couple that with the frankly terrible artwork on the page and I just don't buy it. With Red Dead Redemption 2 on the way, and Grand Theft Auto V still selling by the bucketload, there's really no reason for Rockstar to drag up one of its third-tier properties.
Last Updated: March 5, 2018